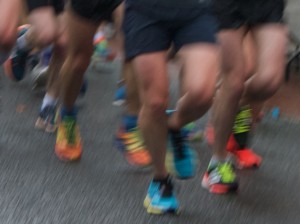 Regular Irish visitor Peter Brandon Somba had a narrow victory at the annual Terenure 5-mile in Dublin beating  Raheny's Mick Clohisey  by a single second. Somba was timed at 23 mins 33 secs and Clohisey at 23 mins 34 secs on a perfect day for running – sunny, but not too warm. Third was Clonliffe's Sergiu Ciobanu in 24 mins 16 secs, with Brandon Hargreaves of DSD next in 24 mins 25 secs.
First woman was Siobhan O'Doherty of Borrisokane in 27 mins 58 secs, with Orla Drumm of Crusaders a close second in 28 mins 12 secs. Catherina McKiernan was third and first master in 28 mins 40 secs. Team winners were the Raheny men and the Sportsworld women.
On Friday evening, Somba and Adrienne Jordan were the winners at the Simon Cumbers 6km in Navan.
MARIA McCambridge's dream of qualifying for the Rio Olympics ended this morning when she finished the Riga Marathon in 2 hrs 52 mins 22.9 secs. Also running was Rob Corbally of DSD who finished in 2:40.49 and Maria's husband Gary Crossan who finished just in front of her in 2:51.58. Times generally weren't fast – race winner was the Kenyan Dominic Kangor in 2:11.45. First woman was Shitake Gemechu from Ethiopia in 2:38.40. Still in with a chance of selection is Gladys Ganiel of North Belfast Harriers who aims to prove her fitness to the selectors with a strong run at  the Leiden Half Marathon in Belgium next weekend.
AT THE STRABANE HALF MARATHON, Natasha Adams of Letterkenny was first woman in a personal best  75 mins 20 secs; it was also  the third fastest half marathon by an Irishwoman so far this year. Adams was aiming for a sub- 75 minute finish, which would have guaranteed her a place in the Irish half marathon team for July's European Athletics Championships in Amsterdam.  She is still hopeful of a call-up.
ON THE TRACK, Sara Treacy of Dunboyne set an Irish record of 6 mins 27.38 secs when winning the 2000m steeplechase  at yesterday's BMC meet in Manchester Sport City. In second place was Ann Marie McGlynn of Letterkenny in 6:42.51. Clocking a time of 2:03.45 for 5th in the A 800m was Rose Anne Galligan of Newbridge, who has run 2:02.35 this season. Third in the B race was Claire Tarplee of St Coca's in 2:05.10, who also ran a time of  4:13.04 in the A 1500m – not far off her best of 4:11.35. Selected Irish results below.
HARRY PURCELL of Trim AC has won the  400m   with a time of 48.11secs  at the Big East Conference meet in Geneva, Ohio.  Purcell also helped Villanova University to victory in the 4 x 400m running the third leg. Siofra Cleirigh Buttner, running for Villanova, won the women's 800m with a time of 2:06.82 after running 2:08.09 in the preliminaries.  Taking third in the 5000m was Sarah Collins of Providence in 16:26.41. Also third was Claire Mooney in the 400; she ran 54.38 secs in the preliminairies and 55.74 secs in the final. In the 5000m, Hugh Armstrong, running for Providence, was 4th in 14:31.20. Aaron Hanlon, also Providence,  was 8th in 14:39.08. At the IC4As in Princeton, Jake Byrne ran 29:51.61 for the 10,000m.
IN CLERMONT, FLORIDA, Adam McMullen set a personal best of 7.84m in the long jump with three jumps over 7.75m. At the same meet, Amy Foster ran 11.42secs  for the 100m, plus a wind-assisted time of 11.40. In the men's 100m, Jason Smyth ran 10.39 secs; his Irish record of 10.22 secs dates back to 2011. DSD's Sinead Denny ran 54.47 secs in the women's 400m.  At a meet in Munich, Paul Byrne of St Abban's, who has qualified for July's European Championships, finished 2nd in the 400m hurdles in 50.87 secs. Fellow hurdler Jason Harvey clocked 48.83 secs for a flat 400m at Loughborough.
LOCALLY, at the Tón Le Gaoithe meet in Waterford, Sharlene Mawdsley of Newport beat Bandon's Phil Healy in the 200m. Her time was 23.62 secs despite a -1.6  headwind. UCD's Sarah Lavin clocked 13.84 to win  both senior women's 110m hurdles races. Molly Scott of St LOT  won both junior races, running 13.79 secs in the second of them.  Ger O'Donnell of Carrick-on-Shannon won the first of the men's 110m hurdles races in 14.02 secs, with Matt Behan of Crusaders second in 14.49. In the second race, Behan clocked 14.27 secs. Fastes of the 100m women was Bandon's Phil Healy with 11.63 secs; her sister Joan ran 11.65 secs in a different race. Craig Lynch of Shercock ran 10.65 secs in the first 100m and then a wind-assisted 19.58 secs in the second. Behind him was Christopher ibanda of Clonliffe with times of 10.77 secs and 10.69 secs. Lynch won the 200m with 21.59 secs; Sibanda was second in 21.79 secs. Javelin winners were Anite White of DSD (who is recovering from illness) with 45.90m and Rory Gunning of Clonliffe with 59.52m.
Sunday May 15
Terenure 5 Mile, Dublin (1,389 finishers; www.myrunresults.com)
Men: 1 Peter Brandon Somba (Dunboyne) 23.33, 2 Mick Clohisey (Raheny Shamrock) 23.34, 3 Sergiu Ciobanu (Clonliffe Hrs) 24.16, 4 Brandon Hargreaves (DSD) 24.25m 5 Tomas Fitzpatrick (Tallaght) 24.50, 6 Cillian O'Leary (Raheny Shamrock) 25.05. M40: 1 Richard Gorman (Sligo) 26.15, 2 Shane O'Neill (Rathfarnham WSAF) 26.33, 3 Rob Cross (Crusaders) 26.56.M45: Declan Power (Clonliffe) 26.29, 2 David Grange (Raheny Shamrock) 29.13, 3 Mick Hanney 30.01. M50: 1 Damien Martin (Raheny Shamrock) 27.38, 2 James Wallace (Nth Belfast Hrs) 28.22, 3 Nat Glenn (Nth Belfast Hrs) 28.58. M55: 1 Chris Keeling (Balbriggan and Dist) 30.19, 2 Brendan Ryan (Tallaght) 31.21, 3 James Cottle (Crusaders) 21.24. M60: 1 Brendan Montague (Omagh Hrs) 33.24, 2 Denis Cagney 38.19, 3 John Drumm 39.07. M65: 1 Barry Potts (Donore) 34.28, 2 Terry Mee (Donore) 37.24, 3 Vivian O'Hanlon (Tallaght) 37.28. Teams (18 teams) – 1 Raheny Shamrock 40, 2 Sportsworld 80, 3 North Belfast Harriers 98.
Women: 1 Siobhan O'Doherty (Borrisoleigh) 27.28, 2 Orla Drumm (Crusaders) 28.12, 3 Catherina McKiernan (Annalee, W45) 28.40, 4 Noreen Brouder (Sportsworld, W35) 30.14, 5 Ilona McElroy (Crusaders) 30.15, 6 Helen Brouder (Sportsworld) 30.28. W40: 1 Ruth Kelly (Sportsworld) 31.22, 2 Sinead O'Reilly (St Michael's) 32.20, 3 Florence Curley (Donore) 32.21. W45: 2 Jacqui Boyle (Tallaght) 34.33, 3 Trish Synott (Coral Runners) 35.17. W50: 1 Annette Kehoe (DSD) 34.12, 2 Helen O'Riordan 34.47, 3 Carol Dempsey 34.52. W55: 1 Sheelagh Jones (DSD) 37.08, 2 Susan Brennan 541.11, 3 Imelda Joyce 41.37. W60: 1 Maxine Jones (DSD) 34.55, 2 Frances Gordan 39.54, 3 Mairin Shine (Crusaders) 45.29. W65: 1 Mary Brennan 39.17, 2 Josie Power (Fingallians) 41.10, 3 Joan Daly 44.48. Teams (20 teams)- 1 Sportsworld 29, 2 Crusaders 104, 3 Donore Masters 107.
Strabane Lifford Half Marathon (1,035 finishers; www.myrunresults.com)
Men 1 Dan Tanui (Project Africa Athletics) 66.09, 3 Peter Koech (Project Africa Athletics) 67.22, 3 Stephen Duncan (Omagh Hrs, M40) 69.47. M50: Martin Cox (Nth Belfast Hrs) 82.04. Women: 1 Natasha Adams (Lettrknny, W35) 75.21, 2 Claire McGuigan (Lifford Strabane) 85.51, 3 Gemma McGinty (Foyle Valley) 92.37, 4 Grainne Neil (Foyle Valley, W0) 92.40.
Blackwater 10-mile, Fermoy, Co Cork
Men: 1 John Meade (St Finbarr's) 55:24, 2 Chris Murphy (Leevale) 57:50, 3 Eoin Sugrue ( M40) 58:25. Women: 1 Keeley Tideswell (Clonmel) 69:47, 2 Micehlle Nolan (Youghal, W40) 72:10, 3 Sian Egerton 73:07.
Saturday May 14
BMC, Manchester Sportscity (Selected)
Women: 800m – A: 5 Rose Anne Galligan (Newbridge) 2:03.45, 9 Ciara Everard (UCD) 2:07.77. B: 3 Claire Tarplee (St Coca's) 2:05.10, 6 Katie Kirk 2:06.89 C: 5 Fiona Kehoe (Kilmore) 2:10.05. 1500m – A: 5 Claire Tarplee (St Coca's) 4:13.04, 7 Kelly Neely (City of Lisburn, W35) 4:18.79. B: 4 Ellie Hartnett (UCD) 4:28.23. 2000m S/C: 1 Sara Treacy (Dunboyne AC) 6:27.38 (rec), 2 Anne Marie McGlynn (Letterkenny, W35) 6:42.51.
Men: 800m – A: 6 Niall Tuohy (Ferrybank) 1:50.52. B: 4 Brian Kelly (St Abban's) 1:50.32. 1500m – A: 9 Eoin Everard (KCH) 3:46.07. B: 13 James O'Hare (Annadale) 3:50.14. C: 10 Kevin Chesser (Ennis TC) 3:52.18. D: 11 Kevin Kelly (St Coca's, U23) 3:53.40. 5000m – B: 10 John Eves (DSD) 14:44.64. C: 2 Eric Keogh (Donore) 14:31.31, 4 Dermot Cummins (W Waterford) 14:37.54. 2000m S/C: 5 Rory Chesser (Ennis TC) 5:44.18.
Friday May 13
Simon Cumbers and Paddy Hyland Memorial Navan 6k (551 finishers; www.myrunresults.com)
Men: 1 Peter Somba (Dunboyne) 18.56, 2 Simon Ryan (Raheny Shamrock) 19.14, 3 Noel Carroll (Shercock) 19.21, 4 Conor Healy (Clonliffe) 19.32, 5 Declan Fahy (M40) 19.44, 6 Gerard Heery (St Brigid's, M45) 19.45. M50: Eddie Newman (Mullingar Hrs) 20.34. M55: Paddy Mangan (Dunshaughlin) 22.02. M60: Pat Comey (Trim) 25.41. M65: Pat Collins (Liffey Valley) 24.45. M70: Maurice Timmons (Raheny) 32.11.M75: Mickey Hegarty (SO'H) 35.26. Jun: Sean O'Connor 24.03. Teams – 1 Dunshaughlin, 2 Bohermeen, 3 Trim.
Women: 1 Adrienne Jordan (Crusaders) 21.50, 2 Laura McDonnell (Tallaght) 21.59, 3 Caitriona O'Brien (Bohermeen) 23.10, 4 Karen Costello (Dunleer, W40) 23.12, 5 Karen Lavelle (SOTS, W45) 23.15, 6 Linda Fahey (Dunshaughlin, W40) 24.01. W50: Mary Watters (Navan) 25.28. W55: Linda Gunning (Bohermeen) 27.48. W60: Nuala Reilly (D&D) 26.42. W65: Rose Healy (Fr Murphy's) 37.0. Jun: Florence Sheridan 31.51. Teams (15) – 1 Bohermeen 44, 2 Star of the Sea 72, 3 Dunshaughlin 100.