American visitor Chris Mocko has won today's Irish Examiner Cork City Marathon in  2:26:43. Runner -up and first local was David Mansfield of Clonliffe Harriers in 2:29:20.
Jill Hodgins was the first woman home in 2:48:18, finishing 14 minutes ahead of back-to-back female winner, Nollaig Hunter. Hodgins finished third in Cork three years ago.
Winners of the half marathon was Peter Somba of Dunboyne with this time of 67.46 putting him two seconds clear of Clonliffe's Sergiu Ciobanu. Claire McCarthy of Leevale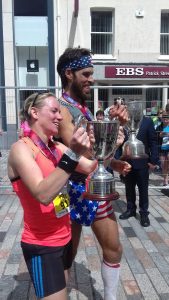 , who will run the marathon at the World Championships later this summer, finished seventh overall and first woman in 76 mins 34 secs.
AT THE WALLED CITY MARATHON in Derry, Dan Tanui  of Project Africa  and local athlete Catherine Whoriskey came out on top.
Tanui, runner up position in 2016 came home in 2:25:26, with Raheny's Freddy Sittuk who has been nursing an injury, second in 2:26:14 and long time leader Emmanuel Kiprotich Melly  of Project Africa holding on for third in  2:28:55. North Belfast Harriers' Andrew Considine in fifth place,  was the first Northern Ireland man home in 2:40:56.
Whoriskey  of City of Derry AC was running only her second marathon but led from the start to win with a time of 2:50.38. Tullamore  veteran Pauline Curley finished a comfortable second in 2:53:08,  with Project Africa Athletics' Salome Jepkoech Kimutai third in 2:56:39. Best of the wheelchair athletes was Karol Doherty in 2:40:48.
SPRINTER MARCUS LAWLER from Carlow recorded wind-assisted times of  10.27 for 100m and 20.43 for 200m in Salamanca Spain.
Results
Cork City Marathon, Relay and Half Marathon (www.myrunresults.com)
Marathon (1,245 finishers) – Men: 1 Chris Mocko (USA) 2:26.43, 2 David Mansfield (Clonliffe Hrs) 2:29.20, 3 Gary O'Hanlon (Clonliffe Harriers, M40) 2:30.20, 4 Eoin Surge (M40) 2:33.02, 5 Peter Mooney (M35) 2:33.05, 6 Paul Stephenson 2:33.29. M45: Colin Merritt 2:34.04. M50: Cathal O'Connell (St Finbarr's) 2:39.22. M55.
Women: 1 Jill Hodgins (W40) 2:48.18, 2 Nollaig O'Neill (Leevale, W45) 3:02.28, 3 Joan Ennis (Grange Fermoy, W50) 3:07.32, 4 Dolores Duffy (Watergrasshill AC, W45) 3:09.52, 5 Sorcha Kearney (St Finbarr's, W40) 3:11.11. 6 Christine Kinsella (Templeogue AC, W40) 3:13.04.
Relay (661 teams) – 1 Leevale Lads 2:21.32, 2 Simply Suits 2:28.46, 3 Leevale Legends 2:33.30.
Half Marathon (2,325 finishers) – Men: 1 Peter Somba (Dunboyne AC) 67.46, 2 Sergiu Ciobanu (Clonliffe Hrs) 67.48, 3 John Meade (St Finbarr's M35) 73.26. Women: 1 Claire McCarthy (Leevale, W40) 76.34, Grace Lynch (Iveragh) 78.57, 3 Fiona Santry (East Cork) 84.09.
SSE Airtricity Walled City Marathon, Derry (1,191 entries; www.nirunning.co.uk)
Men: 1 Dan Tanui (Project Africa) 2:25.26, 2nd Freddy Sittuk (Raheny Shamrock) 2:26.14, 3 Emmanuel Kiprotich Melly (Project Africa) 2:28.55, 4 Hillary Chirchir (Project Africa) 2:35.06 5 Andrew Considine (NBH, M40) 2:40.56, 6 Andrew Slater (Cambridge and Coleridge) 2:42.27. M45: Alan Johnston (Murlough AC) 2:26.37. M55: Michael Duncan (Gifford Strabane) 3:03.07. M60: Patrick Doherty (Inishowen) 3:13.01. M65: John McCann 3:50.59. M70: James Doherty (Milford AC) 4:04.24.
Women: 1 Catherine Whoriskey (City of Derry AC) 2:50.38, 2 Pauline Curley (Tullamore Harriers, W45) 2:53. 08, 3 Salome Jepkoech Kimutai (Project Africa) 2:56:39, 4 Grace Kennedy (Donore Hrs) 3:09.04, 5 Laura McDonnell (Tallaght AC) 3:13.31, 6 Sandra McKeever (Foyle Valley, W40) 3:19.23. W50: Verona Campbell (Foyle Valley) 3:28.01. W55: Rosemary Hargan (Tafelta AC) 3:56.57. W60: Cecelia Deehan (BOLT) 5:43.44. W65: Eileen O'Brien (Lucan Hrs) 3:59.01. W70: Mo McCourt 5:52.09.