Ciara Neville and Sharlene Mawdsley both re-wrote the record books at the Irish Life Health All Ireland Schools Track and Field Championships in Tullamore today.
In the senior girls' 100m, Neville of Castletroy College clocked a time of 11.53 secs. The time was also comfortably inside the qualifying marks for both the European  Junior and U23 championships later this summer.
Mawdsley's time of 53.99 secs for victory in the senior 400m was also a European U23 and junior qualifier. The St Mary's Newport student also won the 200m.
Improving her newly minted Irish record to win the senior hammer with a throw of 62.79m was Michaela Walsh of S and P Swinford. Walsh also won the shot with a record 15.58. In both cases, she was breaking her own records. Another double winner in the throws was multi-eventer Kate O'Connor of St Vincent's Dundalk. She improved on the 35-year-old inter javelin record with a throw of 45.65m and also won the shot with  13.97m.
At junior level,  SM Charleville's Ciara Sheehy's 15.58m effort added over two metres to Claire Fitzgerald's 2006 record of 13.50. Sheehy also won junior 2.5kg hammer with 49.59m.
Winning the inter high jump with a record height of  1.81m was Irish junior record holder Sommer Lecky of Strabane Academy. Lecky was also second in the long jump behind Aoibheann O'Brien of Mercy Mount Hawk.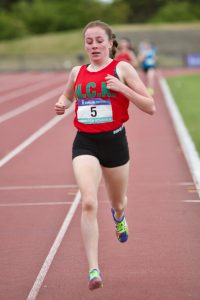 No surprises in the inter 1500m races, with Sarah Healy of Holy Child Killiney  and Darragh McElhinney from Colaiste Pobail Bantry winning with ease. The senior races both proved thrillers; Stephanie Cotter of Coachford and Jodie McCann of Institute of Education battled it out all the way to the line in the girls' race with Cotter just edging it.
In a tactical boys' race, Charlie O'Donovan of Colaiste Chriost Ri came home first in the charge for the line, with Fintan Stewart of Lumen Christi  second and Knockbeg's Bobby Crowley holding on for third.
St Kieran's Kilkenny were having a good day, with Alan Fitzgerald a clear winner of the 3000m, despite the best efforts of Keelan Kilrehill from Coláiste Iascaigh. In the senior 800m, Rory Lodge had a dramatic victory after being passed by Mark Glynn of Newbridge with 200m to go. Lodge looked beaten, but a final surge on the inside lane gave him a brave victory.
Winning the senior girls' 800m was Rose Finnegan of Eurkea Kells, in her final year of schools athletics. Stephanie  Cotter of Coachford finished second.
In the junior 800m, there was a solid victory for Leinster champion Aaron Shorten of St Lasarian's in Carlow. Also at junior level, Rhasidat Adeleke of Presentation Terenure made it a girls' sprint double, winning both the 100m and 200m.
Winning the  senior 100m hurdles was Molly Scott of Scoil Chonglais who stormed to victory in 14.24 secs. Mark Smyth of St Fintan's Sutton won the senior 200m in 21.57 secs. Both these times were inside the European junior qualifying marks; Smyth also won the 100m in 10.70 secs, helped by a strong wind.
Winning the inter 3000m was Wesley's Abbie Taylor, who was pushed hard by Mia McCalmont from Abbey VS and finished with a second to spare in 10 mins 15.22 secs.Class of the field in the inter 300m was Davicia Patterson of Hunterhouse who crossed the line in 38.82 secs.
Overall, St Mary's Galway, with 49 points,  became the first school from Connacht since the early 1970s to win the senior boys' College of Science Trophy. Belvedere College, winners of the title many times, were second with 30 points.