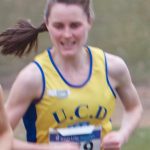 Ciara Mageean of UCD shaved over eight seconds off her outdoor mile  best with a time of 4 mins 22.40 secs at today's London Anniversary Games.
At the bell, Mageean, who had  drawn the inside lane, was lying ninth, but she pulled up two places on the final lap. Race winner was Helen Obiri of Kenya with a time of 4:16.55. In second place was Scotland's Laura Muir in 4:18.03 – the second fastest British time behind Zola Budd's 4:17.57.
Mageean's time catapults her into second on the all-time Irish list. Only Sonia O'Sullivan who ran 4:17.25 in July 1994 has run faster. Mageean holds the Irish indoor record having run 4:28.40 at the Millrose Games in New York last year; her outdoor best is a 4:30.64 from the Morton Games of 2015. Her next outing is over 800m at this year's Morton Games in Santry next Wednesday (7.0).
Mark English  of UCD  was off his best in the men's 800m, finishing 11th in 1:47.04; winner was Nijel Amos of Botswana in 1:43.18.
AT THE BRUSSELS GRAND PRIX in Belgium, Paul Byrne  of St Abban's ran a lifetime best of 50.03 secs for fourth in the 400m hurdles, with his time inside the World University Games qualifying standard.  Claire Mooney of St Coca's won the 800m in 2:05.43, while Catherine McManus of DCH ran a personal best 24.03 secs in the 200m and DSD's Sinead Denny was just off her best with 53.66 secs in the 400m.
Brussels Grand Prix
Women – 200m: 7 Catherine McManus (DCH) 24.01 (PB). 400m: 4 Sinead Denny 53.66. 800m: 1 Claire Mooney (St Coca's) 2:05.43. 100m H: 6 Catherine McManus (DCH) 13.92.
Men – 200m: 6 Eanna Madden (Carrick-on-Shannon) 21.25.  400m: 6 Ben Maze (Lagan Valley) 48.03. 110m H: 6 Gerard O'Donnell (Carrick-on-Shannon) 14.39. 400m H: 1 Jeffrey Gibson (Bahamas) 49.46…4 Paul Byrne (St Abban's) 50.03 (PB)
CIARA DEELY of Kilkenny City Harriers produced the fastest time of the day in the 400m at day two of the Irish Life Health All Ireland Juvenile Track and Field Championships in Tullamore today.
Deely was a clear winner of the W18 race in 55.51 secs. Miriam Daly of Carrick-on Suir won the W17 title in 56.61 secs, while Niamh Gowing of DSD proved best in the W19 age group winning in 56.56 secs.
In the M17 race, DSD's Ciaran Carthy came close to breaking 50 seconds when he won in 50.77 secs. He was relegating Ciaran McManus of Fingallians in 51.70 secs and Donore's Jack Raftery to the minor placings in a Dublin clean sweep.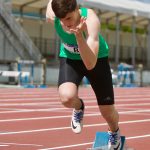 Taking the M18 title with a time of 49.63 secs was Tony Odubote of Ennis Track in 49. 63 secs. Jack Mitchell of StLOT was second in 50.11.
Two records went in the women's discus – Niamh Fogarty of West Westmeath, who will compete at the European U20 Championships, won the U19 title with 47.17m while Megan Lenihan of North Cork threw 42.52m to take the U15 title In the W18 hammer, Jade Williams of Shercock  improved the record to 57.38m.
In the M18 shot (5kg), James Kelly of Finn Valley won with 17.28m; Jack Nyham of Dunboyne was second with 15.66. Winning the M19 javelin (800g) with a throw of 57.32m was Gareth Crawford of Lifford Strabane. Ryan Carthy Walsh of Adamstown had little opposition in the M19 high jump, winning with 2.10m.
Over 3000m, Eanna Nolan ran a time of 8:55.71 to win the M19 3000m, with Patrick O'Rourke of Ennis Track also under nine minutes with a time of 8:59.91 for second. Winning the M18 race was Keelan Kilrehill of Moy Valley in 9:00.76.
SARAH MCCORMACK produced the best Irish result at the European MountainRunning Championships in Slovenia, where she finished 18th on the tough uphill only 8.5km women's course. In the men's race, Ian Conroy of Raheny Shamrock  finished a fighting 23rd on the grueling 12km course. Italy's 15-year winning streak in the team competition ended when they lost on count-back by a single placing to France. Britain took both senior and junior women's titles.
European Mountain Running Championships, Kamnik, Slovenia (Uphill only)
Men – Senior (12km):  1 XavierChevrier (ITA) 62.51, 2 Luis Saraiva (POR) 63.34, 3 Francesco Puppi (ITA) 63.35. Irish: 23 Ian Conroy (Raheny Shamrock) 69.02, 32 Brian MacMahon (Clonliffe) 70.40, 33 Mark Ryan (Rathfarnham WSAF) 70.47. Teams – 1 France 17 (4,5,8); 2 Italy 17 (1,3,13), 3 Portugal
U20 (8.5km) – 1 Gabriel Bularda (ROM) 47.07, 2 Daniel Pattis (ITA) 47.30, 3 Andrea Prandi (ITA) 48.22. Irish: 37 Alexander Hunter 57.30. Teams – 1 Italy, 2 Turkey, 3 France.
Women – Senior (8.5km): 1 Maude Mathys (SUI) 49.30, 2 Sarah Tunstall (GBR) 50.51, 3 Andrea Mayr (AUT) 51.43. Irish: 18 Sarah McCormack 57.03, 29 Sarah Mulligan (DSD) 59.36, 48 Niamh Devlin (DSD) 63.22. Teams – 1 Great Britain 19 (2,5.12), 2 Italy, 3 Austria.
U20 (4.5km) – 1Lisa Red (GER) 23.16,2 Bahar Atalay (TUR) 24.25, 3 Gabriele Andrea Doroftei (ROU) 24.36. Team – Great Britain.