Mick Clohisey and Sean Hehir continued their preparations for the marathon at the World Championships in London next month  with a trip to the Roscommon '10'.
The pair dominated the race from the start, with Clohisey pulling away for victory on 48 mins 47 secs, with Hehir just over a minute behind for second.Finishing third was Peter Somba. First woman was Isobel Oakes of Ballinamore AC in 65 minutes.
Also taking place was a marathon opening day of the Irish Life Heath All Ireland Juvenile Championships in Tullamore.
Daniel Ryan  of Moycarkey Coolcroo AC) set a new championship best and record  of 14.48 secs when winning the M19 110m hurdles with a time of 14.48 seconds and later won the shot put with a best of 14.47m.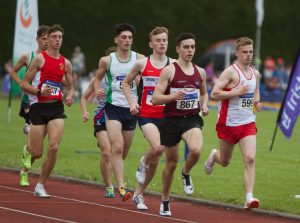 Among the winners of the 800m races were Aimee Hayde  of Newport who beat Ailbhe Doherty of Ennis Track in the W15 race in a new record time of 2:15.63. Winning the W17 race was Molly Brown of MSB in 2:16.64; in a Dublin double, Donore's Louis O'Loughlin  won the M17 race in 1:55.71. Craig Giles of Clonliffe Harriers won the M18 title while Leevale's Conor O'Driscoll proved best in the M19 race. Tallaght's Eoghan Kearney won the M18 steeplechase, with Jarlath Jordan of Tara taking the M19 title and Aoife O'Brien of Westport best of the W19 women.
Other records came from Laura Nicholson of Bandon AC in the W19 steeplechase which she won in 6:58.38 and Liscarroll's Amy Whelan with  41.53m in the W14 javelin. Lifford Strabane AC  – the only cross-border club on this island – were having a good day in the hammer with three gold and two silver medals, among them a win for Cormac O'Donnell  in the U14 competition. Some pics at www.lindie.zenfolio.com
AT LAST NIGHT'S LETTERKENNY INTERNATIONAL, Derry Track Club's Adam Kirk-Smith ran a personal best of 8:37.41 for fourth place in the men's steeplechase. This was his second time inside the Commonwealth Games  standard of 8:43.30. In the women's steeplechase, Newcastle's Kerry O'Flaherty finished fifth in 9:59.56. American Mel Lawrence smashed the Irish All-comers record when she won the race in a personal best time of 9:36.65, which was also a World Championship qualification standard. In second place Scotland's Lennie Waite made the the Commonwealth Games qualifying mark with a time of 9:43.87.  Rory Chesser was best of the Irish in a competitive men's steeplechase, finishing 13th in 9:06.03.
Best of the Irish in the men's mile was Clonmel's Sean Tobin fourth with a time of 4:01.10. Letterkenny's Danny Mooney clocked 4:04.21. Robert Domanic of the USA  just scarped in under the four minute barrier to win in 3:59.98. David Flynn of Clonliffe clocked 8:30.92 for fourth in the 3000m.
Winning the men's shot with a heave of 18.53m was England's Scott Lincoln. Finn Valley's John Kelly finished second and Sean Breathnach of GCH third.
Ballymena and Antrim's Christine McMahon  followed up her 58.30 win  at Wednesday's Belfast International with a 59.00 time for second in the 400m hurdles. Her Ballymena clubmate  Craig Newell  finished a close fourth in the 400m in 49.29 secs.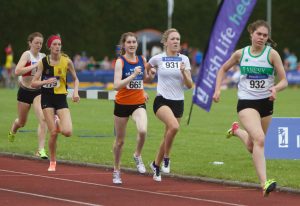 Roscommon 10-Mile (370 finishers; www.popupraces.ie)
Men: 1 Mick Clohisey (Raheny) 48.47, 2 Sean Heher (Rathfarnham WSAF) 49.53, 3 Peter Somba (Dunboyne) 53.43, 4 John Byrne (Mayo AC, M40) 54.46, 5 Gary Condon (Sli Cualann, M40) 5596, 6 Chris Muldoon (M40) 56.17. M50: Christy Donegan 62.02. M60: Nollaig McEntaggart 65.55.
Women: 1 Isobel Oakes (Ballinamore AC) 65.00, 2 Zola Flynn 66.12, 3 Deirdre Keena 68.46, 4 Claire Ni Fhaircheallaigh 70.06, 5 Michelle Murray 70.56, 6 Mary Daly (W50) 71.53.
AT SATURDAY'S BMC Loughborough, Emma Mitchell of QUB won the 5000m in 16:01, while Emerald's Amy O'Donoghue ran a time of 2:07.54 for 800m.
Women –
800m – B: 3 Amy O'Donoghue (Emerald 2:07.54.
1500m – B: 8 Meghan Ryan (DSD) 4:30.84. C: 1 Fiona Clinton (DSD) 4:32.31, 5 Eimear O'Brien (Sligo) 4:38.00, 10 Abbie Taylor (DSD, U17) 4:40.80.
5000m – A: 1 Emma Mitchell (QUB) 16:01.74, 4 Rachael Smyth (St Coca's) 16:35.79,
Men –
800m – D: 3 Kieran Sexton (Crusaders) 1:54.24. E: Eoin Pierce (Clonliffe) 1:54.36. 1500m – B: 8 Jayme Rossiter (Clonliffe) 3:60.33. D: 2 Thomas Moran 3:50.97. E: 3 Patrick Mac Gabhann (DSD, U23) 3:56.89, 12 James Maguire (DSD, U20) 4:00.83, 15 Padraig Moran (Mullingar Hrs, U23) 4:01.08. F: 9 Paul O'Donnell (DSD, U20) 4:02.90.
5000m– A: 7 Colin Maher (Bedford and County) 14:28.79, 13 Thomas Hayes 14:37.17, 17 Robert Corbally (DSD) 14:49.87, 20 Evan Byrne (U23) 15:05.61. B: 16 Patrick McNiff (Banbridge) 15:15.70, 19 Niall Sheehan (Gowran/Newham and Essex Beagles) 15:21.00,