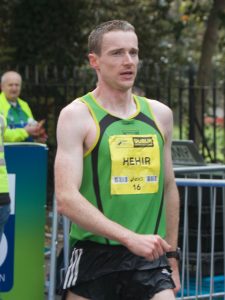 With just three weeks to go until the London Marathon, Rathfarnham's Sean Hehir finished 14th in today's Berlin Half Marathon in a time of 65 mins 40 secs. That wasn't too far off his 64.12 run in Cardiff in 2013.
Finishing second W60 was Nuala Reilly of Drogheda and District in 1:40.58.  First woman overall was Kenyan Gilbert Masai in 59.59.
Kenyan athlete Joyciline Jepkosgei smashed the women's world half-marathon record  with a time of 64 mins 52 secs at the Prague Half Marathon on Saturday. Over 30 Irish were in action most notably a group of about 12 from Dunshaughlin AC. Linda Fahy finished first W45 in 94.21, Derek Hunter  was 2nd M50 80.39 and former Irish marathon champion Tommy Maher  was 4th M50 in 82.35 (wife Margaret finished in 2:10.12).
ADAM KING OF IVERAGH has thrown a personal best 62.15m in the senior hammer at the AI Spring  Throws meet in Athlone. Swinford's Michaela Walsh won the women's hammer with a final round 54.46m; in the javelin she recorded a PB 42.31m to finish second behind Grace Casey of Eire Og Corra Choill AC with 43.94. In the men's discus, Eoin Sheridan of North Westmeath failed to make a legal throw; Sean Mockler of Moycarkey Coolcroo was the winner with 35.65m.
IN THE USA, DSD's Siofra Cleirigh Buttner ran a time of 2:03.07 for the 800m at a race in Florida; her fastest ever outdoor season opener for Villanova  In the hammer, Dempsey McGuigan  of Finn Valley threw 69.45m for Ole Mississippi.
TALLAGHT'S RHASIDAT ADELEKE  set a new championships best of 24.46 secs – a European U20 qualifier – when winning the W16 200 at the third day of the Irish Life Health Irish Juvenile Indoors in Athlone yesterday. A week earlier, Adeleke had won the 60m in 7.55m – also a new record. At only 15!
Lauren Roy  from City of Lisburn was another to complete a 60m and 200m double  when she won the W18 200m in 24.70 secs.  David Murphy  of Gowran AC won the M18 200m in 21.97 secs from Joseph Finnegan Murphy  of Dublin Striders in 22.25 secs. The pair had finished in the same order a week earlier in the 60m  when both clocked 6.94 secs. Portmarnock's Michael Farrelly was also making it a sprint double when he won the M16 200m  in 22.99 secs.
Another championships record fell to Ailbhe Doherty of Ennis TC who won the W15 800 in 2:14.24; a week earlier she had won the 60m. Her time was the fastest acorss all the ages yesterday. A fighting second  in  2:16.02 was Aimee Hayde of Newport, fresh from the schools international cross-country a week earlier.
Multi-eventer Daniel Ryan  of Moycarkey Coolcro won the M19 60m hurdles in 8.16 secs, while in the M19 race,  Tramore's Shane Monagle  ran 8.10 secs, a shade outside the record.
Winning the M19 200m was David McDonald of Menapians with his time of 21.46 secs  a European U20 qualifier. Leaving it to the final round of the M19 triple jump was Sean Thompson of Lucan Harriers whose 14.13m effort gave him the title  In the M13 long jump, Leevale's Kyle Ettoh's 5.11m leap was another championships record.
A closely fought M18 800m saw Ruarcan O Gibne of Boyne AC just making it ahead of  Eoghan Kearney of Tallaght. The pair were timed at 1:57.59 and 1:57.88 respectively.
STEPHEN DUNCAN and Catherine Whoriskey were the winners of the Spar OMagh Half Marathon yesterday. A few days earlier, Conor Bradley and Kerry O'Flaherty won a well-supported Queen's 5km in Belfast.
Results –
Sunday April 2
Women's Meet and Train Summer League Rd 1 Firhouse 5km.
1 Grainne Regan (Crusaders A) 19.03, 2 Jean Wilson (Sportsworld A)
19.04, 3 Sarah Hade (Bros Pearse A) 19.12, 4 Sinead Tighe (Bros Pearse A)
19.48; 5 Fiona Groark (Esker) 20.03, 6 Audrey Gahan (Donore A) 20.08,
20.16. 7 Katie Maher (Lucan Hrs) 20.16, 8 Sinead Staunton
(Sportsworld A) 20.18, 9 Naoise Waldron (Sportsworld A) 20.31, 10 Patricia Fitzmaurice (Sportsworld A) 20.37.
UCC Cork BHAA Carmel Lynch 5km (www.corkbhaa.com)
Men: 1 Colin Merritt (Army), M45) 32.25, 2 John Meade (Dept of Ed) 32.57, 3 Finbarr O'Dwyer (CPO, M40) 34.01, 4 Alex Lehane (temp) 34.21, 5 Alex O'Shea (Cork City Council, M40) 34.48 , 5 Shane Simcox (temp) 34.51.
Women: 1 Grainne O'Donnell (temp) 38.56, 3 Lorna Davy Fitzgerald (HSE, W35) 39.44, 3 Katie Hickson (temp) 40.02, 4 Orla Crosbie (HSE, W45) 41.43, 5 Mary Sweeney (FFL, W55)42.07.
Saturday April 1
Spar Omagh Half Marathon (1,677 finishers; www.myrunresults.com
Men: 1 Stephen Duncan (Omagh Hrs, M45) 70.05, 2 Mark Long (Foyle Valley) 72.50, 3 Paul Barboru (Derry tc0 73.10, 4 Francis McDaid (ACorns, M35) 73.30, 5 Shane Brady (Clones) 74.41, 6 Noel McNally (Beechmount Hes) 75.00.
Women: 1 Catherine Whoriskey (City of Derry Spartans) 76.52, 2 Karen Alexander (Acorns, W35) 81.54, 3 Louise Smith (NBH, W45) 83.03, 4 Gerrie Short (Beechmount Hrs, W40) 84.43, 5 Ciara McSherry (Springwell) 87.45, 6 Donna Evans (Finn Valley, W50) 88.05.
Wednesday March 29
Queen's 5km (739 finishers; www.championchipireland.com)
Men: 1 Conor Bradley (City of Derry Spartans) 1.4.44, 2 Danny Mooney (Letterkenny AC) 14.48, 3 Ben Branagh (St Malachy's) 14.48, 4 Neil Johnston (Springwell RC) 14.51, 5 Chris Madden (City of Lisburn) 15.06, 6 Mark McKinstry (NBH( 15.19.
Women: 1 Kerry O'Flaherty (Newcastle, W35) 16.18, 2 Emma Mitchell (Queen's) 16.27, 3 Jessica Craig ( Nth Down) 17.15, 4 Sinead Sweeney (Queen's) 17.24, 5 Claudia Jason (AD Marathon) 17.35, 6 Amy Bulman (Willowfield) 17.38.
3km (118 finishers)- Oran Gartland (Foyle Valley, M17) 9.14. Rachel Gibson (Nth Down) 10.18.