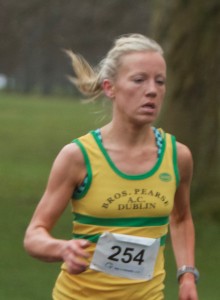 From Herald Wednesday 13 January
After her fighting second at the Great Edinburgh Cross, Fionnuala McCormack leads the Irish entry at Saturday's Antrim International Cross Country at Greenmount, where she faces a re-match with Kate Avery the British athlete who beat her last weekend in Edinburgh.
McCormack, who has won the race twice in the past also takes on two other past winners – the Ethiopian Mimi Belete  who runs for Bahrai and was the winner two years ago, and defending champion Birtukan Fente Alemu of Ethiopia. Belgium's Louise Carton, an impressive winner of the European U23 title in France last month, will also run the 5.6km distance.
Other local athletes to have signed up include Kerry O'Flaherty of Newcastle a member of the bronze medal winning Irish team at the European Championships and Emma Mitchell, who ran in the U23 race at that event.
Favourite to win the men's 10.8km is double European junior champion Yeman Crippa of Italy.
For Fionnuala McCormack, the race will be a final outing on the mud before she sets her sights on the World Half Marathon Championships in Cardiff in March.
In Edinburgh, Fionnuala McCormack pushed the pace at the start, with Britain's Kate Avery on her heels. After the first of four 1500m laps, with her long legs and slightly hunched style, looking every inch a second Paula Radcliffe began to pull away and went on to win in 21 mins 5 secs. McCormack was five seconds behind with Britian's Gemma Steel a distant third. After working her way through the field on the final two laps, Lizzie Lee, who like McCormack has qualified for the marathon at the Rio Olympics, finished ninth in 21 mins 51 secs.
In the junior men's race, Kevin Mulcaire of Ennis TC forced the pace from the start, btu although he built up a big lead he ran otu of steam and was caught Britain's Alex Lee who then pulled away for victory. To his credit, Mulcaire never gave up and finished just six seconds behind Yee in a confidence building performance. Finishing sixth was Jack O'Leary of Mullingar Harriers
An exciting 4×1 kilometre relay saw Ireland finishing an excellent third. Of the four, Kerry O'Flaherty has already qualified for Rio '16, while the other three have strong chances of making it.
John Travers of Donore, who led out the team, is going for the 10,000m time, while both Laura Crowe of Riocht and Kilkenny's Eoin Everard will setting their sights on the 800m or maybe 1500m times.
All four showed encouraging form, with Travers surviving the rough and tumble of the first leg to hand over to Crowe only two seconds behind the leaders Scotland A.
Crowe ran a smart leg, pulling Ireland into second, giving Everard the chance to fight it out with Scotland's Jake Whiteman. O'Flaherty on the glory leg showed her fighting qualities when she pulled the team back into third place after drifting back to fourth mid-race.
All round it was a good day's work for the large Irish team, with wins for Shona Heaslip of Riocht in the U23 women's race and for Kilkenny's Peter Lynch in the junior men's event.
HICKEY, MCMAHON ARE DUBLIN MASTERS
Ciara Hickey of Brothers Pearse, running her first ever cross-country race, won the women's 3km at the Dublin Masters Cross-County held at St Anne's Park in trying underfoot conditions.
In particular, the start of the women's 3km produced a number of fallers, with others then fighting to stay on their feet. All sorted itself out and Hickey quickly went clear, building up a lead of over twenty seconds.
She was followed home by Anna Sadowska of Civil Service and DSD's Justine O'Connell Urell, with Annette Kealy of host club Raheny finishing fourth and first W45. Sportsworld, led by Ruth Kelly in fifth place, won a tightly-contested W35 team competing beating Donore by three points, with a new look Civil Service team finishing only a point behind again.
In a thrilling finish to the men's 6km, Donore's Michael McMahon  just got to the line ahead of Rathfarnham's Shane O'Neill. Paul Fleming, also Rathfarnham, was third, ahead of Donore's defending champion John Dunne. When it came to the team results, Donore came out on top beating Rathfarnham WSAF. There was some consolation for Rathfarnham when they won the M50 team title by a single point with Raheny second.
In the age groups, Raheny's Damien Martin finished  tenth overall and first M50, beating Paul Cowhie of Civil Service. There were also good wins for Chris Keeling of Balbriggan and District, and for Liffey Valley's John Cullen in the M55 and M60 age groups respectively. DSD finished first W50 team by a large margin. Cathryn Brady was 1st and Annette Kehoe 3rd W50; Sheelagh Jones, Linda Finnegan and Maxine Jones made it a W55 clean sweep for the club, while Joan Coyle was 1st W65.
A total of 201 men and 151 women lined out making this probably the biggest adult cross-country race in the country. Even better, virtually every club in the county was represented.
CLOHISEY RUNS 64:25 FOR "HALF"
Raheny's Mick Clohisey made the best possible start to 2016 when he won the Waterford Half Marathon in  time of 64 mins 25 secs. Not too far behind was Leevale's Mark Hanrahan in 65 mins 9 secs. Although he already has a marathon qualifying time for Rio '16 Clohisey is aiming to nail down his place with a fast time at the Seville Marathon next month. Paul Pollock, who is fourth in line for a place, plans to run London in Arpil.
Winning the women's race was Leevale's Claire Gibbons McCarthy, who is back racing after a long battle with injury. Her time of 76 mins 45 secs put her comfortably clear of Siobhan O'Doherty of Borrisokane and Pauline Curley. The race had been postponed from early December because of flooding on the course.
WINNING RETURN FOR BYRNE
In Tymon Park, Olympic marathon runner Linda Byrne made a winning  – and very welcome – comeback at the Bank of Ireland BHAA cross-country. In vefy soggy conditions, Byrne won the women's two-mile race in  13 mins 50 secs. In second place, twelve seconds behind, was Laura Shaughnessy while third was Niamh Devlin.  Brian McMahon  was a clear winner of the men's four-mile race in 24 mins 10 secs, with Martin Quinn second.
ENTER BEWLEYS TRIM '10'  – NOW!
Entries are already flooding for the Bewley's Trim 10-Mile on Sunday February 7 (12.0)with all who enter before the end of January getting a special pair of race-branded technical running socks. Online entry is €1.40 (including booking fee) with a Bewley's goody bag for all finishers. Register at www.trimac.ie