For most people, the marathon is a special event not to be indulged in too often. Then there are the members of the 100 Marathon Club Ireland.
For them, a marathon is something you do once a month or even once a week.
Notching up a hundred marathons is their target and so they travel far and wide to find certified marathons they can add to their list. Although running is the ultimate cheap sport, when you're chasing marathons and have to consider travel, accommodation and food, as well as the entry fee, the costs can multiply rapidly.
Out of this came a brainwave: why not organise a series of low-key marathons in the Dublin area? Costs would be kept to a minimum, and anyone who entered would be sure of a properly measured course, drinks stations and an official finish time.
"What we aim to organise are professionally organised marathons without the fuss and the expense of the bigger events. For your €20 entry fee, you get a course measured to Athletics Ireland standards, water stations and gels, plus a medal and an official time when you finish. If we make any profit, it will go to charity," says Ger Copeland, one of the men behind the East of Ireland Marathon Series.
So far, two runs have taken place in the Clontarf area of Dublin with all 50 places on offer taken up in two to three hours.
Winner of the first race was Paul Molloy in a time of 3 hours 10 mins. Copeland himself won the second race in 3 hrs 15 mins, with Maura Dineen first woman in 3 hrs 54 mins. Others took quite a bit longer to finish, but that wasn't a problem.
"Above all, we want to attract people who know what they're about when it comes to marathon running."
So far, the feedback has been "fantastic". Copeland is quick to emphasise that marathon running is not for everyone. "Our group is a marathon group, so if you're build to run 10km, then don't do marathons."
If however you do want to run marathons, but baulk at paying commercial race prices, then the East of Ireland Series could be just what you're looking for. Next race is on Saturday (9am start) on a newly measured course around Howth. Why not head out and see what it's all about?
Olympian Pauline Curley set a new course record of 2 hrs 47mins 47 secs when she finished first woman at the Cork City Marathon. Leading home the race was Bartosz Mazerski from Poland in 2:28.29 – just 23 seconds ahead of Clonliffe's Ga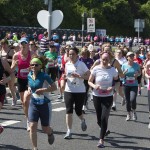 ry O'Hanlon in his fifth marathon since last March. Finishing her 110th (and final)  marathon in 5:42.23 was 76-year-old Kay O'Regan of Slaney Olympic. Kay has no plans to retire from running but will stick to shorter distances in future.
Tommy Hughes, aged 52, not only won the Derry Walled City Marathon 2:30.32, he finally completed a hat-trick of Derry Marathons after a mere 28 years! Hughes, who ran for Ireland at the 1992 Olympics and won the Dublin Marathon in 1991, won marathons in Derry in both 1984 and 1985. Jackie Boyle from Tallaght, a Derry native, was first woman in 3:14:15.
With the European Team Championships in Santry looming at the end of the month, Clonliffe's Brian Gregan  won his first outdoors 400m of the year in Belgium with a time of 45.82.  Winning the women's 400m was Shauna Cannon in 54.91; even faster was Sinead Denny who won a lower graded 400m in 54.24.  Steeplechase specialist Rory Chesser of Ennis TC finished third in the 5000m in 14:12.13.In the 400m hurdles, Jason Harvey ran a personal best 50.27 for third place, while Mark English of Letterkenny was second in the 800m in 1:46.82.
Laura Crowe of Riocht tops the Irish 1500m rankings after running 4:12.25 at the BMC Meet in Sports City – a personal best. In Geneva, Sarah Lavin broke Derval O'Rourke's Irish junior record for the 100m hurdles with a time of  13.45.
Want to get fit over the summer? In Dublin's Raheny, the annual Lord Mayor Summer 2-mile summer series starts next Tuesday night (8.0), June 11, with the 12-race series costing just €50. Also in Raheny, the Tommy Lynam Mid-Summer 5km is scheduled for St Anne's Park on Sunday Jun 16 (11am) with fresh fruit and lots of goodies for finishers. See www.rahenyshamrock.ie
Two good races take place on either sides of the country this weekend. Bohermeen, near Navan, is the venue on Saturday evening (7.30pm)for the annual Patrick Bell Memorial 5km with a with a long list of prizes, live music (bring your guitar!) and a post-race barbeque beside turf fires. Then on Sunday (2pm, the Little South Run – a 4-mile race that bears only small relationship to the Great North Run – takes to the streets of Kilmacow, Co Kilkenny. All finishers get a special medal, a chance to win one of many generous spot prizes and tea along with bespoke sandwiches created by the women of the local ICA. Well worth the trip, both of them!
Winners of the Dublin Marathon on October 28 will drive away in a brand new Fluence ZE electric car courtesy of Renault, who have signed up as partial sponsors to the race. In addition, everyone who enters the marathon or any run in the Dublin Marathon Race Series has a chance of winning a third Fluence ZE.
First event in the Dublin Marathon Race Series is the Irish Runner 5-Mile in the Phoenix Park on Saturday June 29. To register, go to www.dublinmarathon.ie.