Brian Maher and Maria McCambridge lead a Marathon Mission squad at Sunday's Rotterdam Marathon – the start of a hectic period of spring marathons in big cities all over the world.
Also competing in Rotterdam are Joe McAllister in the men's race along with a trio of women – Ailish Malone of Clonliffe, the only Marathon Mission athelet to record a personal best in the dreadful conditions at the Reading Half Marathon; Claire McCarthy, who is running well at the moment and Barbara Sanchez, who who ran 2:37.64 in Seville last month as a warm-up.
Maher and McCambridge completed their preparations with final outings at the Dublin City Council 4-Mile road race in St Anne's Park, Raheny last weekend. Maher was in a class of his own in the open 4-mile race with his time of 19 mins 6 secs putting him well over a minute clear of the chasers, while McCambridge, the current Irish champion, finished sixth overall.
At stake for the Marathon Mission members are places on the Irish team for the World Championships in Moscow next August, although the 2014 European Championships, which includes a team competition, is probably a more realistic goal.
Controversially, Athletics Ireland imposed an A standard on 2:13 for men and 2:32 for women for the World Championships although it seems likely that B standards of 2:17 for men and 2:36 for women will be accepted with only one man and one woman travelling. With times from January 1, 2012 counting, Maria McCambridge, Ava Hutchinson and Paul Pollock already have the B standard.
Pollock, who won the Irish marathon title in Dublin last October with a brave run of of 2:16.30, is running London a week after Rotterdam. He had hoped to break 2:15 in Dublin and that will again be his target in only his second ever marathon.
Also running London is Gladys Ganiel who ran 75.51 for the half marathon in the Hague last month, and her North Belfast Harriers team mate Breege Connolly.
All of them will be looking anxiously at the weather reports after a long hard winter that has stretched both bodies and minds to their limit.
For Rotterdam the news is alarming – a temperature of 14 degrees on Saturday followed by a high of 22 degrees on Sunday is predicted. For the sake of our Irish runners, let's hope the weather forecasters are wrong.
If the high spirits after the race is anything to go by, Sligo Athletic Club is probably still celebrating after taking their first ever Woodie's DIY National Road Relay title last Sunday.
Dermott McDermott and Raheny's Cillian O'Leary had set off together on the final leg of two miles, with McDermott only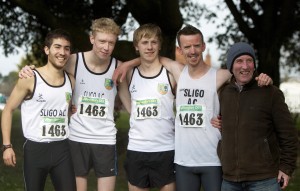 breaking away with the line in sight. Making up the team were 800m specialist David Harper on the opening leg of two miles, James McKeogh on the mile leg, and Alberto Sanchez who put the team in contention with his fighting three mile effort.
Even closer was the women's race with DSD's Sarah Mulligan giving it her all on the final mile leg to  retain the title for her club in a new course record of 21 mins 6 secs.
Rathfarnham WSAF and Raheny Shamrock won the men and women's masters titles. A record 250 entries had signed up.
With an exhausted Fionnuala Britton sitting it out, DSD's Linda Byrne is favourite to take the Woodie's DIY National 10km title to be run in conjunction with the Spar Great Ireland Run in the Phoenix Park on Sunday. Also entered are Ava Hutchinson and Lizzie Lee, both members of the Irish cross-country team.
In the international race, they will take on Spain's Diana Martin and last year's winner Gemma Steel from the UK.
Ethiopia's 2011 world 10,000m champion Ibrahim Jeilan will face fellow country man Kenenise Bekele in the men's international race. In the Spar Mile, the local entry is led by Paul Robinson, Colin Costello and Darren McBrearty.
Starting tonight (Wed) is Ballyroan Abbeyleix & District's second annual Get Fit for Summer Challenge concluding with the Heart of Laois 10km on Sunday June 16.  Races take place in Abbeyleix, Ballyroan, Ballinakill, Cullohill and Raheen. Price per race is just €5, with the Heart of Laois 10km costing €20. All-in entry is a bargain €40.
A total of 772 ran Dublin Parkruns last Saturday – and two more Parkruns are on the way; one in Dublin and one in Cork. Clearly these free runs over  5km with  their  friendly community atmosphere are proving a winner. Interesting times, especially for commercial race organisers. Watch this space!
Every winter, club athletes use the Alsaa Series of mile and 3000m races held once a month to monitor their fitness in the off-season. Next Tuesday's mile (7.30) is the final race of the season and all are welcome not just to run but to attend the awards ceremony. And have a bite to eat. Included in the evening is a special question and answer session with young athletes Sarah McCarthy and Rob Tully, who received ALSAA Bursaries to aid their training this year.
Emmett Jennings of DCU and DSD was a clear winner of the Ras UCD 5km in Belfield, with UCD athletes taking the next three places. Rob Corbally  just held off the fast-finishing Conan Mac Caughui for second, with Donal O h Annrachtaigh  fourth.  Aoife O'Connor from Thomastown was first woman, with DCU's Maire Nic Amhlaibh finishing second ahead of Caoimhe Daniels from GCH.  All funds from the Ras went to UCD's Volunteers Overseas programme.