Catherina McKiernan was on hand last week to launch the 2017 Lough Sheelin Challenge taking place on Saturday April 22 (10.0).
Hosted by St Brigid's AC, the Lough Sheelin Challenge takes in a 16-mile  loop around the famous fishing lake  through three counties – Meath, Westmeath and Cavan. Star and finish is at Crover House Hotel , who are the race sponsors.
On offer for the first time this year is a shorter 10km route  from Ross, with those who sign on being  transported to  the sta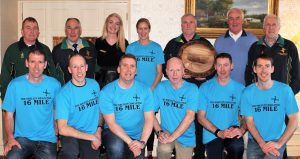 rt line.  A special race medal goes to all who complete the 16-mileand there's hot food for everyone at the finish in Crover. Online entries is still available at  www.popupraces.ie; fee is  €30 for the 16-mile challenge  or €18 for adults and €8 for U18s in the 10km. Info Frank 087 8304942, or checkout www.sheelinchallenge.com.
* To mark the 25th anniversary of her silver medal  – the first of four – at the World Cross Country Championships in Boston in 1992, St Brigid's AC made a presentation to Catherina McKiernan.