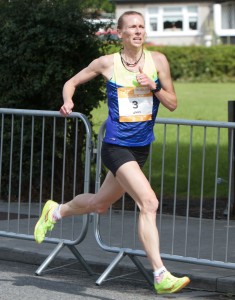 Maria McCambridge of DSD finished eighth overall in a time of 34 mins 38 secs at the North West 10km in Letterkenny yesterday. McCambridge, a previous overall winner of this race, was using the race as a final tune-up before the Riga Marathon in Latvia on Sunday May 15.   Claire McCarthy of Leevale, who dropped out in London, and Gary Thornton  of Galway City Harriers are listed to run in Sunday's for the Prague Marathon. The Irish selections for the marathon at the Rio Olympics are due to be announced on May 23.
First home in the North West 10k was Letterkenny master Ciaran Doherty in 31 mins 59 secs. Danny Mooney, also Letterkenny, was second and Mark McPaul of Finn Valley third. Second woman was Fionnuala Diver in 37 mins 57 secs.
AT THE DEEP RIVER ROCK BELFAST MARATHON, Kenya's Joel Kipsang Kositany won the race for a third time in  2:17.39 – almost  two minutes faster than the 2:19.36 he ran in 2015. In a closely fought race, Eric Koech second in 2:18.45 and Daniel Tanui third in 2:18.48 completed a Kenyan clean sweep of the top three places. First local was Ben Morrow in 2:42.40.  Winning the women's race for a second year was Berham Gebremichael of Ethiopia in 2:40.41. Laura Graham of Mourne Runners, a mother of four who had run London in 2:48.03 eight days earlier, was second woman in 2:48.55. Catriona Jennings of Rathfarnham WSAF, a late entry after running the Rotterdam Marathon a few weeks ago, dropped out sometime after halfway.
ABROAD, THE BATTLE for places on the Irish team for July's  European Championships  in Amsterdam hotted up with B qualification marks for Christine McMahon and Rose Anne Galligan.  At the British University  Championships, McMahon  finished a close second in the 400m hurdles with a time of 57.78 secs; the B standard for the European Championships is 57.90 secs.  In California,  Galligan clocked 2 mins 02.35 secs for 800m at the Payton Jordan Invitational in California – a European B standard and .85 seconds outside the Olympic qualifying mark of 2:01.5.  Claire Tarplee ran 4:17.93 in the 1500m; the European B standard is 4:12.00, while Kevin Batt clocked 13:53.65 in the 5000m. In the 10,000m at the same meet, North Sligo's Mary Cullen dropped out. Cullen already has an A standard for 5000m after running 15:26.32 in Stanford last month.
In Florida, Paralympian  Jason Smyth  showed a welcome return to form when he ran 10.45 secs for 100m. Also making a comeback is Olympian David Gillick, who ran 48.05 secs for fifth in a 400m race held in Pavia, Italy. Gillick, now 32-year-old, is aiming for a place on the Irish Olympic 4x400m team.
PARALYMPIAN  Patrick Monahan  pushed his way to 12th place at the Seoul Marathon in a stunning time of 1 hrs 29 mins 45 secs – not just smashing his own Irish record but well inside the qualifying mark for the Rio Paralympics. Monahan went through the first 5k  in a sizzling 9 mins 30 secs. Performance of the week!
AT THE MEATH ROAD RELAYS, the St Brigid's men and the Dunshaughlin women came out on top in the A grade races. Making up the St Brigid's team were Fergus Mulvanney, Gerard Heery, Fechin Heery and Sean McDaid. Format was a medley – 800m,1600m,2400m and 3200m. A record total of 27 teams competed. (Thanks Ciaran Tobin for info and pics)
Monday May 2
Leinster Novice and Masters Road Races, Gowran. www.athleticsleinster.org
Novice – Women's 3k: 1 Marie Snell (Newbridge) 11.04, 2 Caoilte Malone (KCH) 11.09,3 Sharon Kehoe (Kilmore) 11.28. Teams – 1 KCH 35, 2 Gowran 35. Men's 6k: 1 Colin Maher (Ballyfin) 19.30,2 Brian Kirwan (StLOT) 20.25, 3 Tom O'Keeffe (KCH) 20.31. Teams – 1 St LOT 31, 2 SBR 43, 3 Gowran 76.
Masters – Women's 3k: 1 Sharon Grant (Portlaoise) 10.58, 2 Mary Leech (Drogheda and Dist) 11.05, 3 Sinead Eacrett (St Michael's) 11.12, 4 Paula Grant (Portloaise) 11.24, 5 Emilia Dan (Dunboyne) 11.34,6 Colette English (St Abann's) 11.37. Teams – 1 Portlaoise 18, 2 Drogheda and District 24. Men's 6k – 1 Brian Byrne (Newbridge) 20.12, 2 Colm Burke ( St Abban's) 20.15, 3 Myles Gibbons (SBR)  20.32, 4 Pat Malone (Newbridge) 20.33, 5 Arnaud Benjecar (Liffey Valley) 20.35, 6 Paul Balfe (Liffey Valley) 20.40. Teams – 1 Liffey Valley 35, 2 Newbridge 37, 3 St Abban's 46.
Sunday May 1
Northwest 10km, Letterkenny, Co Donegal (1,049 finishers; www.northwest10k.com)
Men: 1 Ciaran Doherty (Letterkenny, M40)31.51, 2 Danny Mooney (Leteterkenny) 33.27, 3 Mark McPaul (Finn Valley) 33.30.   M40: 1 Ivan Toner 34.26, 2 Gary Crossan (DSD) 36.10, 3 Jim Harkin (INishowen) 36.10. M50: Gerry McMonagle (Letterkenny) 38.01.
Women: 1 Maria McCambridge (DSD) 34.38, 2 Fionnuala Diver (Letterkenny, W35) 37.58, 3 Michelle Lennon (Nth Roscommon) 40.06.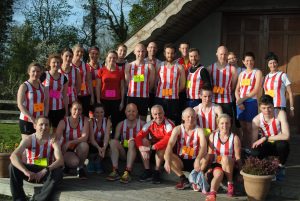 Meath Road Relays, Bohermeen

Men – A: 1.St Brigid's 26-11, 2.Dunshaughlin 26-29, 3.Fr Murphy's 27-11.B: 1.Bohermeen 27-19, 2.Duleek & District 27-22, 3.Trim 27-25.
C: 1.Trim 28-16, 2.Bohermeen 28-36, 3.Dunboyne 29-33
Women – A: 1.Dunshaughlin 30-47, 2.Bohermeen (A) 31-00, 3.Bohermeen (B) 33-28. B: 1.Trim A 34-12, 2.Trim B 34-23, 3.Fr Murphy's 34-59. C: 1.Trim C 35-09, 2.Duleek & District 36-04, 3.Dunboyne 36-13