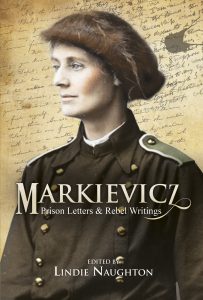 The Prison Letters of Countess Markievicz, edited by Esther Roper and first published in 1932 became an instant classic of feminist literature and was re-issued in 1986 by British publishers,Virago, bringing it to a new audience of readers.
Though the original book provided a unique insight into one of Irish history's most remarkable figures, it also skirted around a number of sensitive issues, possibly because many of the people mentioned in the letters were still alive.
This new edition, edited by Lindie Naughton, presents the letters as they were originally written. While examining the letters, which are held in the National Library of Ireland in Dublin and the Public Records Office of Northern Ireland in Belfast for Markievicz – A Most Outrageous Rebel,  her sell-out 2016 biography of the Countess, Naughton noticed many discrepancies between the letters printed in the Virago  edition and the originals.  Markievicz -Prison Letters and Rebel Writings updates and corrects the letters and adds new material.
Remaining central to the new book are the letters Markievicz wrote from prison while serving five sentences between 1916 and 1923. The first of these was a year spent in the grim surroundings of Aylesbury prison in England following the 1916 Easter Rising. Markievicz was sentenced death for her part in the Rising but this was commuted to life imprisonment purely on the grounds of her sex.
Later she would spend time in Holloway, Cork, and Mountjoy prisons as well as the North Dublin Union. While in prison, she had time to write long interesting letters, mostly to her sister Eva, but also to her brother Josslyn and step-son Stanislas, as well as to friends including Kathleen Clarke, Hanna Sheehy Skeffington and Nora Connolly. There is also one letter to her husband Casimir.
Through these letters, recounting her feelings, political beliefs, opinions on world events and the minutiae of her domestic life, we hear the voice of an irrepressible woman, full of life and spirit; a dogged nationalist and socialist who never gave up the fight for a more equal society.
As the first woman elected as an MP to the House of Commons, Markievicz is a controversial and often misunderstood figure in Irish and British history. In her letters, the real Markievicz shines through, allowing readers to make up their own minds about this controversial and compelling woman.
Markievicz -Prison Letters and Rebel Writings is published by Merrion Press (€19.90).
A second edition of Markievicz – A Most Outrageous Rebel is also available (€14.90).