UCD's Ciara Mageean was a clear winner of the 3000m at the opening day of the Irish Life Health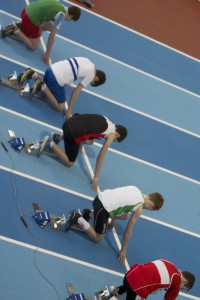 National Indoor Championships in Abbotstown.
Making the early pace in the race was Kilcoole's Fionnuala McCormack, with Mageean and Michelle Finn of Leevale on her heels. Finn was next to push the pace, but when Mageean made her move, she proved uncatchable. She finished in 9 mins 08.79 secs; Finn was second in 9:12.61, McCormack third in 9:15.58 and Emma Mitchell of Queen's fourth in 9:19.90.
Other winners on the day were Sommer Lecky of Finn Valley in the high jump with a height of 1.81m; Mid Sutton's Sarah McCarthy in the long jump with a season's best  6.03m,  Michaela Walsh of Swinford in the shot with a 14.95m effort, West Waterford's Thomas Houlihan  with 4.75m in the pole vault and  Antony Daffurn  of St Ronan's  with 14.83m in the triple jump.
Setting a new Irish junior record of  23.85 secs in the 200m heats  was Newport's Sharlene Mawdsley.  In the 400m,  DSD's Sinead Denney in 55.11 secs and Phil Healy of Bandon with 55.71 secs led the qualifiers, while Clonliffe's Brian Gregan  was the class of the field in the men's 400m, winning his heat in 47.17 secs; second fastest time  of 47.90 in the eight heats  was clocked by Mike Lennon Ford of Clonliffe. Fastest of the men's 1500m qualifiers was Garry Campbell of Dunleer with 3:55.34 in the second of two heats; Raheny's Cillian Kirwan was second in the same heat in 3:49.90 and Paul Robinson of St Coca's third in 4:00.39. Winning the first heat in 4:01.37 was John Travers of Donore.
BEN REYNOLDS of North Down finished 5th in the 60m hurdles at the Birmingham International Grand Prix with a time of 7.87 secs – not far off his best of 7.77.secs. At the British University Indoors, Andrew Wright of Willowfield Harriers finished second in the 1500m in a time of 3:48.91.
Megan Marrs  ran a personal best 8.60 secs was third in the 60m hurdles heats, followed by Sarah Connolly of North Down fourth in 9.02 secs; Claire Robinson of North Down was 6th in 9.27 secs. In the pole vault, multi-eventer Michael Bowler was sixth with a 4.30m effort.