Courtesy Herald Schools Sports Section
Aoibheann McMahon of St Vincent's Dundalk proved the star at the opening day of the Irish Life Health Leinster Schools Track and Field championships in Santry.
Although they were held at the same time, McMahon managed to compete in both the junior javelin and shot and set records in both.
In the shot, her best heave of 13.25m added almost half a metre to the 12.86m record set in 1995.
With that job done, she turned to the javelin, hurling the spear out to 42.78m. That broke the record of 39.30m set by her school mate Kate O'Connor in 2015. Four of McMahon's throws were over 40 metres.
On a good day for field eventers, the junior girls hammer record also fell when Keri Noonan of Fingal CC made 44.03m. That added over two metres to the 2010 record of 41.52m.
Closest competition of the day came in the junior boys long jump. This was decided on count-back when both Reyan Issah of Terenure College and Michael Farrelly of St Fintan's High School recorded jumps of 5.75m. Issah's second best effort of 5.67m gave him the title, edging out the 5.64m jumped by Farrelly For third place, Aodhan Daly of Temple Carrig in Greystones jumped 5.72m. Farrelly went on to win the junior 200m beating Gavin Doran of CBC Monkstown.
Setting a new U16 girls record of 10.76m in the shot was Shauna Leyden of St Finian's Mullingar. Eva Kehoe of Holy Family Newbridge in second place with 10.54m and third placed Rhian Kidd of Pres Carlow with 10.47m also broke the old record of 10.35m.
The day had started with the senior and inter hurdles and adding another title to her collection in the senior 100m hurdles was Molly Scott of Scoil Chonglais. She will compete in the 100m flat on Saturday, when the remaining senior and inter events will take place. Behind her came Alison Burke of St Dominic's Cabra and Niamh Gowing of Mount Anville.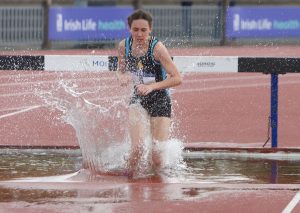 Winning the senior boys' steeplechase in some style was Brian Fay of Belvedere who shook off the challenge of Philip Marron from Ratoath College. Inter and senior girls ran together with Roisin Treacy of St Gerard's not only the inter winner but also overall winner of the race.
Making it a sprint double in the junior 100m and 200m was Rhasidat Adeleke of Presentation Terenure. She was in a class of her own in the 200m with her time of 25.07 secs a new record.
In the middle distances, Aaron Shorten of St Lazarian's recorded an impressive victory in the junior 800m, running a personal best time of 2:05.40. In the junior girl's 800m Corinne Kenny of Gorey CS had an even clearer victory. Sean O'Donoghue of St Declan's Cabra had a clear win in the junior 1500m, beating Sean Dalton of Malahide CS.
Aaron Cullen of Portmarnock CS won the U16 boys' mile, with Jennifer McAdams of HFCS Rathcoole the girls' winner.
Pics at www.lindie.zenfolio.com.