Rio-bound marathon woman Lizzie Lee  of Leevale ran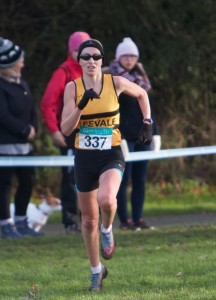 a time of 33 mins 28 mins to finish 12th in the 45th edition of the New York Women's Mini 10k, the first women's only road race in the world and the inspiration for the Dublin Mini 10k.
In its first year, the New York Mini 10k, attracted a field of 75; today, there were a record 8,833 finishers chasing  fast times and the $45,000 prize pot, with $10,000 going to the winner Jemma Sumgong from Kenya who finished in 31 mins 46 secs. A total of 721 finishers broke 50 minutes and 3,343 came home in under the hour. The 1,000 finisher crossed the line in 51 mins 43 secs. One of the oldest finishers was 87-year-old Bertha McGruder. She finished in 1:32.09. Now that's inspirational!
Peter Somba continued his winning streak  at the Braveheart Trail 5km in Trim, with his time of 16 mins 29 secs giving him a comfortable victory. Laura Shaughnessy of DSD was an equally clear winner of the women's race in 17 mins 38 secs.
At the Grant Thornton Corporate Team 5km at Sports Campus Ireland, Blanchardstown earlier in the week, Hubspot  won the mixed team category with a total time of 1:25:09, Your Pace or Mine were the women's team winners in 1:49:09 and Europcar the first team across the line and winners of the men's category were Europcar with 1:24:11. Race winner was Feidhlim Kelly of Athletics Ireland in 17:20, while Aileen Kane of Grant Thornton was first woman 21:13. A total of 261 took part in the event; full results www.myrunresults.com.
IRISH para-athlete Deirdre Mongan  won Ireland's first medal of the IPC Athletics European Championships this morning when 4.10m in the opening round sa her finish third.
Friday June 10
Braveheart Trail 5km, Trim. 
Men:1 Peter Somba, Dunboyne AC,16.29; 2 Sean Murphy,Trim AC,16.54; 3 Liam Murray,Virginia Tri Club,17.07. M40: 1,Ronan Carey,Na Fianna, 18.04; 2 Paul Gilligan,Rathfarnham WSAF,19.01; 3 Ollie Kearney, Donadea RC,19.08. M45: 1 Don Mahon, Trim AC,19.47; 2 Michael Molloy,Trim AC,19.57; 3 Daniel Delaney, Star of the Sea,20.16. M50: 1 David O'Connell Bohermeen,17.28; 2 Matt Glennon, Mullingar Hrs,18.00; 3 Larry Kelly,St Coca's,18.36.M55: 1 Chris Keeling,Balbriggan & District,18.40; 2 Paddy Mangan, Dunshaughlin AC, 18.56; 3 Joe Holton, Na Fianna,19.54.M60: 1 Albert Eakins,Shercock AC,22.57; 2 Maurice Boland,Sth O'Hanlon,26.03; 3,Peter Curran,Sth O'Hanlon,29.53.
Women: 1, Laura Shaughnessy, DSD, 17.38; 2 Charlotte Kearney, Donadea RC,18.09; 3 Linda Fahy, Dunshaughlin AC, 20.33. W40: 1 Patricia Fairbrother 20.34; 2 Andrea McGuinness, Bohermeen AC,21.04; 3 Claire Smith,Trim AC, 21.38. W45: 1 Imelda Clarke, Na Fianna,20.53; 2 Ursula Byrne,Dunshaughlin AC , 21.11; 3 Mary Hanley, Na Fianna,21.17. W50: 1,Mary Watters,Navan AC,21.37; 2 Michelle McKiernan, Star of the Sea 23.22; 3 Ann Marie McCloskey, Na Fianna,23.48. W55: 1 Bernadette Kavanagh,Trim AC,23.08; 2 Deirdre McFerran, Drogheda & District,24.55; 3 Linda Gunning,Bohermeen AC, 24.58. W60: 1,Marie Reilly, Navan AC,24.16; 2,Rose Healy,Fr Murphy AC,31.12.