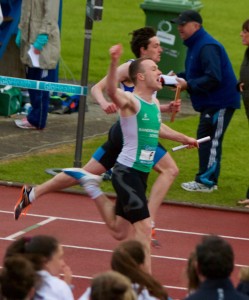 Defending champion Zak Irwin of Sligo Grammar ran a European Junior qualifying time of 10.60 seconds to win the senior 100m at the Glo Health All Ireland Schools Track and Field Championships in Tullamore.
His time was just one-hundredth of a second off Marcus Lawler's 2013 record of 10.59.
Later in the day, Irwin, who has raced sparingly, was narrowly beaten in the 200m by Sean Lawlor of Kylemore college who ran a time of 21.51 secs.
Highlight of the girls' sprints was a win for Ciara Neville of Castletroy College in the inter 100m. Her time of 11.64 secs was a European Juniors qualifier. On a cold and blustery day, Neville also won the 200m in a wind-assisted time of 23. 99 secs.
Winning the senior women's 100m and 200m was Phoebe Murphy of Loreto Cavan who ran 11.72 secs in the 100m and 24.21 in the 200m both wind-assisted.
Mark Milner of Colaiste Choilm Templemore became the first athlete in this age group to break two minutes at the championships when he won the junior 800m. His time of 1:57.58 was well inside the 1978 record of 2 minutes exactly set by Paul Donovan.
Both record went in the  Under 16 mile. First up were the girls, where Laura Ward of Pres Carlow ran a time of 5:15.12. In an exciting boys' race, Rory Lodge of St Kieran's battled it out with Paddy Maher of Dunshaughlin and came home first in 4:31.64.
In the senior 5000m, Kevin Mulcaire of St Flannan's Ennis won the race easily in 14 mins 52 secs, but in the bitterly cold conditions, failed to break John Treacy's 42-year-old record. Another impressive winner was Jack O'Leary of Clongowes who won the 2000m senior steeplechase in 6:03.67. O'Leary is chasing a European junior qualifying marck for the 3000m steeplechase.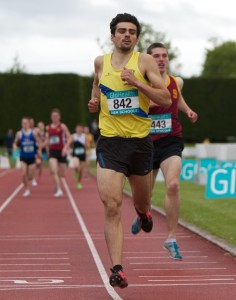 A Leinster double in the senior 1500m saw Nadine Power of  St MacDara's winning the girls race and Andrew Coscoran of St Mary's Drogheda best of the boys.
Smashing both the inter 3kg shot and hammer records was Michaela Walsh of SW&P Swinford. She started with a 63.76 in the hammer and then won the shot with a best of 16.46 beating a thirty year old record. In the senior 4km hammer, Alice Akers of Scarriff was also in record-breaking form with a best of 56.20m, while junior Jade Williams of Bailieborough CS was also in record breaking form with a throw of 54.00.In the senior boys' shot. Anu Awonusi of Kilkenny College continues to improve and won with a 17.11 effort.

First record of the day fell to Eimear Fitzpatrick of Our Lady's Terenure when she raced away with the inter girls' 1500m steeplechase in a time of 5:09.33.
In the 110m hurdles, Matt Behan of CUS clocked a winning time of 13.90, which was  inside the old record but wind-assisted. Molly Scott of Scoil Chonglais won the inter girls' 80m hurdles in 11.08 secs.

Other good wins came in the inter 400 hurdles narrowly won by Simon Essuman of Templeogue College from Ciaran Barnes of Belfast High School in 54.97 secs, from Hope Saunders of Mount Temple in the senior 3000m and from Niamh Ni Chiardha of Colaiste Iosagain in the inter 3000m.  In the field, David Cussen of Spioraid Naoimh jumped 2.05 to win the senior boys' high jump, while Jana Joha of Col Iosgain Dublin set a new record of 10.61 in the junior triple jump. One of the first competitors in action was Elizabeth Morland of of Dunshaughlin was one of the first competitors in action at 9am and she won both the senior high jump and then the long jump.
Overall, Ashbourne Community won the trophy as best overall school, breaking Belvedere's 15-year streak (note correction). Pics at ww.lindie.zenfolio.com and www.flickr.com/lindie

* In Oordegem, Belgium, Clonliffe's Brian Gregan finished fifth in the 400m with a season's best time of 46.78 secs. 
CORK TRIATHLETE Chris Mintern dominated the opening round of the Triathlon Ireland Super Series held in conjunction with TryAthy.
Mintern established an early lead in the 750m, eextended his advantage  on the 20km cycle and 5km run  to finish in 57:29. Former junior and U23 World Duathlon champion, Richard Horton from Great Britain  was 2nd in 59:15 with Nenagh Triathlon Club's Darren Dunne 3rd in 59:42.Susanne Murphy  was first woman in 1:05:52, with Laura Tighe  2nd in 1:06:24.
GloHealth All Ireland Schools T-F Championships, Tullamore (with thanks to Keneth Kiernan  – and assistant).
GIRLS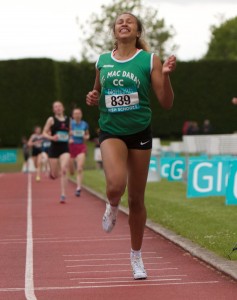 SENIOR – 100m – 1 P Murphy (Loreto Clonmel) 11.72,  2 R Harrison (Villiers Limerick) 11.97, 3 S Kate-Lacey (Loreto Kilkenny) 12.06. 200m– 1 P Murphy (Loreto Clonmel) 24.21, 2 R Harrison (Villiers Limerick) 24.34, 3 S Treacy (St Raphaels) 24.85.400m – 1 J Bromell (Castletroy College) 57.06, 2 S Becker (St. Mary's New Ross) 58.83, 3 Amy NíhAmaill (Colaiste Oiriall) 59.83. 800m – 1 L Shanahan (Bruce College Cork 2:13.52 2 C Sweeney (St Mac Dara's) 2:14.26 3 A Lally (Pres Athenry) 2:14.79 1500m – 1 N Power (St Mac Dara's) 4:50.74 2 C Murphy (St Dominics Cabra) 4:55.80 3 D Healy (Int of Education) 4:56.85 1500m S/Chase – 1 E Flanagan (SH Omagh) 5:09.63 2 A Armstrong (Coolmine CS) 5:16.96 3 C Cummins (Ursuline Thurles) 5:20.60 3000m – 1 H Saunders (Mount Temple Dublin) 9:56.88 2 I Carron (Skerries CC) 10:10.34 3 C O'Reilly (Loreto Cavan) 10:15.81  3000m Walk – 1 V Burke (Bower Athlone) 14:55.68 2 E Glennon (CM Mullingar) 15:38.27 3 K Bourke (St Wolstans CS) 16:38.41  100m Hurdles – 1 S Dawkins (St Mary's New Ross) 14.34 2 C O'Mahoneu (Lauren Hill) 14.46 3 A Borrel (East Glendalough CS) 14.76 400m Hurdles –  1 K Doyle (SM C'on Suir) 62.40 2 A Borel (East Glendalough CS) 66.34 3 C O'Connor (St Mary's Naas) 66.93 High Jump – 1 E Moreland (Dunshaughlin CC) 1.65m 2 R Rutherford (Glenlola) 1.60m 3 S Dawkins (St Marys New Ross) 1.60m. Long Jump – 1 E Morland (Dunshaughlin CC) 5.88m, 2 L Mills (Ballyclare High) 5.78m, 3 S Connolly (Glenola) 5.57m. Triple Jump – 1 E McCabe (St Mary's Naas) 11.29m 2 L Mills (Ballyclare High) 11.03 3 F O'Shea (Laural Hill) 10.91 Shot Putt – 1 D Ní Riain (GC Luimnigh) 11.29m 2 A Torsney (Plunkett College) 11.03m 3 S Cunningham (Kilkeel High School) 10.35m Discus 1kg – 1 K Cronin (St.Brigids) 42.93m 2 A Torsney (Plunkett College) 40.97m 3 J Leeper (St Columba's) 34.76m Javelin – 1 J Burns (Cookstown HS) 35.49m 2 E Hull (Glenlola) 33.18m 3 Lauren O'Mahony (St Mary's Midleton) 32.25m  Hammer 4kg – 1 A Akers (Scariff CC) 56.20mR 2 A Vaughan-Witts ( Borrisokane CC) 49.52m 3 K Brady (St Michaels Navan) 43.03m Pole Vault – 1 L Cussen (Col Choilm B'col) 3.15m 2 E Larkin (Villiers Limerick) 2.90m 3 M Dunford (St Augustines) 2.60m 4x100m- 1 (St Mary's New Ross) 50.06, 2 (Loreto Kilkenny) 50.20, 3 (Glenlola Collegiate Bangor) 50.90 Teams –
BOYS
SENIOR – 100m – 1 Z Irwin (Sligo Grammer) 10.60 2 S Lawlor (Kylemore College) 10.69 3 S Gibson (Bandon GS) 10.76 200m – 1 S Lawlor (Kylemore College) 21.51 2 Z Irwin (Sligo Grammar) 21.60 3 C Robinson (Carrickfergus GS) 21.75 400- 1 S Gibson (Bandon GS) 49.41 2 J Fitzsimons ( KTCS) 50.54 3 C O'Donnell (Magh Ene B'doran) 50.56 800m – 1 R Surlis (St Pats Cavan) 1:54.19 2 C Hayes (Col Chiarain 1:54.60 3 W Crowe (Sligo Grammar) 1:55.10 1500m – 1 A Coscoran (St Mary's Drogheda) 4:01.53 2 P McGabhann (DLS Churchtown) 4:02.12 3 S Curran (Dungarvan CBS) 4:06.39 2000m S/Chase – 1 J O' Leary (Clongowes Wood) 6:03.67 2 S Collins (St Flannan's Ennis) 6:14.41 3 B Flanagan (St Aidan's CBS) 6:20.40 5000m – 1 K Mulcaire (St Flannan's Ennis) 14:51.97 2 P Lynch (St Kieran's 15:20.33 3 J Fallon (Calasanctius) 15:32.69 3000m Walk – 1 A Egan (HS Clonmel) 12:39.87, 2 Tobin A (HS Clonmel) 13:28.00, 3 A Bell (St Gerards) 13:59.01 110m Hurdles – 1 M Behan (CUS) 13.90 2 B Fisher (Methodist Col.) 14.76 3 J Halwax (CBC Monkstown) 14.96 400m Hurdles – 1 J Halwax (CBC Monkstown) 56.16 2 D O'Mahony (Rochestown College) 57.77 3 S Samson (St Marys Galway) 57.82 High Jump – 1 D Cussen (Spioraid Naoimh) 2.05m 2 Keith Marks (Ashbourne CS) 2.05m 3 C O'Calloghan (Abbey vs Donegal) 1.85m Long Jump – 1 K Marks (Ashbourne CS) 7.21m 2 M Cullen (St.Peter's Wexford) 6.99m 3 I Brennan (St Columbas) 6.82m Triple Jump – 1 S Joyce (Ashbourne CS) 13.96m 2 C Durnin (St Mary's Dundalk 13.86m 3 I Brennan (St Columba's) 13.61m  Shot Putt – 1 A Awonusi (Kilkenny College) 17.11m