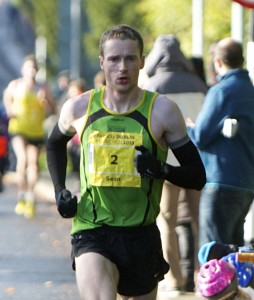 Rathfarnham's Sean Hehir finished best of the Irish at today's Virgin London Marathon. Hehir ran a time of 2:17.30 – five seconds faster than the personal best he ran in the Dublin Marathon of 2012. Hehir had hoped to improve on the time he ran in Berlin last September.
"Went for it. No regrets. Not to be today; fell apart in the last 7k, but a pb all the same, " said Hehir after.
Almost two minutes behind was Thomas Frazer in 2:19.17, whose best of 2:17.45 dates from Berlin in 2013. Stephen Scullion of Clonliffe, running in the elite race, ran 2:20.39. "Proud to finish London marathon. Not the result I wanted but that's ok. Quad strain/tear week out from the race changed things," he tweeted afterwards.
Clonliffe's Gary O'Hanlon finished third M40 in the club category with a time of 2:21.42. Fastest M40 finisher was Sergiy Lebid of Ukraine, running in the elite class, with a time of 2:14.07.
Claire Gibbons McCarthy of Leevale had hoped to nail down a place on the Irish team in Rio but was having a bad day. She went through the halfway mark in 78 mins 01 secs and dropped out somewhere after the 30km mark. First Irish women were Laura Graham  of Mourne Runners in a personal best 2:48:03 followed by Armagh's Fionnuala Ross with 2:49:57, also a PB.
KAROL CRONIN of Sportsworld was first across the line at the Dublin Remembers 1916 5k in about 16:16 (no chip timing) .Civil Service's Anna Sadowska  was first woman in  over 18 minutes.
SIOFRA Cleirigh Buttner running for Villanova  ran a personal best of 2:03.53 at the Larry Ellis promotion hosted by Princeton University  in the USA.  Also in the USA, DSD's Sinead Denny ran an outdoor PB of 53.96 secs for 400m in Gainesville, Florida. At the same meet, Clonliffe's Brian Gregan ran 47.30 secs for 400m   – the fastest Irish time so far this season. In the 400m hurdles, Jason Harvey clocked a season's opening time of 52.03 secs.
COURSE records for James McCarthy (East Cork) and Lizzie Lee (Leevale) at the Ballintotis 4-Mile, Co Cork on Thursday April 21. James ran 19.23 and Lizzie 21.21.
THROWERS  produced the most eye-catching results at the opening round of the Dublin Graded League on Wednesday April 20. Jade Williams of Shercock and Wrexham hurled the women's 3kg hammer out to 52.46m, while Adam King of Iveragh produced a throw of 68.13m with the men's 6kg hammer.
In the men's senior hammer (7.25kg), Patrick White of Dunboyne came out on top with 59.84m, followed by Clonliffe's Simon Galligan with 55.50m. Clare Fitzgerald won the women' shot with 14.49.
On the track, Sarah Murry of Fingallians won the women's 100m in 11.92, while DCH's Pierre Murcham produced the fastest time of 8:30.51 over two men's 3000m races. Winning the second race in 8:49.15 was DSD's Rick Nally. Clocking 9:04.12 was European modern pentathlon champion Arthur Lanigan O'Keeffe who will be competing at the Rio Olympics.
Wednesday April 27
Stryker BHAA 4-Mile, Carrigtwohill, Co Cork.
Men: 1 J Meade (Joyce Wolfe Physio) 20:40; 2 M Bruton (GE Healthcare) 20:42; 3 C Merritt (Army, M45) 20:43; 4 J O'Connell (Pfizer) 20:47; 5 E Curtin (Abbvie) 20:58; 6 C Murphy (Joyce Wolfe Physio) 21:26; 7 C Murphy (Navy) 21:54; 8 S Simcox  21:59; 9 D Lyons (CBC Staff) 22:02; 10 M Walsh (Dept of Educ) 22:13.
Teams - A: 1 Simply Suits 68; 2 Stryker 93; 3 Dept of Education 193.  B: 1 Navy 47; 2 Pfizer 87; 3 EMC 119. C: 1 VM Ware 297; 2 Apple 315; 3 EMC 325.
Women: 1 S Kevany (Pfizer, W35) 24:37; 2 J Wolfe (Joyce Wolfe Physio, W35) 24:49; 3 E O'Callaghan (MEP Engineering, W40) 25:39; 4 E Wolfe (26:00; 5 C McMorrow 26:19; 6 O O'Rourke (Keen on Sport, W45) 26:22.
Teams - A: 1 Joyce Wolfe Physio 123; Goldstar Telecom 263. B: 1 Cully Engineering 349; 2 Pfizer 442.C:  1 UCC 432; 2 Janssen 539.
Sunday April 24
Virgin London Marathon
Irish – Men: Sean Hehir (Rathfarnham WSAF) 2:17.20 (66.35 half); Thomas Frazer (Crusaders) 2:19.17 (66.54 half), Stephen Scullion 2:20.39 (66.27 half); 3rd M40 Gary O'Hanlon (Clonliffe) 2:21.42.  Women: Claire Gibbons McCarthy (Leevale)dnf (halfway 78.01; 30k 1:51.43.