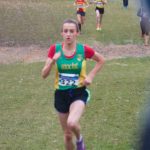 Shona Heaslip, representing IT Tralee, returned to the national cross-country course at Abbotstown today to  win the women's race at the Irish Universities Cross-Country Championships.
Heaslip was a surprise winner of the national cross-country title at Abbotstown last November.
For the first time in some years, the colleges decided not to link their championships with the All Ireland Schools Championships which take place next Saturday in Mallusk. Racing first were the women and breaking away from the start were Heaslip, who had finished second last year,  and Michele Finn of UL, winner last year. Leading the chasers was Mary Mulhare, who was helping DCU to team victory over last year's champions UL.
In the end, Heaslip had an easy enough victory with Finn second and Mulhare third.
Liam Brady of AIT was a clear winner of the men's race, repeating his victory of two years ago. Coming second was Neil Johnson  of Queen's who overtook Darragh Fitzgibbon of UCD in the last 600m.  DCU, with three in the top eight,  were making it a team double, beating UCD and AIT and winning the overall trophy as well.
Irish Universities Cross-Country Championships, Abbotstown (www.iuaa.org)
Women's 4.9km (59 finishers) : 1 Shona Heaslip ( It Tralee) 17.05, 2 Michele Finn (UL) 17.31, 3 Mary Mulhare (DCU) 17.55, 4 Jessica Coyne (UCC) 18.02, 5 Elizabeth Carr (DCU) 18.06, 6 Sinead Sweeney (QUB) 18.08, 7 Sarah Fitzpatrick (TCD) 18.13, 8 Amy O'Donoghue (UL) 18.15.
Teams(6) – 1 DCU (3,5,9,12) 29, 2 UL (2,8,10,14) 34, 3 UCC (4,11,13,22) 50.
Men's 8km (98 finishers) : 1 Liam Brady (AIT) 21.51, 2 Neil Johnson (QUB) 22:32, 3 Darragh Fitzgibbon (UCD) 22.40, 4 Tom O'Keefe (UCD) 22.45, 5 Kevin Kelly (DCU) 22.51, 6 Karl Fitzmaurice (AIT) 22.53, 7 Eoin Strutt (DCU) 23.03, 8 Michael Carey (DCU) 23.06.
Teams (7)- 1 DCU (5,7,8,10,12,14) 56, 2 UCD (3,4,11,16,21,25) 80, 3 AIT (11,6,9,42,47,54) 159.