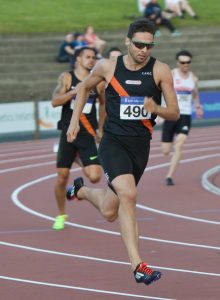 Clonliffe's Brian Gregan is listed for the 400m at tomorrow's Birmingham Diamond League meet, which means he will miss the Irish Life Health National League final in Tullamore.
Gregan, after running a lifetime best of 45.26 secs  earlier this season, is the third fastest entry in the race, which is not part of the Diamond League.  Topping the list is the American Vernon Norwood with 44.47 this season, while second is Kevin Borlee of Belgium, who has run 44.79 secs this season. Gregan's race takes place at 15.32 and is live on the BBC.
At the Irish Life Health National League Final in Tullamore, where Clonliffe Harriers are the defending men's champions, Mark McDonald will take Gregan's place in the 400m. In the women's competition, DSD are going for a seventh consecutive title, with St Abban's likely to push them hard. Leevale AC have withdrawn from the competition.
Clonliffe team for league final: 100/200 Leo Morgan, 400 Mark McDonald, 800 Richie Owens, 1500 Eoin Pierce, 5000 Brian MacMahon, 3000 sc Jayme Rossiter, 110H Rolus Oulsa, 400H Timmy Crowe, PV Dave Donegan, Triple Jump Andri Mahin, Long Jump/High Jump Keith Marks, Shot/56 lbs Luke Mangan, Hammer Simon Galligan, Discus Rolus Oulsa, Javelin Stephen Rice, Walk Greg Hossnney. 4×100 -from K Pike. I Ibeanu. K Marks. R Oulsa. L Morgan. 4 x 400 – from  McDonald, T Crowe, R Owens, E Pierce, AN Other.
LONG JUMPER Adam McMullen  of Crusaders AC  hit the Commonwealth Games standard for a second time at last Wednesday's Manchester International, hosted by England Athletics, at the Manchester Sports Arena. His opening jump of 7.94m aided by a +2.4 wind, proved the winner; his final effort of 7.80m (+1.4) proved crucial, since it was his only one within the legal wind speed of 2.0m/s.
A Northern Ireland and Ulster team  took on teams from England, Scotland, Wales, Great Britain Juniors, Denmark and an International Selection. Mollie Courtney, who has already achieved a Commonwealth Games standard, led the field home in the 100m hurdles with a wind-assisted  time of 13.40 secs. The eam of Craig Newell, Ben Maze, Leon Reid and Andrew Mellon won the men's 4x400m relay in 3:12.23, while in the 4x100m, the  team of Leon Reid, Christian Robinson, Adam McMullen  and Dean Adams missed the Northern Ireland record by just  0.01 seconds when taking 3rd  in 40.36.
Also finishing third was the women's 4 x 100m team of Amy Foster, Lauren Roy, Mollie Courtney and Anna McCauley in 47.27 secs.  The women's 4x400m team of Christine McMahon, Mandy Gault, Erin McIlveen and Rachel McCann finished 4th in 3:49.91.
MEGAN MARRS  of City of Lisburn  recorded a new 100m hurdles personal best at the LOTTO Warszawski Memorial Track & Field Meeting in Warsaw, Poland last Tuesday.  Her time of 13.51 secs (+0.1)was  just 0.06 off the Commonwealth Games 2018 standard of 13.45 secs.
Results –
Wednesday August 16
Manchester International and Home Countries, Sportcity (selected)

Women –
200m: 5 Amy Foster (City of Lisburn) 23.98. 400m: 4 Sinead Denny (DSD) 54.75. 800m: 6 Erin McIlveen (City of Lisburn)  2:13.62.
3000m: 5 Ann Marie McGlynn (Letterkenny, W35)9:23.67. 3000m SC: 2 Kerry O'Flaherty (Newcastle and Dist) 10:16.21.
High jump: 2 Sommer Lecky (Finn Valley) 1.78. Pole vault: 5 Sarah McKeever  (Sale Hrs) 3.75. Hammer: 3 Hayley Murray (City of Lisburn) 56.84.  4x100m: 3 NI and Ulster 47.27. 4x400m: 1 NI and Ulster 3:12.23.
Men – 
400m: 5 Andrew Mellon (N Down/QUB) 48.19. 3000m: 5 Danny Mooney (Letterkenny) 8:39 18 (SB). 110m H: 3 Ger O'Donnell (C-on-Shannon) 14.10. Long jump: 2 Adam McMullen (Crusaders AC)  7.94 (+2.4) also 7.80 (W1.4), 6 Ben Fisher (City of Lisburn) 7.24 (+1.1) . Triple jump: 7 Mark Burton (City of Lisburn, U20) 13.88 (+2.3)  4x100m: 3 NI and Ulster 40.36. 4x400m: 1 NI and Ulster 3:12.23.
Mixed 3000m walk: 5 Oisin Lane 13:14.80 8 Kate Veale  (W Waterford) 13:29.21, 10 Sarah Glennon 14:42.22, 12 Nicholas Dunphy (KCH) 14:49.42, 13 Rachel Glennon 15:05.26
Save
Save
Save
Save
Save