MSB's John Coghlan he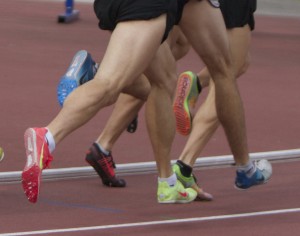 ld off the host club's Ian Guiden to win the 126th Clonliffe "2",  the oldest road race in Ireland and possibly the world.
Coghlan tucked in behind Guiden for much of the two-mile before  leading the lead and coming home in 9 mins 15  secs with Guiden second in 9:23 and Donore's Lee Van Haeften third in 9:41.
First woman in 10 mins 58 secs was Sorcha Nic Dhomhnaill  of  Donore who was chased hard by Clonliffe's Eleanor Alexander; Raheny's evergreen Annette Kealy  finished third.  An encouraging 150 turned out for the race, sponsored for the 31st year by Kavanagh's "Grave Diggers" pub which has a long association with Clonliffe Harriers.
EARLIER IN THE DAY, Loreto Kilkenny continued their long winning at the Loreto Track and Field Championships in
Santry where they finished top school. St Stephen's Green, with notable performances from Irish junior hockey international Sarah Torrans among others, finished second, and Cavan third. Special well done to the girls from Letterkenny who had a very early start in order to make it to the championships.
Results –
Men: 1 John Coghlan (MSB) 9.15, 2 Ian Guiden (Clonliffe) 9.23, 3 Lee Van Haeften (Donore) 9.41. Team – Clonliffe Harriers(Guiden, Taggart, Doran). Junior  1 Sean O'Leary, 2 Craig Giles, 3 Daniel Lacey (all Clonliffe). Team Clonliffe. M35 Ger Copeland (Dublin Bay), M40 Shane Larkin (Drogheda & District), M45 Eamon Traynor (Raheny), M50 Fergal O'Shea (Clonliffe), M55 Gary Keeling (Balbriggan), M60 Desi Shorten (Parnell), M65 Matt Slattery (Clonliffe), M70 Terry Mee (Donore)
Women: 1 Sorcha Nic Dhomhnaill (Donore) 10.58,2  Eleanor Alexander (Clonliffe) 11.04, 3 Annette Kealy (Raheny, W45) 11.23. Team – Clonliffe (Alexander, Cooper, Brady). Junior : 1 Alannah Cooley, 2 Ella Brown, 3 Abby Sheehy (all Clonliffe). Team Clonliffe. W35 Aideen Brady (Clonliffe), W40 Zoe Quinn (Dublin Bay), W45 Amiee Ahern (Clonliffe), W50 Geraldine Keogh (Clonliffe), W65 Josie Power (Drogheda & District)
Full results www.clonliffeharriersac.com