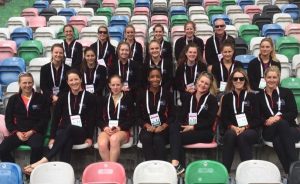 Teams from Clonliffe Harriers and Dundrum South Dublin represent Ireland at tomorrow's European Club Track and Field Championships Group B in Leiria, Portugal.
In the men's competition, Clonliffe take on clubs from Great Britain, the Netherlands, Germany, Belgium, Greece, Slovenia and Slovakia.
Leading the team is 400m specialist Brian Gregan who has a season's best of 47.30 secs. Other seasoned campaigners include David Flynn, whose goes in the steeplechase and Gary Murray in the 5000m. The Clonliffe sprint squad is led by Chris Sibanda and Keith Pike. Timmy Crowe goes in the 400m hurdles where he will take on fellow Irishman Paul Byrne competing for British champions Birchfield Harriers.
In the field, the steadily improving Keith Marks, after recording an unofficial championships best of 7.36m for the long jump at the recent Leinster Schools Championships could pick up useful points, as could Rory Gunning in the javelin.
Leading the DSD women's team is Sinead Denny, whose season's best of 53.86 secs is second fastest of the entries behind Zoey Clark of Thames Valley Harriers with a time of 53.11secs this season. Running the 1500m is marathon woman Maria McCambridge.
Women's captain Meghan Ryan goes in the 3000m, with Fiona Clinton in the 5000m and Laura Shaughnessy in the steeplechase. In the field events, Anita White should win the javelin and, after recovering from an illness, aims to improve on her season's best of 51.14m. Reserve for the distance squad is London Olympian Linda Byrne who travels as a team manager.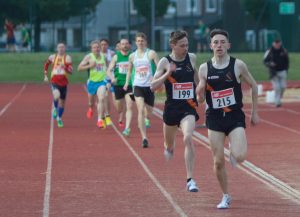 RATHFARNHAM'S Paul Stephenson won the Dublin 10,000m title held in conjunction with the third Dublin Graded Meet of the season at Irishtown. Stephenson's time was 31 mins 05 .25 secs; second was Colum Maher in 31:14.56, with DSD's Emmet Jennings third in 31:44.16.
In the 400m, Alannah Drumgoole of Raheny was fastest of the women with a time of 57,08 secs, while Craig Lynch of Shercock clocked 48.04 secs in the fastest of the seven men's races.  Over 800m,  Ellie Hartnett of UCD was fastest of the women in 2:16.48 while William Crowe of North Sligo with a time of 1:52.99 was quickest of the men. In one of the women's C races, Maxine Jones of DSD, running her first track race ever,  set a new Irish W60 record of 2:53.83.
SIOFRA CLEIRIGH BUTTNER, running for Villanova,  won her  first round 800m heat at the NCAA East Preliminary in Jacksonville, Florida to qualify for  the tonight's (Fri) quarter-finals.
Cleirigh Buttner crossed the finish line in 2:06.04 winning the heat by a tenth of a second.  In the quarter-finals, the top three athletes in each of three heats and the next three fastest will advance to the national championships next month. Sli Cualann's Tara Jameson won her 10,000m heat in 34 mins 10.54 secs to qualify for the finals. Finishing 19th was Sarah Collins of Providence in 35:10.11. In the men's 10,000, Hugh Armstrong of Providence finished 16th in 30:19.37, while Jake Byrne was 31st in 30:54.71 and Kevin Dooney dropped out. The top 12 progressed.
Friday May 27  
Edenderry 5km, Co Offaly (www.myrunreults.com)
Men 1 Peter Somba (Dunboyne) 15.19, 2 Liam Brady (Tullamore Hrs) 15.30, 3 Ian McManus (Celbridge) 16.07. Women: 1 Pauline Curley (Tullamore Hrs, W45) n17.31, 2 Laura McDonnell (Tallaght) 18.12, 3 Lisa Murphy (St Michael's) 18.51.
Thursday May 26
Ballyandreen '5', Co Cork, Rd 1 Ballycotton Summer 5-Mile Series. (622 finishers; www.ballycottonrunning.com)
Men: 1 Michael Harty, East Cork, 24:46; 2 Sean McGrath, East Cork, 26.51, 3 Michael Corbett, St Finbarr's, M40, 27:09, 4 Danny Smith , Ballynonty, 27.23, 5 Michael Houlihan, St Finbarr's, 27.58, 6 Bryan Crowley, Watergrasshill, 28.25.
Women: 1 Aoife Cooke, Youghal AC, 29:10, 2 Fiona Santry, East Cork, 31:21; 3 Rosaleen Mackeown, Leevale, W40, 31:33, 4 Carly Cooke, UCC, 32.08, 5 Sinead Kevany, Midleton,, W35, 32.15, 6 Orla O'Rourke, Ballymore Cobh, W45, 34.09.