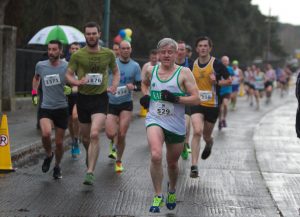 A thrilling finish to the Axa Raheny 5 saw Mark Christie of Mullingar Harriers  outsprinting  defending champion and home favourite  Mick Clohisey  for victory.
Christie and defending champion and home favourite Mick Clohisey pulled away from the field at two miles, and when it came to the final push, Christie had that little extra. He finished in 23 mins 45 secs with Clohisey just four seconds behind. It was a third victory in the race for Christie.
A large contingent from the North had traveled to the race and coming third in 24 mins 20 secs was Ben Branagh of St Malachy's. For fourth place, Liam Brady of Tullamore Harriers beat Ukrainian Olympian Valdas Dopolskas who runs with Balbriggan and District.
In the women's race, Donore's Barbara Cleary continued her recent winning streak. She came home in 27 minutes 41 seconds and was also first W40. Running her first road race in a while was Catherina McKiernan who finished second in 28 mins 18 secs while three seconds behind for third was DSD's Sarah (Mulligan) MacMahon.
Host club Raheny Shamrock finished best of the men's masters teams ahead of Rathfarnham WSAF, with 18 teams entered in this category.
Sli Cualann won the women's masters team prizes beating a massive 32 other teams. Raheny was second and DSD third. A record 3,420  completed the course 1112 of them walkersl a further 894 ran in the junior races.
There were also eight wheelchair entries – another record. Cillian Dunne  of  Borrisokane AC was first home in  an excellent  22 mins 50 secs   with Craughwell's Shauna Bocquet  second in 24.18 and also first woman. Conditions were dull, overcast  and occasionally wet.
CIARA NEVILLE OF EMERALD  proved the star of the star of the Irish Life Health National Junior and U23 Indoor championships  in Athlone with  7.30 seconds  time in the junior women's 60m equalling the national senior record. It was also  a European Indoor qualifying standard.
Tullamore's Jordan Hoang  set a new record of 14.90m in the junior men's triple jump while Michaela Walsh of Swinford recorded a championships best performance of 14.95m in the junior women's shot put..
Winning the  junior 200m in 23.95 secs was Newport's Sharlene Mawdsley  Her time was just off the national junior record.  In the junior pole vault, Ellen McCartney of City of Lisburn  cleared an impressive  3.45m. Mark Smyth of Raheny won the junior 200m in 21.62 secs – inside the European Junior  B qualifying mark for a second time.
RAHENY'S  Kieran Kelly retained his the 1500m title in 3.58.37 at the Scottish Indoors in Glasgow. Other Irish winners were Emma Mitchell in the women's 1500m with a time of 4:26.20, Shane Howard of Bandon with 7.53m in the long jump, and Finn Valley's Sommer Lecky with 1.87m in the high jump. In the 60m, Sarah Murray of Fingallians finished a close second in 7.57 secs.
IN THE USA, DSD's Siofra Cleirigh-Buttner  ran a new Villanova 800m record of 2 mins 02.97 secs, while in Vienna, Raheny's Daire Bermingham ran a time of 3:52.29 for 1500m
Results
AXA/RAHENY 5-Mile Road Race (thanks to John Walshe for compiling these results and saving me the bother. Much appreciated!)
Men: 1 Mark Christie (Mullingar) 23:45; 2 Mick Clohisey (Raheny) 23:48; 3 3 Ben Branagh (St Malachys) 24:20; 4 Liam Bra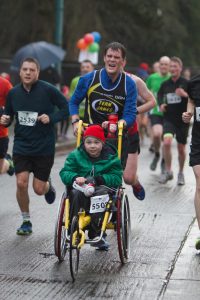 dy (Tullamore) 24:35; 5 Valdas Dopolskas (Balbriggan & Dist) 24:41; 6 JP Williamson (City of Derry Spartans) 24:52; 7 Sean Hehir (Rathfarnham-WSAF) 25:01; 8 David McCarthy (West Waterford) 25:02; 9 Liam McCarthy (Rathfarnham-WSAF) 25:06; 10 Mark Kirwan (Raheny) 25:15.
M40: 1 B Geraghty (RTE) 26:41; 2 C Curran (North Belfast) 26:43; 3 P Fleming (Rathfarnham-WSAF) 26:49.
M45: 1 S O'Neill (Rathfarnham-WSAF) 26:09; 2 J Canning (Newbridge) 27:35; 3 M Boyle (Raheny) 28:05.
M50: 1 D Martin (Raheny) 27:32; 2 D Quin (Raheny) 28:35;3 D Carrie (Dunleer) 28:40.
M55: 1 G Davidson (East Antrim) 29:22; 2 N Coppinger (Tallaght) 29:40; 3 S Ryan (Civil Service) 30:28.
M60: 1 J Cottle (Crusaders) 31:20; 2 E McEvoy (St Finbarrs) 31:22; 3 T Kavanagh (Sli Cualann) 32:59.
M65: 1 K Lynam (unatt) 34:30; 2 J Boland (Sli Cualann)37:16; 3 G Clarke (Tallaght) 37:23.
M70: 1 P Beauchamp (unatt) 39:29; 2 E Coyle (Tallaght) 40:13; 3 P Bonass (Clonliffe) 40:13.
M75: 1 S Cooney (Tara) 39:11; 2 M Callan (unatt) 45:57; 3 J Fitzsimons (Crusaders) 49:15.
M80: 1 M Snyth (unatt) 58:04.
MJ: 1 D Ryan (Lusk) 26:23; 2 A Quigley (Nenagh) 28:05; 3 C Leech (Na Fianna) 28:47.
Team: 1 Raheny 32; Rathfarnham-WSAF 47; 3 Crusaders 91.
Women: 1 Barbara Cleary (Donore, F40) 27:41; 2 Catherina McKiernan (Annalee, F45) 28:18; 3 Sarah (Mulligan) MacMahon (DSD) 28:20; 4 Catherina Mullen (Metro-St Brigids) 29:06; 5 S Nic Dhomhnaill (Donore) 29:27; 6 Cathy McCourt (unatt, F40) 29:29.
F40: 3 P Grant (Portlaoise) 30:43.
F45: 2 L O'Hanlon (Slieve Guillion) 34:38; 3 A Cornally (unatt) 34:38.
F50: 1 M Watters (Navan) 34:11; 2 B Snow (Fingallians) 35:31; 3 C Dempsey (unatt) 35:38.
F55: 1 J O'Kennedy (Sli Cualann) 35:52; 2 R Kansanniva (Civil Service) 36:15; 3 J Dunne (unatt) 36:58.
F60: 1 M Jones (DSD) 35:43; 2 N Reilly (Drogheda & Dist) 35:52; 3 M Butler (Blackrock) 37:38.
F65: 1 M Lynch (Raheny) 37:28; 2 J Coyle (DSD) 39:33; 3 E O'Brien (Lucan) 40:42.
F70: 1 A O'Donnel (unatt) 43:25; 2 T Blake (unatt) 62:31.
FJ: 1 S O'Connor (unatt) 38:53; 2 R Colbert (unatt) 40:10; 3 A Ashmore (Celbridge) 44:04.
Team: 1 Donore 43; 2 Crusaders 45; DSD 53.