Jenna Brommell of Emerald pulled off one of the performances of the day at the Glo Health National Junior and U23 T-F Championships in Tullamore when she won the junior 400m with a time of 54.26 secs. DSD's Mollie O'Reilly was second in 55.52 secs – just off  a second world junior B qualification mark.
Winning the junior men's title was Christopher O'Neill of North Sligo in 49.09 secs.
On a good day for North Sligo, William Crowe got the better of Mullingar's Jack O'Leary in the junior 1500m, winning in 3:59.88 with O'Leary on his heels in 4:00.17. Emma O'Brien of Sli Cualann won the women's race in 4:38.09, beating Aisling Joyce of Claremorris and DSD's Sophie Murphy.
Battling all the way to the line in the junior women's 100m final were St LOT's Molly Scott and Ciara Neville of Emerald, with Scott just edging it in 12.02 secs. In the junior men's 100m, Donore's Sean Lawlor with a time of 10.84secs beat Tallaght pair Joseph Ojewumi and Eoin Doherty. Over 200m, Sharlene Mawdsley of Newport AC was the winner in 24.04 secs; second was multi-eventer Elizabeth Morland of Cushinstown, who earlier had won the high jump. Galway's Cillian Green won the junior men's 200m in 21.78 secs.
Another close race was the 800m won by Leevale's Louise Shanahan in 2:17.64. Second in 2:18.21 was Carla Sweeney of WSAF, while third in 2:18.97 was Rose Finnegan of Bohermeen. Winning the U23 title was Amy O'Donoghue of Emerald in 2:10.90; UCD's Alanna Lally was second in 2:11.40.  In the U23 men's 800m,  Trim's Harry Purcell just held off Conall Kirk  of Lagan Valley after going through the first lap in  51 seconds and then tying up. He still made it to the line in 1:52.10, with Kirk clocking 1:52.27. Annadale's Callum Crawford Walker took the junior  men's 800m title in 1:58.09
At U23 level, Shona Heaslip of Riocht won the 5000m comfortably in 8:37.32. It was her second race of the day earlier she had finished second in the 1500m won by Newry's Aislinn Crossan in 4:45.24. Heaslip's time was 4:48.93.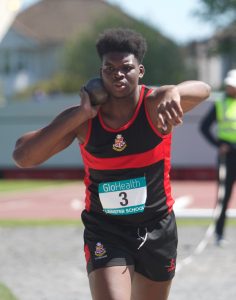 Making it a double in the junior shot and hammer was Swinford's Michaela Walsh, who threw 15.06 m in the shot and 55.85m in the hammer. In the men's shot (6kg), Anu Awonusi of StLOT pulled out a superb throw of 16.89m to beat Finn Valley's James Kelly. Four of Awonusi's throws were over 16 metres. Kelly's older brother John won the U23 title (7.2kg) with a 15.67m effort. He also finished third in the discus.
Another double winner was Shane Joyce of Cushinstown, who won the junior triple jump with a leap of 13.43m and the javelin with a 57.89m throw. Final races of the day were the 4 x 100m relays, with DSD winning the junior women's race in 50.73 secs. Winning the U23 triple jump was Saragh Buggy of St Abban's who now has a clean sweep of all the indoor and outdoor titles – including senior – available to her.
ENGLISH VISITOR Lee Emanuel won the mile at the Letterkenny  in the only sub 4-minute time of the night. His time of 3:59.66 saw him beat Robbie Fitzgibbon whose was timed at 4:00.14. Best of the Irish was Kevin Batt of DSD in 4:04.31. A minute behind in 4:05.79 was Donore's John Travers.  The pair are heading for the European Championships next week. Winning the 100m in 10.52 secs was Josh Swaray of Senegal; in the women's 800m, Kelly Neely of Lisburn clocked a time of 2:08.42 for seventh place. Petr Frydrych of Czech Republic put on a display of top-class throwing in the javelin, winning with a 84.10m effort.
SARAH MCCORMACK produced the best Irish result  at the European Mountain Runnign Championships in Arco, Italy when she finished 15th in the women's race. Not far behind her were Laura Shaughnessy 18th and Sonya McConnon 29th which meant the Irish team finish fifth.  In ghe men's senior race over 12km, Briann McMahon was best of  the Irish in 33rd place. Up front, twin brothers Martin and Bernard Dematteis made it a 1-2 for Italy , finishing together to clock 53 mins 33 secs and 53 mins 34 secs respectively.
FREDDY SITTUK and Norah Newcombe Pieterse were the winners of the Achill Half Marathon.
Saturday July 2
Achill Half Marathon and 10km, Keel, Achill Island, Co Mayo (www.myrunresults.com)
Half (412 finishers) – Men: 1 Freddy Sittuk (Raheny Shamrock) 74.58, 2 Fergal Whitty (Donore) 76.41, 3 Gary O'Hanlon (Clonliffe Hrs, M40) 77.36. Women: 1 Norah Newcombe Pieterse (Mayo AC) 85.25, 2 Hannah Fothergill 86.56, 3 Charlotte Kearney (Doneadea Runners, W35) 90.49.
10k (441 finishers) – Colm Turner 34.12, Irene Gorman 42.22.
European Mountain Running Championships (up-down), Arco, Italy. www.imra.ie
Men – Sen 12.3km: 1 Martin Dematteis (Ita) 53.33, 3 Bernard Dematteis (Ita) 53.34. Irish 33 Brian McMahon 59.35 43 Mark Ryan 61.13, 44 James Kevan 61.13, 55 Seamus Lynch 62.58. Teams (15) – 1 Italy 8, 2 Czech Rep 29, 3 GB 33…11 Ireland 120. Jun 8.5km 1 Ferhat Bozkurt (Tur)3 9.0 25 Paul O'Donnell (Irl) 46.01. Teams (7) – 1 1 Turkey 10 2 Italy 20, 3 France 24.
Women – Sen 8.5k: 1 Emily Collinge (GB) 43.41…Irish 15 Sarah McCormack 47.01, 18 Laura Shaughnessy 47.22, 29 Sonya McConnon 49.04. Teams (10) – 1 Italy 11, 2 GB 21, 3 Czech Rep 31, 4 France 42 5 Ireland 62. Jun 4.03k: 1 Michaela Stranska (Cze) 18.03…37 Heidi Murray (Irl) 23.50. Teams (7) – 1 Turkey 10, 2 Italy 20, 3 France 20,4 GB 24