Thomas Barr, who is back competing on the international circuit after an injury break, will lead the Irish team at the European Athletics Team Championships First League in Vaasa, Finland on June 23-25.
The 400m hurdles is shaping up as the race of the competition, with the Cuban Yasmani Copello Escobar, who runs for Turkey, Switzerland's Kariem Hussein, Estonia's Rasmus Magi and Norway's Karsten Warholm all pencilled in to run.
Teams from twelve nations will fight it out for one of three places at the 2019 European Team Championships Super League.
Back in the team after long periods of injury are Mark English who is selected for the 800m and Paul Robinson who competes in the 1500m. English looks the form man for the 800m, while Brian Gregan will run in what looks like a highly competitive 400m. In the longer distances, John Travers goes in the men's 3000m and Mark Christie in the 5000m.
A surprise omission from the women's squad is Ciara Mageean of UCD. Mageean is bypassing the competition to concentrate on the World Championships in August for which she already has a 1500m qualifying time. Her race plan for the next month starts with the Sligo International next Wednesday June 21, where she  will run the 800m with Rose Ann Galligan's Irish record of 2:00:58 her target.  That's followed by the London Diamond League on Sunday July 9, the Morton Games on Wednesday July 12,  and the National Championships on July 22/23. Fastest 1500m from the competing countries at the European Team Championships is Sweden's Meraf Bahta who has a time of 4:00.59 this season ranking her fourth in Europe. Mageean's time of  4:04.49 from Rome puts her eighth in the European rankings.
Experienced campaigners selected for Vaasa include Amy Foster 100m, Phil Healy 200m, and Sinead Denny in 400m. The in-form Emma Mitchell is picked for the 3000m, while the veteran Anne Marie McGlynn, also in superb form, is picked for the 5000m.
Of the younger generation, 18-year-old Grace Casey gets her chance in the javelin with Anita White taking the season off. Other young athletes selected include sprinters Mark Smyth, Ciara Neville and Sharlene Mawdsley and high jumpers Sommer Lecky and Ryan Carthy Walsh.
The men and women's pole vault sees the elevation of two athletes who have both signed up with DSD. Sean Roth, aged 18, competed for the club last season and is based in Germany. His outdoor best is 4.80m from last season; indoors he has a best of 4.90m. Favourite to win the men's pole vault is 17-year-old sensation Armand Duplantis of Sweden, who has improved the world U20 pole vault record to 5.90m this season.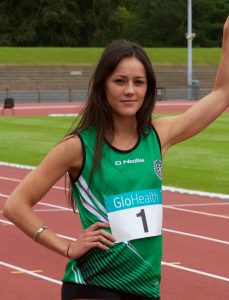 Sarah McKeever, who has just completed a degree course at Cardiff University, has an indoor best of 4.13 from earlier this year. She won the pole vault title at the Northern Ireland Championships last week with 3.90m – not far off the European U23 standard of 4 metres..
Ireland will take on teams from Finland, Norway, Sweden, Denmark, Belgium, Bulgaria, Portugal, Romania, Switzerland, Turkey and Estonia. Finland, relegated last time along with Sweden and Norway, is aiming for an immediate return to the top flight.
Bulgaria and Denmark both gained promotion from the European Team Championships Second League. For Bulgaria, Ivet Lalova-Collio, who set a 100m championship record of 11.11 secs last time, is going for a sprint double. European champion and Olympic 400m hurdles silver medal winner Sara Slott Petersen is expected to anchor the Danish team.
Irish squad –
WOMEN
100m Amy Foster (City of Lisburn)
200m Phil Healy (Bandon)
400m Sinead Denny (DSD)
800m Claire Mooney (Naas)
1500m Claire Tarplee (St Coca's)
3000m Emma Mitchell (QUB)
5000m Ann Marie McGlynn (Letterkenny)
3k SC Kerry O'Flaherty (Newcastle & District)
110mH  Sarah Lavin (UCD)
400mH  Christine McMahon (Ballymena & Antrim )
High Jump  Sommer Lecky (Finn Valley)
Long Jump  Sarah McCarthy (Mid-Sutton)
Triple Jump  Saragh Buggy (St. Abban's)
Pole Vault  Sarah McKeever (DSD)
Shot Putt  Clare Fitzgerald (Tralee Harriers)
Discus  Clare Fitzgerald (Tralee Harriers)
Hammer Cara Kennedy (Ferrybank)
Javelin  Grace Casey (Eire Og Corra Choill
4 x 100m Relay
From: Amy Foster (City Of Lisburn), Ciara Neville (Emerald), Gina Akpe Moses (Blackrock Co Louth/Birchfield), Sharlene Mawdsley (Newport) , Niamh Whelan (Ferrybank), Sarah Lavin (UCD )
4x400m relay
From: Sinead Denny (DSD), Phil Healy (Bandon), Sharlene Mawdsley (Newport), Jenna Bromell (Emerald), Grainne Moynihan (West Muskerry)
MEN
100m Eanna Madden (Carrick-on-Shannon)
200m Marcus Lawler (St Laurence O 'Toole)
400m Brian Gregan (Clonliffe Harriers)
800m Mark English (UCD)
1500m Paul Robinson (St Coca's)
3000m John Travers (Donore Harriers)
5000m Mark Christie (Mullingar Harriers)
3k SC David Flynn (Clonliffe Harriers )
110mH  Ben Reynolds (North Down )
400mH  Thomas Barr (Ferrybank )
High Jump  Ryan Carthy Walsh (Adamstown )
Long Jump  Adam McMullen (Crusaders )
Triple Jump  Denis Finnegan (An Riocht )
Pole Vault  Sean Roth (DSD)
Shot Putt  Sean Breathnh (Galway City Harriers )
Discus  Colin Quirke (Crusaders )
Hammer Dempsey McGuigan (Finn Valley )
Javelin  Stephen Rice (Clonliffe Harriers )
4 x 100m Relay
From: Marcus Lawler (St Laurence O'Toole), Eanna Madden (Carrick-on-Shannon), Mark Smyth (Raheny Shamrock), Christian Robinson (QUB), Stephen Gaffney (Rathfarnham WSAF )
4 x 400m Relay
From: Brian Gregan (Clonliffe Harriers), Mark English (UCD), Thomas Barr (Ferrybank )
Chris O'Donnell (North Sligo), Luke Lennon Ford (Clonliffe Harriers), Andrew Mellon (Crusaders).