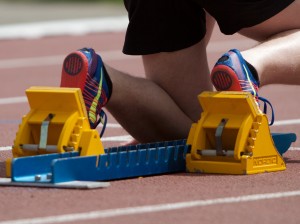 A sprint double and a new 200m record made Sharlene Mawdsley of Newport the star of the Glo Health All Ireland Schools' Track and Field Championships in Tullamore.
Mawdsley started her day by winning the 100m in a season's best 11.80 secs, but that proved no more than a warm up for the 200m, where her winning time of 23.63 secs obliterated the previous record of 23.98 secs set by Phil Healy. Mawdsley, who currently leads the Irish 200m rankings with a time of 23.55 secs,  was the class of the field with a lead of about six metres coming off the bend.
There were also sprint doubles for Ciara Neville of Castletroy College  in the  inter girls ' 100m and 200m, where she was chased hard by Janine Boyle of St Columba's, Stranorler;  for Aaron Sexton of Bangor GS, inter boys, and for Patience Jumbo-Gula of St Vincent's Dundalk, junior girls. At senior level, Sean Lawlor of Kylemore College won the 100m but was relegated to second place in the 200m.
Middle distance performance of the day came from Sarah Healy of Hold Child Killiney in the U16 mile. Healy moved to the front in the opening lap and then stretched away from the field to win in a new record time of 5 mins 15.12 secs.
In the sweltering heat, tactics were the order of the day in the 1500m races. Clare Rafter of Ursuline Thurles, who trains on the Tullamore track, broke away from the group to win the inter girls' title, while Rory Lodge of St Kieran's employed much the same tactics on his way to victory in the inter boys' race.
Successfully defending her senior 1500m title was Nadia Power of St MacDara's who was the class of the field. A brave effort by Emma O'Brien of Dominican Wicklow saw her finish second. In the senior boys' race, Kieran McGrath of St Pat's Navan took off like a rocket at the bell for a well deserved victory.
Another conservatively paced race was the senior boys' 5000m, which resolved itself into a mind game between Jack O'Leary of Clongowes and James Edgar of Friends Lisburn. O'Leary led from the start, but only over the final 200m did he finally shake off Edgar, jumping over the line in delight. Cian Kelly of  Knockbeg College won the inter boys' 3000m in 9 mins 15 secs, beating Paddy Maher of Dunshaughlin CC, while Amy Rose Farrell  of Mount Anville took the inter girls' title in 10:15.99, with Abbie Taylor of St Gerard's second in 10:17.73.
Winning the senior girls' 400m in 56.03 secs was Leinster champion Mollie O'Reilly of Loreto Dalkey. A stylish winner of the inter boys' 100m hurdles was Alex Clarkson of Castleknock CC in 13.25 secs. Shock of the day came in the senior girls' 100m hurdles where Elizabeth Morland of Dunshaughlin CC was beaten in the chase to the line by Megan Marrs of Strathearn School, Belfast, who won in 13.80 secs.
In the field, Michaela Walsh  of SM & P Swinford's impressive  senior shot and hammer double  won her the Lar O'Byrne athlete of the meet award. Her 14.91m in the shot smashed Marita Walton's 39-year-old record of 14.13 set in 1977. Walshe's 56.90m in the hammer was also a new record, improving on the 56.20m thrown by Alice Akers last year. Also in the field, Tara Jenkins of Sion Hill won the senior girls' long jump with a leap of 5.29m, while Shane Joyce of Ashbourne CC threw 56.09m to win a competitive senior boys' javelin where six athletes threw over 50m. Winning the inter girls' hammer with a best of 59.09m was Jade Williams of Bailieborough CS; second was Lauren O'Keeffe from Loreto Balbriggan with 57.81m.
SINEAD DENNY OF DSD improved her personal best to 53.26 secs when winning the A 400m at the Purtbos Meet in Oortegem, Belgium. Bandon's Phil Healy clocked a time of 53.58 secs for victory in the B race, with Ciara McCallion of Clonliffe fourth in 54.83 secs. Winning the B 100m in 11.99 secs was Sarah Murray. Craig Lynch of Shercock won the men's C 400m in 47.07 secs, while Jonathan Browning of Ballymena and Antrim won the A 100m in 10.80 secs; he also ran 10.78 secs in a warm-up race. In the 100m hurdles, Sarah Lavin of UCD ran in two races with 13.81 her fastest time.
IN THE USA, Dunleer's Tomas Cotter ran a massive PB of 3:41.66 for the 1500m. A few weeks ago, Cotter ran a time of 8:37.12 for the steeplechase – the fastest Irish time since 1985 and the sixth fastest Irish time ever. On Friday, David Flynn of Clonliffe ran 8:51.25  for the steeplechase.
Results Saturday June 4

GloHealth Irish Schools T-F Championships, Tullamore Full results  – www.athleticsireland.ie
Girls
Minor – 100m:  (w: 2.5) Nikolka Stevankova, Laurel Hill SS Limerick, 12.19.800m: Ailbhe Doherty, St Flannan's Ennis, 2:18.18. 75 H: Chisom Ugwueru, St Flannan's Ennis, 11.89. Long Jump: Jennifer Hanrahan, Our Lady's Terenure 5.33m. Shot: Aoibhin McMahon, St Vincent's Dundalk, 12.73m.  4x100m: St Vincent's Dundalk 51.82.
Junior – 100m( -0.9) Patience Jumbo Gula, St Vincent's Dundalk, 12.28. 200m: (-1.7) 1, Jumbo Gula, 25.35. 800m; Daniella Jansen, St Columba's Stranolar, 2:19.00.1500m: Saoirse O'Brien, SH Westport, 4:41.99. 1200 race walk: Siofra O'Dea, St Joseph's Spanish Point, 5:37.21.75m H:  (1.9): Holly Mulholland, Lismore Comp Craigavon, 11.36. High jump: Ciara Kennelly, St Brigids Killarney, 1.65m.Pole vault: Ella Duane, Cross & Passion Kilcullen, 2.65m. long jump: Lauren O'Leary, Nagle Rice Doneraile, 5.49m. Triple jump: Harriet Platt, Strathearn School, 9.96m.  Shot (2.72kg): Ciara Sheehy, St Mary;s Charleville, 13.12m. Discus: Megan Lenihan, Hazelwood Col. Dromcollogher, 39.56m.Hammer (2.5kg): Shauna Linehan, Col Treasa Kanturk, 41.47. Javelin (400g)Megan Lenihan, Hazelwood Col. Dromcollogher, 40.60. 4x100m: Wesley College 51.90.
Under 16 – Mile: Sarah Healy, Holy Child Killiney, 5:03.57 (rec).
Inter – 100m(-0.8); Ciara Neville, Castletroy College, 11.86. 200m: Neville, 24.67.300m: Lauren Cadden, Ursuline Sligo, 40.05. 800m: Davicia Patterson, Hunterhouse Belfast, 2:15.06. 1500m: Claire Rafter, Ursuline Thurles, 5:04.54. 3000m: Amy-Rose Farrell, Mount Anville Dublin, 10:15.99. 89m H(-0.2): Miriam Daly, Scoil Mhuire Carrick-on-Suir, 11.70. 300m H: Daly 42.80. 1500m Steepelehase:Laura Nicholson, Bandon GS5:12.18.  2000, walk: Niamh O'Connor, St Wolstan's Celbridge, 9:05.26.High jump: Sommer Lecky, Strabane Academy, 1.78. Pole vault: Ellie McCartney, Belfast HS, 3.60 (rec) Long Jump: Kate O'Connor, St Vincent's Dundalk, 5.68. Triple Jump: Kate Taylor, Col Muire Ennis, 11.33. Shot (3kg) : Marguerite Furlong, St Mary's New Ross, 11.37. Discus (1kg) : Furlong, 33.15. Hammer (3kg) :Jade Williams, Bailieborough CS, 59.09. Javelin (500g): Kate O'Connor, St Vincent's Dundalk, 40.78. 4 x 100: Castletroy College 48.87.
Senior – 100m (-0.4) Sharlene Mawdsley, St Mary's Newport, 11.80. 200m ( -0.2) Mawdsley 23.62 (rec). 400m: Molly O'Reilly, Loreto Dalkey, 56.00.800m: Amy Ní hAmaill, Col Oiriall Monaghan, 2:14.66. 1500m: Nadia Power, St Mac Dara's , 4:44.46. 3000m: Aisling Joyce, Yeats College Galway, 10:00.23. 100m H ( -1.2) 1, Megan Marrs, Strathearn School, 13.78. 400m H: Arlene Crossan, Loreto Letterkenny, 60.87.1500m steeplelchase: Eimear Fitzpatrick, Our Lady's Terenure, 5:03.86.  3000m walk: Orla Delahunt, Ursuline Sligo, 16:11.04.  High jump: Phoebe Tan, Methodist Belfast, 1.66. Pole vault: Laura Cussen, ColChoilm Ballincollig, 3.00. Long jump: Tara Jenkins, Sion Hill Dublin, 5.29. Triple jump: Lydia Mills, Ballyclare High, 11.39. Shot (4kg): Michaela Walsh, SM&P Swinford, 14.91. Discus (1kg): Niamh Fogarty, St Joseph's Rush, 42.72. Hammer (4kg): Michaela Walsh, SM&P Swinford, 56.90 (rec?). Javelin (600g): Orlaith O'Brien, Yeats College Waterford, 40.22. 4x100m: Glenlola Collegiate 50.06.
Boys
Minor – 100m (1.3) Mervin Shalamba, Mercy Mount Hawk Tralee, 11.44. 800m: Jakob Swann, Bangor Grammar, 2:09.11. 75m H ( 2.7) Iarlaith Golden, St Coleman's Claremorris, 11.56. long jump: Michael Farrelly, St Fintan's Sutton, 5.98m, Shot: Adam Sheridan, Rice College Westport, 13.61m.  4x100m: Mercy Mount Hawk Tralee 48.14
Junior – 100m( -0.8) Conor Crowe, St Patrick's Keady, 11.58.200m ( 0.9) Nelvin Appiah, Moyne CS Longford, 23.53.800m: Louis O'Loughlin, Moyle Park Dublin, 2:00.78.1500m: Ben Jones, Pres Bray, 4:16.15. 80m H: Ethan Williamson, Clounagh Junior HS, 11.63.  1200m walk: Oisin Lane, Mercy Ballymahon, 5:48.14. High jump: Lucas Moylan, Patrician Newbridge, 1.88m.Pole vualt: Adam O'Dwyer, Thurles  CBS, 3.10m. Long jump: Sean Carolan, St Mary's Newport, 6.16. Triple jump: Ethan Williamson, Clounagh Junior HS, 11.77. Shot (4kg): David Siegel, Tralee CBS, 13.56.Discus (1kg): Chris Cosgrave, St Michael's Dublin, 39.97.Hammer (4kg): Robert Higgins, St Mary's Edenderry, 49.01. Javelin (600g): Josh Hewitt, Rockwell College, 45.77/Seán Carolan, St Mary's Newport,45.77. 4 x100m: Mercy Mount Hawk Tralee 46.15.
Under 16 – Mile: Darragh McElhinney, Colaiste Pobail Bantry, 4:33.35.
Inter – 100m (1.3)Aaron Sexton, Bangor Grammar, 10.86. 200m ( -0.3) Sexton,21.85. 400m: Tony Odubote, Rice College Ennis, 49.99. 800m: Niall Harvey, Pres Carlow, 1:56.56. 1500m: Rory Lodge, St Kieran's Kilkenny, 4:43.68. 3000m: Cian Kelly, Knockbeg Carlow, 9:15.78. 100m H: Alex Clarkin, Castleknock CC, 13.24. 400m H: Tony O'Connor, Naas CBS, 56.78. 1500m steeplechase: Ruarcan O'Gibne, Col Lú Dundalk, 4:36.60. 2000m walk: Adam McInerney, Patrician Newbridge, 10:00.04. High jump: Ryan Carty-Walsh, Good Counsel Wexford, 2.00. Pole vault: Shane Martin, Belfast RA, 4.00.Long jump: Joseph Miniter, CBS Ennistymon, 6.54, Triple jump: Brendan Lynch, St Brigids Col Loughrea, 13.17.Shot (5kg): James Kelly, Royal & Prior Raphoe, 16.12m. Discus (1.5kg): Darragh Gaffney, St Finian's Mullingar, 48.29. Hammer (5kg): Brendan O'Donnell, St Eunan's Letterkenny, 64.66. Javelin (700g): Liam Connaughton, St Mary's Drogheda, 55.10m.
Senior – 100m (0.1) Sean Lawlor, Kylemore College Dublin, 10.80. 200m (1.2) Cillian Greene, Pres Athenry, 21.59. 400m: Christopher O'Donnell, Magh Ene College Bundoran, 48.07.800m: Gary Campbell, St Mary's Dundalk, 1:54.87. 1500m: Kevin McGrath, St Pat's Navan, 3:58.68. 5000m: Jack O'Leary, Clongowes Wood , 14:54.65. 110m H: Jack Murphy, CBC Cork, 14.98. 400m H: Cathal Locke, Crescent College , 54.55. 2000m steeplechase: Tadhg McGinty, SM&P Swinford, 6:08.45. 3000m walk: Anthony Tobin, HS Clonmel, 13:37.64. High jump: Dion Ryan, Waterpark College Waterford, 2.00,. Pole vault:Yuri Kanash, St Augustine's Dungarvan, 4.40. Long jump: Ian Brennan, St Columba's Stranolar, 6.75m. Triple jump: Jordan Hoang, Col Choilm Tullamore, 14.35. Shot (6kg): Anu Awonusi, Kilkenny College, 16.19. Discus (1.7kg):Eoin Sheridan, CBS Mullingar, 48.60mHammer (6kg): Stephen McCorry, Belfast RA, 52.68. Javelin (800g): Shane Joyce, Ashbourne CS , 56.92. 4 x 100m: Bandon GS 42.71.