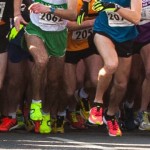 When it comes to races,  it's possible to have too much of a good thing – and that is our problem at the moment.
Because every race must be insured, cluttering up official calendars are small local races and leagues,  GAA runs, charity walks/runs, commercially run races, and various novelty events.  Sifting though such lists to find the genuine, club-organised races  can be exhausting and bewildering – and that's for people who know what they're looking for.
Many wonder why GAA, rugby, rowing and others clubs organise fund-raising runs.  In athletics, we don't put on fundraising football matches  – and  if we did, the GAA would object strenuously. So goes the argument; correct up to a point, but ignoring the fundamental appeal of running.
Every sport involves some level of running, whether in the sport itself or as training. GAA players run as part of their fitness routine. So do table tennis players, canoeists, volleyballers badminton players and rowers. And so on. Snooker players run – most notably Ronnie O'Sullivan and our own Fergal O'Brien. Darts players? Maybe not!
That's the reason athletics is often cited as everyone's second favourite sport and why it remains  fundamental to the success of the Olympic Games.
We have to accept that anyone is perfectly entitled to organise a road race and that some do a pretty good job of it.  If  athletics organisations make extra income providing them with insurance and licenses, then why not?  However there is a strong argument for leaving such events off our road  racing calendars, or at the every least putting them on a separate list. They are not aimed at us after all.
In Irish triathlon, the essential races of the year are organised into a league, with points awarded for placings in all of them. The dates are known well before the start of any new season.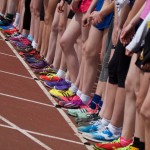 Could we do this in athletics?  It shouldn't be that hard – we all have a good idea of when  annual must-dos such as the Raheny 5, Ballycotton 10 and Dublin Marathon take place anyway.
Races to be considered for such a league should include senior, masters (M/W35-85), juniors (where appropriate) and team categories, with points at stake.
Ideally, the races would be organised by Athletics Ireland/ANI-registered clubs,  with a few exceptions. Some of the many excellent BHAA races for instance scream out to be included, and it could be done –  the Dublin Marathon happily includes team categories both for clubs and BHAA teams, while the Cork to Cobh "15" is one of the top races in the country.
Commercial races? H'mmm – both the national 10k and the national half marathon are currently organised in conjunction with internationally franchised events, which pay AI a fat fee for the privilege. This is not an ideal situation, not to mention something of an insult to the many excellent races  run by local clubs.
The women's mini marathon?  Over 2,000 registered club runners turn out in it every year proudly wearing their vests. If a club category was added to the race, it could be included. National Road Relays? Team categories only; no problem. We've also added the Autumn Open Cross-Country for some variety because it's open to all.
Now for the list. For this, we have consulted interested parties from Ireland south, west and North; special thanks to John Walshe, Malcolm McCausland, Ryan Maxwell and John Hunt for their ideas. Because not every race in the country has fixed its date  for 2016, the list is far from complete. But with luck, it will provide some kind of framework. Additions and suggestions welcome.
So here goes: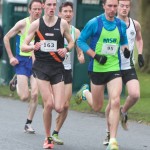 Friday January 1
New Year's Day 5km, Phoenix Park. www.liffeyvalleyac.com
Sunday January 17
Tuam 8k.
Sunday January 31
AXA Raheny 5-Mile. www.rahenyshamrock.ie
John Treacy Dungarvan '10'. www.westwaterfordathletics.org
Sunday February 7
Bewley's Trim 10 mile. www.trimac.ie
Sunday February 14
Enniscorthy 10k,  Co  Wexford. www.slaneyolympic.com
Thursday February 18
Armagh International 5k.www.armaghroadrace.com
Sunday February 21
tbc Mealagh Valley 10-mile,  near Bantry
Tommy Ryan Memorial  Carrigaline 5, Co Cork.   www.eagleac.net
Sunday February 28
Michael Egan Memorial 5-Mile, Quilty, Co Clare.
Sat  March 5
Derry Half Marathon.www.derry-spartans.com
Sunday March 6
Ballycotton 10, 1.30. Organised East Cork AC and local community. Entry closed.
Wed March 9
tbc Queens 5k, Belfast
Sunday March 13
Meath Spring Half Marathon and 10k, Bohermeen, Co Meath. www.bohermeenathleticclub.com
Jimmy's 10k, Downpatrick. www.eastdownac.co.uk
Thursday March 17
Streets of Portlaoise 5k.  www.portlaosieathleticclub.com
Tubbercurry St Patrick's Day 10k, Co Mayo.
Sat March 19
Larne Half Marathon.www.larnehalfarathon.webs.com
Sunday March 20
St Patrick's Festival 5km, Dublin.www.msbac.ie
Mallow 10-Mile. wwww.mallowac.ie.
Craughwell 10
Saturday March 26
Eamon Moloney 10km, Ennis, Co Clare.www.eamonmoloney10k.ie
Ballydehob 10k. www.ballydehob10k.com
Liscarroll 5km, Doneraile Park, Co Cork. www.liscarrollathletics.org
Kilmovee 10k, Co Mayo.www.kilmovee10k.com
Omagh Half Marathon. www.omaghharriers.co.uk
Monday March 28
Battle of Clontarf 10-Mile, St Anne's Park, Raheny,
Sunday April 3
Dunboyne 4-Mile, 3pm.  Organised by Dunboyne AC.
Sunday April 10
Sonny Murphy Memorial 10-Mile, Kilnaboy, Co Clare.
Saturday April 16
Patsy Kelly 5km, Ecco Rd, Dundalk.
Saturday April 30
Waterford -Tramore 7.5mile, 7.0. www.westwaterfordathletics.org
Sunday May 1
Northwest 10km, Letterkenny, Co Donegal. www.northwest10k.com
Saturday May 14
River Moy Half Marathon, Ballina, Co Mayo. rivermoymarathon.ie
Sunday May 15
Terenure 5 Mile, Dublin. www. terenure5mile.com/.
Tuesday May 17
Bob Heffernan 5k, Johnstown Bridge, Enfield.
Thursday May 26
Ballyandreen '5', 8pm. Rd 1 Ballycotton Summer 5-Mile Series. www.ballycottonrunning.com
Sunday May 29
Enniscorthy Strawberry Half Marathon, 10am.
Tuesday May 31
John Buckley Sports BHAA 5k, Marina, Cork. www.corkbhaa.com
Sunday June 5
Walled City Marathon, Derry. www.thewalledcitymarathon.com
Monday June 6
VHI Women's Mini Marathon 10km.
Irish Examiner Cork City Marathon, Half Marathon and Team Relay, 9am.  www.corkcitymarathon.ie
Wednesday June 8
tbc Fairhill 5 mile,  Ballymena
Friday June 10
Braveheart 5km off road run, Trim, Co Meath. www.trimac.ie
Saturday June 11
Glenmore AC 10 mile Challenge, Bush Riverstown, Dundalk, Co Louth. www.glenmoreac.com
Sunday June 12
Little South Run 4-Mile, Kilmacow, Co Kilkenny. www.stsenansac.com
Friday June 17
Dromana 5-Mile, Villierstown to Cappoquin, Co Waterford.www.westwaterfordathletics.org
Saturday June 18
Dunshaughlin 10k
Sunday June 19
Mid-Summer's Day 5km, St Anne's Park, Raheny.
Thursday June 23
Shanagarry  '5', 8pm. Rd 2 Ballycotton Summer 5-Mile Series. www.ballycottonrunning.com
tbc Jude Gallagher 10 mile, Limavady
Saturday June 25
SSE Airtricity Dublin Race Series 1: Irish Runner 5-Mile,  Phoenix Park,
Waterford Viking Marathon, Half Marathon, Quarter Marathon.
Thursday July 7
Corkbeg 4-Mile, Whitegate, Co Cork,
Wednesday July 13
Oldcastle 5km, 8pm. www.stbrigidsathleticclub.com
Friday July 22
tbc Milk Run, Ballymoney
Saturday July 23
tbc Portaferry 10 mile
Sunday July 24
SSE Airtricity Dublin Race Series 2: Fingal 10km, Swords.
Thursday July 28
Churchtown South  '5',
Sunday July  31
Ballynonty 10, Co Tipperary
July 30
24th Balla 10k
Monday August 1
DLR Bay 10km, Dun Laoghaire. www.dlrbay10k.ie
Friday August 5
Michael Fearon /Kevin Marron 5k, Bush Riverstown, Dundalk, Co Louth. www.glenmoreac.com
Saturday August 6
tbc Streets of Galway 8k.www.galwaycityharriers.
Sunday August 14
Boston Scientific Half Marathon, Clonmel. www.clonmelac.com
tbc 'Route2Crook' Goleen to Crookhaven 5-Mile.
Friday August 19
Tom Fitzpatrick Memorial Liscarroll 10km, Mallow, Co Cork.www.liscarrollathletics.org
Saturday August 20
SSE Airtricity Dublin Race Series 3: Frank Duffy 10-Mile, Phoenix Park, Dublin. www.sseairtricitydublinmarathon.ie
Thursday August 25
Ballycotton  '5', 7.30pm. www.ballycottonrunning.com
Saturday August 27
Tullamore Half Marathon, www.tullamoreharriers.com
tbc Rockford Rood Tile Tinryand 4-Mile, Carlow.
tbc Rathlin Run, Rathlin Island, Co Antrim
Sunday August 28
Longford Marathon, Half Marathon.  www.longfordmarathon.com.
Friday September  2
Streets of Monaghan 5k.
Sunday September 4
Rennicks Cup 5 mile, Bohermeen, Co Meath. C: 086 0792580.
Laganside 10k, Belfast. www.laganside10k.com
Sunday September??
Waterside Half Marathon, Derry.www.derrystrabane.com/halfmarathon
Sept ?
Sligo Coast to Coast 10
Sunday September 18
Belfast Half Marathon.www.belfastcitymarathon.com
Saturday September 24
SSE Airtricity Dublin Race Series 4: Dublin Half Marathon, Phoenix Park, 10am. AI Permit. Register at www.sseairtricitydublinmarathon.ie
Sunday September 25
Rathfarnham 5km, www.rathfarnham5krun.ie.
tbc Bangor 10k
Sunday October 2
Sunday October 2
Cork BHAA Cork to Cobh 15-Mile. www.corkbhaa.com
Sunday October 16
Autumn Open Cross-Country, Phoenix Park, Dublin. www.athleticsireland.ie
Sunday October 30
SSE Airtricity Dublin Marathon, 9am. Incorp Irish Marathon C'ships.  www.dublinmarathon.ie
Sat November 19
tbc Seeley Cup 10k, Belfast. www.willowfieldharriers.co.uk
Sunday November 20
51st Hollymount Road Races, Co Mayo.
Saturday December 3 (tbc)
Jingle Bells 5k
December 26
Streetsof Wicklow 5k.
Fields of Athenry 10k
Greencastle 5 mile, Co Tyrone
Sunday December 27
ERP Christmas Cracker 5k, Santry,