Brian Lynch of North East  Runners and Mark O'Shea of Drogheda and District took 1500m gold on the final day of competition at the World Masters Indoors in Daegu, South Korea.
Both men were taking their second wins of the competition having won  3000m titles earlier in the week.
First up was Lynch in the M60 final where he was taking on Ryzard Dryps of Poland, Oleksandr Lysenko of the Ukraine and his team mate Joe Gough. It ended up as a two way battle between Lynch and Dryps, with Lynch  pulling away in the straight to win in 4 mins 42.31 secs. Dryps clocked 4:43.73 while Gough came through for third in 4:49.08. Lysenko, who had finished second behind Gough in the 800m, was fourth in 4:58.95.
Even closer was the M45 race where O'Shea  gritted it out to win brilliantly in 4:07.44 (an Irish record). On his heels was Frederick Gilbert of France in 4:07.54 while third was Peter Brady  of the USA in 4:07.80.  In the M40 race, Paul Fleming was 8th in 4:17.30 and Sean McDermott 12th in 4:30.81. Ronan Kearns was 6th M35 in 4:24.00.
Finishing second W75 was Ann Woodlock of Donore, whose time of 7:9.33 would have seen her  finishing third W70. It was a second medal for Woodlock, who earlier in the week, won the 3000m.
In the W35 400m, Snezana Bechtina  of Clonliffe was also taking her second silver, finishing second in 56.99 secs.   Geraldine Finegan was 5th in the W50 race in 67.16 secs and Colm Lynch 6th M35 in 54.05 secs. Starting off the day was the half marathon where  Tom O'Connor took M55 bronze finishing  in  84 mins 34 secs. With Ian Egan finishing 8th M45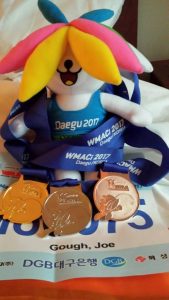 in 84.02 and Michael  Cornyn 16th M55 in 94.14, the team took M45 bronze.
There was a final medal for Ireland in the 4 x 200m relays that rounded out the competition – and again it was in the M55 age group. Not at all exhausted by their earlier efforts, the quartet of Joe Gough, Brian Lynch,  Tom O'Connor and Michael Cornyn took silver  in 1:58.02 behind a rampant GB team that finished in 1:58.08. Third was the USA in 2:00.30.
In the M35 race Brian Boyce , Colm Lynch, Ger Cremin and 58-year-old Shane Sheridan finished 6th in 1:39.06, while in the M40 race, Paul Fleming, Sean McDermott, Dermot Shorthall and Mark O'Shea were 8th in 2:00.97.
Irish Medal winners Daegu World Masters' Indoors 2017. Total: 28
Gold (9)
M35 C-C (Paul Fleming, Ronan Kearns,  Sean McDermott)
M55 C-C  Tom O'Connor, Pat O'Grady & Michael Cornyn
Mark O'Shea M45, 800m and 1500m
Joe Gough M60, 800m
Ann Woodlock W75, 3000m
Brian Lynch M60, 3000m and 1500m
Geraldine Finegan W50 pentathlon
Silver (9)
Sean McMullin M70 3000m and 10km walk
Geraldine Finegan W50 Pole Vault and 800m
Snezana Bechtina W35 200m and 400m
Shane Sheridan M55 200m
Ann Woodlock 1500m
​M55 4 x 200 team (Joe Gough, Brian Lynhc, Tom O'Connor, Michael Cornyn)
Bronze (10)
Geraldine Finegan W50 Javelin, Triple Jump and 60m hurdles
Pat Murphy M55 3000m and 10km walks
Ronan Kearns M35 8km CC
Siobheal Murray W50 High Jump
Joe Gough M60 1500m
Tom O'Connor M55 half marathon
M45 half marathon team (Ian Egan, Tom O'Connor, Michael Cornyn)