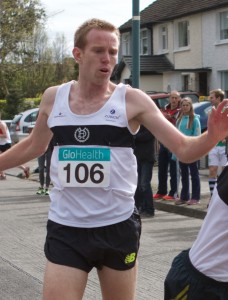 Donore's John Travers managed to stay on his feet long enough to win the 800m at Wednesday's Graded Meet in Tallaght. Have a look at his Facebook to see what happened!
John Coghlan, who is targeting the steeplechase this season, ran away with the 3000m in 8:31.1.
Abroad, Mary Cullen clocked a time of 15:29.99 for third place in the 5,000m at the Martinez Track and Field Classic in Concord, Massachusetts. It was  Cullen's first track race in over two years.
Wednesday June 3
Dublin Graded T-F League Rd 4, Tallaght. www.dublinathletics.com
Selected results:
Women – 100m : Catherine McManus (DCH) 12.3.
Men – 100m: Eoin Doherty (Tallaght) 11.1. 800m: John Travers (Donore) 1:52.4, 2 Kieron Kelly (Raheny) 1:52.7. 3000m: John Coghlan (MSB) 8:31.1
Belpark Summer Duathlon Series Rd 2, Phoenix Park. 2.7km run, 12km cycle, 2.7km run. www.belparktri.com
Men: 1 Gavin Corey (Omagh) 36.57, 2 Cian O'Reilly (UCD) 37.17, 3 Alan Kenny (3D Tri) 37.53. M40: Will Byrne 39.04. Women: 1 Bronagh Adams 42.07, 2 Laura Ward (Pulse) 42.46, 3 Sinead Hartnett 42.54. W40: Siobhan Forman 48.59.