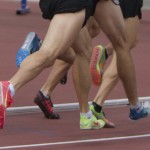 Dunleer's Thomas Cotter ran a personal best  3:43.31 for 1500m at the British Milers Club Grand Prix in Watford. That's enough to put him  sixth on the current year's rankings, led by Ciarain O Lionard of Leevale with 3:41.04.
In the 5000m, Brandon Hargreaves of DSD came agonisingly close to breaking 14 minutes for the first time when he clocked a personal best 14:00.90.  That puts his second on the season's rankings behind his clubmate Kevin Batt. In the same race, Raheny's Daire Bermingham ran 14:13.43 which was a lifetime best. Running in the B race was Mullingar junior Jack O'Leary whose time of 14:28.16 was yet  another personal best for the large Irish contingent and qualifies him for the European Juniors. Ciara Durkan of Skerries continued her return to top-flight competition when she ran a lifetime best of 16:10.37 in the women's 5000m, followed closely by Letterkenny's Ann Marie McGlynn who ran  16:19.06.
In the 800m, 18-year-old Louise Shanahan from Leevale won the C race in a personal best 2:08.15. Behind her, Carla Sweeney of  Rathfarnham WSAF ran 2:10.03 and Alanna Lally from Galway 2:11.06.
WITH A WIND exactly on the limit, Ferrybank's Kelly Proper ran a season's best 23.24 secs for 200m at a meet in Sollentuna, Sweden last Thursday. Proper had withdrawn from the Irish team at the European Team Championships in Greece a few days earlier. Her best time for the distance is 23.15 secs run last year in Zurich. Only Sarah Reilly has run faster – and her Irish record of 23.02 secs dates back to 2001. She then  travelled to Belgium for the meet in Nivelles, where she ran 11.57 secs  and 11.59 secs in two 100m races. Cliodhna Manning of KCH won a different 100m race in 11.61 secs and later ran 11 71 secs.
Also in Nivelles,  Eanna Madden ran 10.84 secs and later 10.75 secs  in the men's 100m;  other mens' 100m times were Odhran Gildea 11.13 secs,Aaron Cadden 1.58 secs,  in the same race.  In the 400m, Christopher O'Donnell won his race in 49.46 secs, with Niall Prioer running 51.27 secs.   Irish champion Ger O'Donnell was second in his 110m hurdles race in 14.19 secs. Eoin Everard of KCH  finished second  in the grade A 1500m with a time of 3:44.54, while Christine McMhaon won the 400m hurdles in 58.10 secs – her fastest of the season so far.  Nessa Millett ran 61 21 secs in her race. In the men's 400m hurdles, Ben Kiley ran 53.16 secs.
Sinead Denny, who had travelled to Nivelles  with a development group from DSD,  ran a time of 54.9 in the  women's 400m.  In other races, Mollie O'Reilly  was second in her 400m in 57.75 secs; Niall Prior ran 51.27 in his 400m; Rachel Dunne was second in her 400m hurdles in 66.36 and Kate Doherty, just after her Leaving Cert, ran 15.90 in her 100m hurdles. In the 1500m, Patrick MacGabhann finished 3rd in a PB of 3:52.3, while Rick Nally's time of 3:54.5 was also a PB.
A HIGHLIGHT  of the Junioren Gala in Mannheim was the victory  in a new Irish junior record time of 45.08 secs for the women's 4x100m relay team of Phoebe Murphy, Ciara Neville, Roisin Harrison and Sharlene Mawdsley.  This time qualifies the Irish team for the European Juniors.  In the men's 4 x 100m, Eoin Doherty, Zak Irwin, Sean Lawlor, and Joseph Ojewumi ran 40.89 for fifth place – not far off the  senior  team's best of  40.18 this season and also inside the European junior qualification mark.
Over the two days of  competition, Sharon Mawdsley of St Mary's Newport  ran 24.05 secs in the 200m and Matthew Behan of Crusaders  14 secs in the 110m hurdles, both of them inside the European junior qualification marks, although Behan ran faster at the European  Team Championships in Heraklion. Emerald's Jenna Bromell  clocked a time of 55.20  in the 400m, while Eoin Sheridan of North Westmeath threw 55.43m in the discus and  Finn Valley's John Kelly 17.79m in the shot. In the 100m hurdles, UCD's Sarah Lavin  ran times of 13.49 and 13.45 secs.
Saturday June 27
BMC Grand Prix, Watford
Men: 800m – A: 3 Karl Griffin (Tir Chonaill) 1:49.38, 4 Niall Tuohy (Ferrybank) 1:49.49. C: 1 Anthony Lieghio (Tallaght) 1:50.76, 2 Cillian Kirwan (Raheny) 1:51.29. G: 3 Brian Kelly (Raheny) 1:51.52 (SB); 6 Aaron McGlynn (Finn Valley) 1:54.79. 1500m – A: 16 John Coghlan (MSB) 3:46.71. B: 1 Tomas Cotter (Dunleer) 3:43.31 (PB); 12 Ruairi Finnegan (Letterkenny) 3:50.52; 14 Andrew Coscoran (Star of the Sea, U20) 3:52.47. C: 8 Richard Owens (Sli Cualann) 3:48.75 (PB). D: 9 Kevin McGrath (Bohermeen, U17) 3:50.33. F: 1 Jayme Rossiter (Clonliffe) 3:49.12 (PB). 5000m: 3 Brandon Hargreaves (DSD, U23) 14:00.90 (PB); 7 Tomas Fitzpatrick (Tallaght) 14:07.12; 10 Daire Bermingham (Raheny) 14:13.43 (PB). B: 6 Jack O'Leary (Mullingar, U20) 14:28.16 (PB); 7 John Eves (DSD) 14:28.64 (PB), 8 Lee van Haeften (Donore) 14:28.65 (PB). C: 8 Peter Lynch (U20) 14:42.52 (PB); Conor Duffy 14:43.93 (PB). 3000m S/C – A: 14 Ciaran Doherty (Letterkenny, M40) 9:40.45; 15 Brian Flanagan (Clonliffe, U20) 9:52.52 (PB)
Women: 800m – C:1 Louise Shanahan  (Leevale) 2:08.15 (PB); 3 Carla Sweeney (Rathfarnham WSAF) 2:10.03, 5 Alanna Lally (GCH) 2:11.06, 6 Fiona Kehoe (Kilmore) 2:12.17. E: 2 Niamh Markham (Ennis TC) 2:12.66 (PB). 1500m – A: 13 Claire Tarplee (St Coca's) 4:30.65. B: 6 Amy O'Donoghue (Emerald, U23) 4:24.08; 7 Nadia Power (Templeogue, U20) 4:24.62 (PB; 17 Becky Woods (Clonliffe) 4:29.82. 5000m – A: 6 Ciara Durkan (Skerries) 16:10.37 (PB); 8 Anne Marie McGlynn (Letterkenny, W35) 16:19.06; 11 Teresa Doherty (Finn Valley, W35) 16:33.47 (PB); 12 Shona Heaslip (Riocht, U23) 16:33.93 (PB); 17 Emma Mitchell (Banbridge) 17:00.81. 3000m S/C: 2 Sara Treacy (Dunboyne) 9:55.19.
Junioren Gala Mannheim, Germany
Men: 110mH – Ht 1, 4 Gabhann McKenna (Shercock) 14.49. Ht 2 2 Matt Behan (Crusaders) 14.00. B final: Behan 14.30. 100m – Ht 3, 4 Eoin Doherty (Tallaght) 10.86. 200m – Times heats: 9 Zak Irwin (Sligo) 21.45, 16 Sean Lawlor (Donore) 21.93. 400m – 3 Harry Purcell (Trim) 47.33; 6 Scott Gibson (Bandon)  48.08. Discus: 2 Eoin Sheridan (North Westmeath) 55.43. Shot: 3 John Kelly (Finn Valley) 17.79.  Hammer: 4 Fellan McGuigan 68.15. 4×100: 5 Ireland (Eoin Doherty, Zak Irwin, Sean Lawlor, Joseph Ojewumi) 40.89.
Women: 100m – Ht 3, 1 Ciara Neville  (Emerald)11.93. Ht 4, 1 Phoebe Murphy (Clonmel) 14.02. A Final: 5 Neville 12.00. B Final, 3 Murphy 12.04. 200m – Timed heats: 6 Sharon Mawdsley ( St Mary's Newport) 24.05, 7 Roisin Harrison (Emerald) 24.12, 9 Gina Akpe-Moses (Blackrock Louth) 24.37. 400m: 12 Jenna Bromell (Emerald)55.20. 100m H– Race 1: 6 Sarah Lavin (UCD) 13.49. Race 2 – 3 Lavin 13.45. Hammer – B Final: 5 Alice Akers (Scarriff) 54.67. 4 x 100m: 1 (Murphy, Neville, Roisin Harrison, Sharlene Mawdsley) 45.08.