Two athletes made the  European Championships A qualification mark at  the second round of the national league, for which full results are only now available.
In Athlone, Zoe Brown of Raheny Shamrock  cleared 4.40m to win the pole vault – indeed  that height would also have won her the men's competition. Brown had improved her personal best to 4.32m at the Welsh Championships earlier this month.  In Athlone she also helped the Raheny cause with a respectable 9.76m in the shot putt. Top of the Irish pole vault rankings this season is Tori Pena after a 4.45m effort in California last month; she set an Irish record of 4.50m last summer.
In Santry, Jason Harvey  of Crusaders won the 400m hurdles in 50.86 secs – inside the European A standards of 51.10 secs. Harvey now lies second on the Irish ranking list behind Thomas Barr. Harvey ran a personal best time of 50.13 secs at last year's National Championships and lies third on the all-time Irish list behind Barr and Tom McGuirk.
Other highlights of the league included a 1500m and 3000m double in Athlone for DSD's Maria McCambridge who is aiming for a fast 10,000m time later this season.  In men's division 1, John Travers won the 800m and Eamonn Fahey the 100m and long jump for Donore.Kevin Mulcare of Clare County won the 5000m.
In Santry, a tactical 1500m saw Andrew Coscoran, representing Meath athletics,  just beating Leevale's Mark Hanrahan and Michael Dyel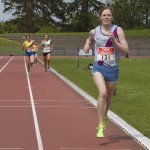 of North Doyle. Coscoran also finished second in the steeplechase.
KATIE KIRK  of Lagan Valley clocked a brilliant personal best time of 2:02.78  to win the U23 80om at the English Athletics U20/23 Championships in Bedford. Her time wad a new championship best.
At U20 level, Siofra Cleirigh Buttner of DSD finished  5th in the 1500m at the  Buttner's time of 4:27.03 was inside the B standard for the World Junior Championships. City of Lisburn's Megan Marrs finished second in the 10om hurdles in 14.10 secs –  just a day after setting a new 100m record at the Tailteann Games in Santry.
Finn Valley's John Kelly finished 3rd in the U20 shot with 17.05m; in the long jump Sam Healy of Leevale was second with a wind-assisted jump of 7.51m. Multi-eventer Healy also clocked 14.41 in the 110m hurdles. In the hammer, Scarriff's Alice Akers was 3rd with 53.01m.
In the U20 800m, Aislinn Crossey of Newry finished 5th in 2:07.77, with GCH's Alannah Lally 8th in 2:09.13.  Cliodhna Manning of KCH was 6th in the 200m in 24.57, followed by Ferrybank's Niamh McNicola in 24.72 and Roisin Harrison of Emerald in 24.57.
At the BMC Meet in Watford last Wednesday, Crossey ran 2:06.33 in the 800m and Sara Treacy  4:16.29 in the 1500m.
Sunday June 22
AAI National League Rd 2, Athlone and Santry: Selected results –
Santry –
Men: Premier – 400m H: 1 Jason Harvey (Crusaders) 50.86. 100m: Tony Stafford (Menapians) 11.02. 200m: David Quilligan (Leevale) 21.58. 400m: Paul Murphy (Ferrybank) 48.50 . 800m: Rob Tully (Meath Athletics) 1:54.31,2 Michael Dyel (Nth Down) 1:55.48. 1500m: 1 Andrew Coscoran (Meath Athletics) 3:56.25, 2 Mark Hanrahan (Leevale) 3:56.95, 3 Michael Dyel (Nth Down) 3:57.76, 4 Edgar Sumkiss (Clonliffe) 3:58.49. 5000m: 1 Andrew Connick (Ferrybank) 14:50.86, 2 Brian McMahon (Clonliffe) 14:52.67. 3000m S/C: 1 Jayme Rossiter (Clonliffe) 9:14.70, 2 Andrew Coscoran (Meath Athletics) 9:43.71. LJ: 1 David Tobin (Meath Athletics) 7.01, 2 David Quilligan (Leevale) 6.97, 3 Alan Kenny (Nth Down) 6.95. TJ: 1 Sean Archer (Ferrybank) 13.91, 2 Alan Kennedy (Nth Down) 13.72. JT: Rory Gunning (Meath Athletics) 58.38, 2 Ryan Whelan (Clonliffe) 51.05. HT: 1 Simon Galligan (Clonliffe) 51.37, 2 Patrick Ryan (Ferrybank) 51.18.
Div 1 –
1500m: 1 James McCarthy (Youghal) 4:06.17, 2 Brian Maher (KCH) 4:09.80. 5000m: 1 James McCarthy (Youghal) 15:00.16, 2 Brian Maher (KCH) 15:19.26. 3000m S/C Ciaran Doherty (guest) 9:31.23.
Women: Premier –
1500m:1 Becky Woods (Clonliffe) 4:27.55, 2 Fiona Keogh (Wexford Athletics) 4:30.39.SP: Laura McSweeney (Bandon) 11.75. JT: Denise Byrne (Clonliffe) 37.85. HT: Cara Kennedy (Ferrybank) 52.98.
Div 1 –
LJ: Annie Stafford (Menapians) 5.73. JT: Patricia Curtin (Youghal) 38.01.
Athlone
Men: Premier –
800m: Brian Kelly (St Abban's) 1:53.58. 1500m: 1 Emmet Dunleavy (Sligo Ath) 3:59.31, 2 Feidhlim Kelly (Raheny Shamrock) 4:02.88, 3 John Eves (DSD) 4:03.55. 5000m: Alan McCormack (DSD) 15:44.04. 400m H: Paul Byrne (St Abban's) 52.69. 3000m S/C: Emmet Jennings (DSD) 9:22.10. PV: Stuart Greene (Raheny Shamrock) 4.20. JT: Brian McDermott (DSD) 48.17.
Div 1 –
100m: Eamonn Fahy (Donore) 11.03. 800m: John Travers (Donore) 1:51.72. 5000m: Kevin Mulcaire (Clare County) 15:38.37. 3000m S/C: Ray Hynes (Donore) 9:12.03. LJ: Eamonn Fahy (Donore) 6.38. TJ: 1 Conal Mahon (Tir Chonaill) 13.97, 2 Niall Counihan (Limerick) 13.83, 3 Darren Prout (Nenagh Oly) 13.22. PV: Christopher Doherty (Tir Chonaill) 4.20. 56 lb: Peter Ryan (Nenagh Oly) 6.67.
Women: Premier –
100m: Claire Brady (Kildare Ath) 12.18. 200m: Claire Brady (Kildare Ath) 24.68. 800m: Iseult O'Donnell (Raheny Shamrock) 2:13.31; Amy O'Donoghue (guest) 2:14.19. 1500m: Maria McCambridge (DSD) 4:23. 3000m: 1 Maria McCambridge (DSD) 9:38.30, 2 Maria O'Sullivan (Raheny Shamrock) 10:05.88. LJ: Vivian Fleischer (Kildare Ath) 5.43. PV: Zoe Brown (Rahney Shamrock) 4.40. SP: Geraldine Stewart (Tir Chonaill) 12.59. DT: Kayleigh Cronin (Kerry Ath) 41.08. HT: Mieke Kiernan (Raheny Shamrock) 42.46.
Div 1 –
TJ: Sarah Buggy (St Abban's) 11.21. DT: Hannah O'Sullivan (Gneeveguilla) 40.34.