Double European champion Fionnuala Britton proved the class of the field when she stormed to a comfortable victory in the women's three-mile race at the 30th Gerry Farnan Cross-Country in Dublin's Phoenix Park.
Britton took the lead from the start and after half a mile had already stretched away from the rest of the field. Behind her, Sarah Treacy of Moynalty was  leadi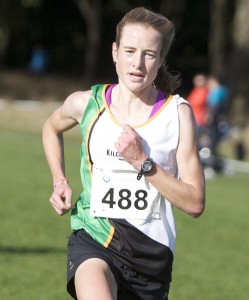 ng the chasers and was soon a comfortable second place,  ahead of a group that included Aoife Talty of Raheny, Clonliffe's Sarah McCormack, Riocht's Laura Crowe, Sarah Mulligan of DSD and Newcastle's Kerry O'Flaherty Harty.
Conditions were mercifully dry but the blustery wins took its toll  and on the third lap, Crowe 's conservative approach paid off when she moved into third place. Britton's winning time was 15 mins 45 secs, with second placed Treacy clocked at 16.26 and Crowe  ten seconds behind 16.44. In the battle for fourth place, Ann Marie McGlynn of Lifford just held off Ciara Durkan from Skerries. Aoife Talty in ninth place led Raheny Shamrock to  team victory over DSD, with the large team from Leevale finishing third.
First of the masters, who were battling it out for places on the Irish team for the British and Irish International in Cardiff next month, was Natasha Adams of Lifford, with Kilmore's Jackie Carthy second master and first W40.
In the men's five-mile race, David McCarthy  of West Waterford and Portlaoise's Michael Mulhare ran should to shoulder for much of the race before Mulhare pulled away for a decisive victory in 24 mins 30 secs. McCarthy was second in 24.51 and John Coghlan of host club MSB  just two seconds  behind for third. Mark Hanrahan finished fourth in a welcome return to competition and led Leevale to team victory  over Clonliffe and Raheny Shamrock, with just eight points separating the three teams.
First master was Brian Maher of Kilkenny in 15th place, with Colm Burke of St Abban's second and first M45.
First  of the junior women, who ran two miles, was Siofra Cleirigh Butter of DSD in 11 mins 22 secs. Clodagh O'Reilly of Annalee was second ahead of DSD's Meghan Ryan. Sean Tobin of Clonmel won the junior men's three mile in 19 mins 53 secs, finished almost half a minute clear of Clonliffe's Aaron Hanlon with Ruairi Finnegan of Letterkenny AC third.
* Pics at www.lindie.zenfolio.com
* Brendan Teer of East Down  won the opening round of the ANI Cross-Country League organised by Springwell at UU Coleraine. His time of 27.17 put him comfortably clear of Foyle Valley's Scott Rankin., with Alan Bogle of City of Derry third. Gladys Ganiel O'Neill of North Belfast won the women's race from Michelle Strum of Omagh Harriers, Denise Toner of Clones and Sperrin's Karen Alexander. Report and results  www.nirunning.co.uk
* Here's an interesting one: at the Leisureworld Rebel Run 10km in Bishopstown Cork, 18 people who ran with headphones were removed from the official result. A total of 506 finished the run, with James McCarthy in 32.10 and Niamh Cronin in 43.36 the first man  and woman home. Full result via www.corkrunning.blogspot.ie.
Sunday October 20
Gerry Farnan Open Cross-Country, Phoenix Park. www.precisiontiming.net
Women – Senior 3-Mile (79 finishers) : 1 Fionnuala Britton (Kilcoole) 15.45, 2 Sara Louise Treacy (Moynalty Kilcloon) 16.26, 3 Laura Crowe (Riocht) 16.36, 4 Ann-Marie McGlynn (Lifford) 16.44, 5 Ciara Durkan (Skerries) 16.44, 6 Kerry O'Flaherty (Newcastle) 16.47, 7 Sarah McCormack (Clonliffe) 15.50, 8 Sarah Mulligan (DSD) 16.54, 9 Aoife Talty (Raheny) 17.01, 10 Siobhan O'Doherty (Borrisokane) 17.22. W35: 1 Natasha Adams (Lifford) 17.48, 2 Annette Quaid (Leevale) 18.18, 3 Martina O'Dwyer (Carrick-on-Suir) 18.43. W40: 1 Jackie Carthy (Kilmore) 17.54, 2 Cathy McCourt (NBH) 18.21, 3 Collette Tuohy (Mayo) 18.35. W45: 1 Carmel Crowley (Bandon) 18.18, 2 Angela O'Connor (Mayo) 19.22, 3 Ann Moore (Leevale) 19.28. W50: 1 Niamh O'Sullivan(Riocht) 18.23, 2 Ann Sullivan (DMP Wexford) 19.18, 3 Mary Sweeney (St Finbarr's) 20.14. W55: 1 Carmel Parnell 19.06, 2 Pauline Moran (Mayo) 20.37, 3 Mary Jennings (Waterford) 20.57. W60: Phyllis Brown (Star of the Sea) 22.50, 2 Roisin Lynch 23.39, 3 Mary Martin (Finn Valley) 26.01.  2-Miles – W65: Kathleen O'Brien (East Coast) 24.06. Teams – 1 Raheny
Shamrock (9,11,15) 35, 2 DSD (8.19,21) 48, 3 Leevale 20.25,35) 80.
Junior 2-Mile: 1 Siofra Cleirigh Buttner (DSD) 11.22, 1 Clodagh O'Reilly (Annalee) 11.45, 3 Meghan Ryan (DSD) 11.51, 4 Sarah Fitzpatrick (DSD) 11.54, 5 Clare McCarthy (DSD) 12.02, 6 Isabelle Odlum (DSD) 12.10.
Men – Senior 5-Mile (112 finishers) : 1 Michael Mulhare (Portlaoise) 24.30, 2 David McCarthy (W Waterford) 24.51, 3 John Coghlan (MSB) 24.53, 4 Mark Hanrahan (Leevale) 25.10, 5 Colm Rooney (Clonliffe) 25.18, 6 Benjamin Thistlewood (Leevale) 25.19, 7 Conor Bradley (City of Derry) 25.30, 8 Cillian O'Leary (Raheny) 25.36, =9 Mick Clohisey (Raheny)/Brian McMahon (Clonliffe) 25.40. M35: 1 Brian Maher (KCH) 25.57, 2 Phil Kilgannon (Sportsworld) 26.48, 3 Paul Fleming (Rathfarnham WSAF) 27.04. M40: 1 Shane O'Neill (Rathfarnham WSAF) 27.14, 2 Niall Lynch (Donore) 27.26, 3 Martin McCarthy (Leevale) 27.38. M45: 1 Colm Burke (St Abban's) 26.43, 2 Francis Marsh (Nth Down) 27.47, 3 Kieran Carolan ( Finn Valley) 27.57. M50: 1 Gerry Doyle (Rathfarnham WSAF) 28.22, 2 Patrick O'Grady (D&D) 28.47, 3 Gerard Maloney (St Paul's) 28.49. M55: 1 Tommy Payne (Tinryland) 28.27, 2 Martin McDonald (Ballyroan and Dist) 30.09, 3 John Collins (Leevale) 31.07. M60: 1 Paul Eliott (NBH) 30.31, 2 John Todd (Tullamore) 23.33, 3 Seamus Gaughan (Mayo) 32.58. 3-mile –  M65: 1 Martin McEvilly (GCH) 19.07, 2 Liam O'Hare (Gedysa Antequera) 20.09 3 Denis Shannon (Tinryland) 21.07. Teams – 1 Clonliffe (5,9,24,27) 65, 2 Leevale (4,6,21,39) 70, 3 Raheny Shamrock (8,9,18,38) 73.
Junior 4-Mile: 1 Sean Tobin (Clonmel) 19.53, 2 Aaron Hanlon (Clonliffe) 20.21, 3 Ruairi Finnegan (Letterkenny) 20.31, 4 Con Doherty (Westport) 20.51, 5 Shane Fitzsimons (Mullingar Hrs) 21.08, 6 Mitchell Byrne (Rathfarnham WSAF) 21.13