John Fitzsimons crowned a superb performance by the Irish team at the European U20 Championships in Grosseto, Italy  when he snatched a bronze medal in the men's 800m today.
Fitzsimons  from Kildare AC  was ranked 20th going into the championships,  but in a tactical race, held his nerve to  finish third in 1:49.15.  In the heats, he had run a personal best of 1:48.68 seconds to qualify for the final as a fastest loser and he then ran a smart tactical race in the final for his bronze.
The women's 4x100m relay team of Molly Scott (St Laurence O'Toole), Sharlene Mawdsley (Newport), Gina Akpe-Moses (Blackrock-Louth) and Ciara Neville (Emerald) were a battling fourth in the final in a time of 44.47 seconds.  In their heat they had clocked 44.42 secs, the second fastest behind Germany whose time  in heat three was a world U20 record breaking 43.27 secs.
The men's 4x100m relay team of Mark Smyth (Raheny Shamrock), Cillin Greene (Galway City Harriers), Paul McDermott (Donore Harriers) and Joseph Ojewumi (Tallaght)  finished seventh in their heat in 40.89 seconds. On the third leg, McDermott pulled a hamstring but held on to hand over to Ojewumi on anchor.
IN SANTRY,  Thomas Barr 400m hurdles, Ciara Mageean 800m, Brian Gregan 400m and Mark English 800m all duly won their races which should copper-fasten their selection for next month's World Athletics Championships in London.
In the 400m hurdles, Barr was chased hard by his training partner Paul Byrne of St Abban's who had recently run a lifetime best of 50.03 secs. He held on to win his seventh title in 49.79 secs.  Byrne's time was 50.24 secs.
Mageean also did it the hard way by setting a blistering pace for the opening lap  but managed to hold off Naas's Clare Mooney who was on her shoulder all the way, winning in 2:04.06.
English made his move  with a 100m to go in the men's 800m , winning  in 1:50.98. In the men's 400m, Brian Gregan of Clonliffe was absolutely in a class on his own making 45.74 secs for the distance look easy.
Kerry O'Flaherty of Newcastle AC won the steeplechase in dramatic fashion after Leevale's Michele Finn hit a barrier on the back straight with two laps to go. She briefly stopped running but then realised that if she kept going she could still nail down a silver medal. So off she set again. "It was unfortunate because I was on for a good time – and no, I've never hit a barrier before!" she said after. Finn will compete at the World University Games in Taipei also next month.
In the 5,000m, Conor Dooney of Raheny Shamrock made it a second win over the weekend for the family; brother Kevin had won the 10,000m a day earlier.
A new star was born in the 400m, where Cliodhna Manning of Kilkenny City Harriers unseated the defending champion Sinead Denny of DSD for victory with a winning time of 53.25 secs.   In the past, Manning had concentrated on the 100m and 200m, but clearly  the 400m is the distan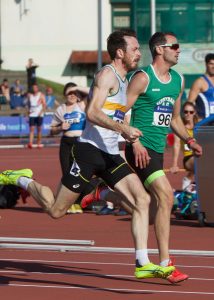 ce that suits her best. Winning the women's 100m in 11.43 secs was the experienced Amy Foster of City of Lisburn.
Taking the 1500m title to add to the 5,000m she had won a day earlier was Emma Mitchell of Queen's, one of the emerging stars of middle distance, as is Sean Tobin of Clonmel who won the men's 1500m, beating Raheny's Kevin Kelly and old hand Eoin Everard of Kilkenny City Harriers.
Soaring over a personal best 2.11m to win the high jump was junior international Ryan Carthy Walsh of Adamstown. Failing at this height was Kourosh Foroughi of Star of the Sea; good to see him back in action after a long break.
Adding the shot title to the discus she had won a day earlier was Clare Fitzgerald of Tralee Harriers; another double winner was Saragh Buggy of St Abban's who won the long jump after taking the triple jump a day earlier..
ON THE FINAL DAY OF the Para Athletics World Championship  in London, Cushinstown's Paul Keogan  finished fifth in theT37 400m with a time of 56.90 secs. The Irish team will return home from London with seven medals won by Michael McKillop (gold T37 800m & 1500m), Jason Smyth (gold  T13 100m & 200m), Orla Barry (silver F57 discus), Niamh McCarthy (silver F41 discus) and Noelle Lenihan  (silver F38 discus).
FINN VALLEY'S SOMMER LECKY  and Aaron Sexton of North Down both took gold  on the final day of the Commonwealth Youth Games in the Bahamas on Sunday. Lecky won the women's high jump  with 1.83m,  while Sexton came out on top in the 200m, winning with a time of 21.57 secs. 21.57 (-1.5)  In the 100m hurdles, Anna McCauley  of City of Lisburn AC missed a spot in the final by just one place, clocking 14.26 secs . Beechmount Harriers' Davicia Patterson finished eight in the 400m final with a time of 55.86 secs, having run 55.54 secs in the heats.
Sunday July 23
European U20 Championship Grosseto, Italy
Women
1500m: 11 Nadia Power (Templeogue AC) 4:28.60
 4 x 100m final: 1 Germany 43.44, 2 France 44.03, 3 Great Britain 44.17, 4 Ireland 44.47. Heats – Ht 1, 1 Ireland 44.42 (Molly Scott, Charlene Mawdsley, Gina Akpe Moses, Ciara Neville)
Men
800m final 1 Marino Bloudek (Croatia) 1:48.70, 2 Markhim Lonsdale (GBR) 1:48.82, 3 John Fitszsimons (Kildare AC) 1:19.15, 4 Ben Greenwood (GBR) 1:49.37
4 x 100m heats Ht 1, 7 Ireland (Mark Smyth Cillin Greene, Paul McDermott, Joseph Ojuewumi) 40.89 secs.
Save
Save
Save
Save
Save
Save
Save
Save
Save
Save
Save
Save
Save
Save
Save
Save
Save