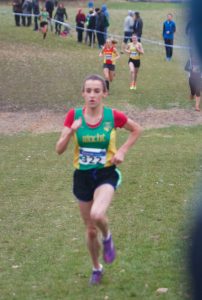 Shona Heaslip provided the story of the day when she won the women's 8km race at the Irish Life Health National Cross-Country Championships on the recently-launched National Cross-Country course at Abbotstown.
With Kilcoole's Fionnuala McCormack running in Spain, Lizzie Lee of Leevale taking a break and Caroline Crowley of Crusaders injured, the women's race was left wide open.
Olympians Kerry O'Flaherty of Newcastle and  UCD's Ciara Mageean, both from Northern Ireland, pushed the pace on the first of four laps, but they could not shake off the dogged Shona Heaslip of Riocht, who was running the race of her life. On the final lap, Heaslip  took over in front and in the battle for second place, O'Flaherty just pipped Mageean. It was a sensational result for the 22-year old Kerry woman who earns her living as an Irish dancer and is coached by Irish international master Niamh O'Sullivan, who was also running in the race.
Less surprising was Mark Christie's victory in the men's 10,000m. The Mulligar man who last won this race ten years ago, is in superb shape and saw off the challenge of  Raheny marathon man Mick Clohisey, who was denied a fourth consecutive victory, but finished a solid second ahead of Leevale's Mark Hanrahan. For fourth place Tullamore's Liam Brady came home ahead of Paul Pollock of Annadale.
Clohisey had the consolation of leading Raheny Shamrock to a first ever senior men's team title after eight second places in the last eleven years. Counting for the team were Kevin Dooney 6th, Conor Dooney 11th and Mark Kirwan 19th. Regaining the women's team title was DSD, led home by Laura Shaughnessy in ninth place.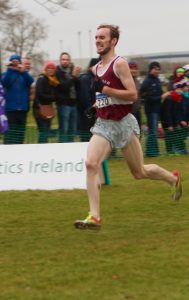 Mullingar's Jack O'Leary, who is on scholarship at Iona College in the USA was an impressive winner of the junior men's 6,000m ahead of Kilkenny's Peter Lynch and Fearghal Curtain of Youghal. Winning the junior women's 4000m was Sophie Murphy of DSD, who beat Amy Rose Farrell of Blackrock and WSAF's Carla Sweeney into the minor places.
At juvenile level, Blackrock's Sarah Healy and Louis O'Loughlin of Donore made it a Dublin double at under 16 level, while winning the under 18 titles were Emma O'Brien of Inbhear Dee and Bantry's Darragh McElhinney.
IN SPAIN, Fionnuala McCormack was the winner of the Cross Internacional de la Constituciónin beating the Ethiopian Etenesh Diro Neda.
DOWN THE ROAD FROM ABBOTSTOWN, the first Women's Meet and Train Winter League race in Dunboyne was won by former mountain running international Jane Cahill, who has lived locally for the past ten years. Her Dunboyne clubmate Claire Cullinane was second, with Olympic sailor Ciara Peelo, who runs with Clonliffe a fighting third.
IN THE ANTARCTIC, Galway's Gary Thornton won the Antarctic Ice Marathon by some way in 3 hours 37 minutes 13 seconds.
AT THE SEELEY CUP 10KM, Emma Mitchell won the women's race in a fine time of 33 mins 52 secs, beating national marathon champion Laura Graham who finished in 34 mins 25 secs. JP Williamson won the race in 31 minutes exactly, with Scott Rankin six seconds behind for second.
Results
Sunday November 27
Irish Life Health National Cross Country, Abbotstown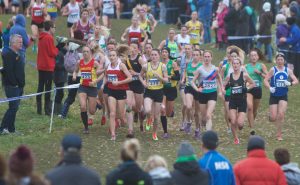 Women – Senior 8,000m (94 finishers): 1 Shona Heaslip (Riocht) 28: 13, 2 Kerry O'Flaherty (Newcastle) 28:23, 3 Ciara Mageean (UCD) 28.24, 4 Laura Crowe (Riocht) 28.30, 5 Michele Finn (Leevale) 28.33, 6 Anne Marie McGlynn (Letterkenny) 28.44, 7 Siobhan O'Doherty (Borrisokane) 28.48, 8 Una Britton (Kilcoole) 28.48, 9 Laura Shaughnessy (DSD) 28.51, 10 Catherine Whoriskey (City of Derry Spartans) 28.55. Teams – 1 DSD 54, 2 Leevale 84, 3 Riocht 132. Counties (7)- 1 Dublin 52, 2 Cork 55, 3 Kerry 70. U23 8,000m: 1 Bethanie Murray (DSD), 2 Amy O'Donoghue (Emerald), 3 Elizabeth Carr (Mullingar Harriers).  Junior 4,000m (27): 1 Sophie Murphy (DSD) 14.18, 2 Amy Rose Farrell (Blackrock) 14.27, 3 Carla Sweeney (WSAF) 14.32. Teams (5) – 1 DSD 32, 2 Sli Cualann 85, 3 Mullingar Harriers 100. Counties (9)- 1 Dublin, 2 Cork,3 Wicklow.  W18 4000m: 1 Emma O'Brien (Inbhear Dee), 2 Jodie McCann (DSD), 3 Stephanie Cotter (West Muskerry). Teams – 1 DSD, 2 Inbhear Dee, 3 Mullingar Harriers. W16 4,000m: 1 Sarah Healy (Blackrock), 2 Lucy Holmes (West Waterford), 3 Saoirse O'Brien (Westport). Teams – 1 Mullingar Harriers, 2 MSB, 3 Skerries.
Men – Senior 10,000m (154 finishers): 1 Mark Christie (Mullingar Hrs) 30.41, 2 Mick Clohisey (Raheny Shamrock) 30.53, 3 Mark Hanrahan (Leevale) 30.57, 4 Liam Brady (Tullamore Hrs) 31.15, 5 Paul Pollock (Annadale) 31.18, 6 Kevin Dooney (Raheny Shamrock) 31.21, 7 Brian Maher (KCH) 31.26, 8 Shane Quinn (Ferrybank) 31.39, 9 Kevin Maunsell (Clonmel) 31.34, 10 Eoin Everard (KCH) 31.47. Teams (18)- 1 Raheny Shamrock 38, 2 Ennis Track 101, 3 Leevale 104, Kilkenny City Harriers 106. Counties – A: 1 Dublin, 2 Clare, 3 Cork. B: 1 Offaly. U23 10,000m: 1 Karl Fitzmaurice (Ennis TC), 2 Mitchell Byrne (Rathfarnham WSAF), 3 Darragh Fitzgibbon (Donore Hrs). Junior 6,000m (53): 1 Jack O'Leary (Mullingar Hrs) 18.37, 2 Peter Lynch (KCH) 18.53, 3 Fearghal Curtin (Youghal) 19.00. Teams – 1 Clonliffe Harriers 80, 2 DSD 81, 3 Mullingar Harriers 84. U18 6,000m: 1 Darragh McElhinney (Bantry), 2 Charlie O'Donovan (Leevale), 3 Sean O'Leary (Clonliffe Hrs). Teams – 1 Ennis Track, 2 Mullingar Harriers, 3 Clonliffe Harriers. U16 4,000m: 1 Louis O'Loughlin (Donore Hrs), 2 Conor Maguire (Monaghan Phoenix), 3 Christopher O'Reilly (Togher). Teams – 1 St Malachy's, 2 Clonliffe Harriers, 3 West Waterford.
Meet and Train Women's 2-Mile Cross-Country League Rd 1, Dunboyne .
1 Jane Cahill (Dunboyne),2 Claire Cullinane (Dunboyne), 3 Ciara Peelo (Clonliffe), 4 Maria Jones (Sportsworld), 5 Fiona Gro (Esker Runners), 6 Ellen Vitting (Trim A), 7 Aileen Melody (Sportsworld), 8 Nicola Kavanagh (Esker Runners), 9 Rachel Eustace (Fingallians), 10 Maria Pertl (Crusaders).
Saturday November 27
Antarctic Ice Marathon
1 Gary Thornton (IRL) 3:37.13; 2 Michael Edward Taylor (GBR) 4:18.06; 3 Gavin Opperman (RSA) 4:24.04.