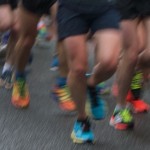 World masters mountain running champion Ian Conroy of Raheny Shamrock and DSD's Fiona Clinton were the winners of the annual Simon 5-Mile run held in Dublin's Phoenix Park.
Raheny's Freddy Sittuk won the 10k at the Galway Bay Marathon, Half Marathon and 10km, leading home 1,340 finishers. His time was 31 mins 18 secs; Conor Dooney of Raheny running for Team Davy was second in 31:25 and Kenneth Rodgers thrid in 31:36.  Siobhan O'Doherty of Borrisoleight was first women and fifth overall in 35 mins 5 secs; Nessa Coll was second in 36:25 and Norah Newcombe Pieterse of Mayo AC thir in 37:31. Donore's Mark Dooley was a comfortable winner of the half marathon in 71 mins 22 secs, with Mayo's Ann Lennon first woman in 84 mins 13 secs. There were 1,002 finishers. Coming home first in the marathon was Clonliffe's Gary O'Hanlon in 2:25.13; second was Brendan Hession in 2:50.27. Rachel Stokes was first woman and seventh overall in 3:14.34. Over 200 finished the race
In Cork last night, Eric Curran and Brigita Lukste were the winners of the VHI A Lust for Life Cork Airport 5km which started at midnight. The event is organised by A Lust for Life, which describes itself as "a dynamic new well-being movement co-founded by musician and mental health campaigner Niall Breslin, otherwise known as Bressie." So there.
IMPRESSIVE numbers at the annual Victoria Park Northern Ireland Road Relays in Belfast, with 37 teams in the master women's 3 x 2 mile, 54 in the master men's 4 x 2 mile, 20 in the senior women's 3 x 2 mile and 35 in the senior men's 4 x 2 miles.Winners of the senior races were the Newcastle women and the Derry Track Club men. City of Lisburn proved best of the master women with Acorns AC best of the men. North Belfast Harriers finished runners-up in three of the four races.
Saturday October 1
Simon 5-mile Fun Run, Phoenix Park, Dublin (1.055 entries; www.myrunresults.com)
Men: 1 Ian Conroy (Raheny, M35) 25.50, 2 Simon Ryan (Raheny) 36.23, 3 Conor Healy (Clonliffe) 26.38, 4 Anthony Flannery (Donore) 27.19, 5 Ronan Keanrs (Rathfarnham WSAF, M40) 27.51, 6 Paul Cowhie (CSH, M50) 28.15.
Women: 1 Fiona Clinton (DSD) 29.31, 2 Meghan Ryan (DSD) 26.49, 3 Annette Kealy (Hartstown CS, W45) 31.10, 4 Orla Beechinor 32.31, 5 Jill Horan 34.33, 6 Luisa Kabala (Deutsche Bank) 36.56.
Victoria Park Relays (www.championchipireland.com)
Women (3 x 2 mile)  –  Senior (20 teams) : 1 Newcastle and Dist 35 mins 24 secs, 2 Dromore 36.22, 3 North Down 38.09. Masters (37 teams): 1 City of Lisburn 35.55, 2 North Belfast Harriers A 36.02, 3 Lagan Valey 38.06 .
Men (4 x 2 mile) – Senior (35 teams): 1 Derry Track Club 39.22, 2 North Belfast Harriers 40.09,3 Letterkenny AC 40.43. Masters (54 teams) :1 Acorns AC42.49, 2 North Belfast Harriers 43.03, 3 Ballymena Runners 43.49.
VHI A Lust for Life Cork Airport 5km
Men: Eric Curran 15.22, 2 Frank Quinlan 16.00,3 Shane Healy 16.29. Women:1 Brigit Lukste 20.11, 2 Louise Hayes 21.00,3 Mary O'Keeffe 21.06.