Conor Dooney from Davy led home over 4,500 finishers at the Grant Thornton Corporate 5km held in Dublin's Docklands. His time of 14 mins 49  secs  saw him finishing seven seconds clear of John Coghlan from the Run Hub. Former marathon international Sean Connolly, back in Dublin and working as a primary school teacher, made a welcome return to  racing and finished third. First woman was Deirdre Byrne  of St David's CBS in 16:06.
A total of 139 companies were represented with Dunnes Stores alone fielding 42 teams.  The race series of three  is organised by Athletics Ireland as a fundraiser for its junior high performance programme.
Corporate  teams have another opportunity to race each other at the inaugural Twilight Team Challenge 5km on an entirely new course around Sandyford Industrial Estate in Dublin on Thursday October 1 (7.30). See www.twilightteamchallenge.com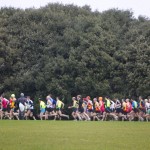 As for the Business Houses Athletics Association – the original corporate challenge –  their winter programme begins with the  OPW Trail  race in Trim on Saturday September 12 (11am), followed by the Dublin Half Marathon on Saturday September 19. Fancy trying cross-country? The Teachers Cross-Country  takes place in Castleknock College on Saturday  October 17 with a four-mile race for men and a two-mile for women. BHAA races are renowned for their friendliness, their superb organisation – and the traditional post-race tea and brack. Newcomers, both individual and corporate, are always welcome. See www.bhaa.ie.
Grant Thornton Corporate 5km Team Challenge, Docklands, Dublin (4,565 finishers; 878 teams; ww.preisiontiming.net)
Men: 1 Conor Dooney (Davy) 14.49, 2 John Coghlan (The Run Hub) 14.56, 3 Sean Connolly (Primary School Teachers) 1.07, 4 Leon O'Connor (Certus ) 15.08, 5 James Ledingham ( Defence Forces) 15.7, 6 Ray Hynes (Davy) 15.17, 7 Eoin Callaghan (Primary School Teachers) 15.17, 8 Anthony Lieghio (The Run Hub) 15.21.
Women: 1 Deirdre Byrne ( St David's CBS) 16.06, 2 Catherina McKiernan (Athletics Ireland) 16.20, 3 Caroline Crowley (Beauchamps Solcs) 16.32, 4 Sinead Foxe (Zurich GI) 17.34, 5 Jamie Hennessy (B of I) 17.39, 6 Niamh Manley (BBH) 17.46.
Teams – Men (243 teams): 1 The Run Hub 1:02.56, 2 Defence Forces A 1:02.28, 3 Davy 1:03.37, 4 Primary School Teachers 1:04.25, 5 BOI CB Runners 1:06.32, 6 Garda Men 1:07.02.
Mixed (555 teams): Ornua (IDB) 1 1:10.12, 2 Mercer Mixed 1:11.35, 3 Defence Forces Mixed 1:12.38, 4 St David's CBS 1:15.15, 5 Eagle Alpla A 1:15.28, 6 Davy Mixed 1:15.39.
Women (88 teams): 1 Garda Ladies 1:28.02, 2 Scrambled Legs 1:33.48, 3 Irish Life 1:34.01.