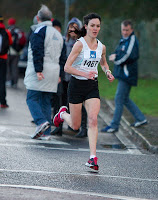 North Sligo's Mary Cullen set a new course record of 25 mins 55 secs at the Axa Raheny 5. Cullen, who hasn't raced in over two years thanks to a succession of accidents and injuries, set a blistering pace from the start holding off the challenge  of  last year's winner Linda Byrne of DSD who finished second in 26 mins 37 secs.
Overall winner of the race was Joe Sweeney of DSD, who finished  in 23 mins 53 secs and was chased hard by  Tomas Fitzpatrick of  Tallaght  a fighting second in 24 mins 2 secs. Brian Maher of  KCH was third.  A total of 2,072 runners finished the race with a further 500 or so in the two underage races.
* Lizzie Lee of  Leevale was first woman at the John Treacy Dungarvan 10 with a time of 57 mins 35 secs. In second place was Claire Gibbons McCarthy of St Finbarr's in 57.57, with DSD's Niamh Devlin third in 59.10.  Clonliffe's Gary O'Hanlon was overall race winner in  51 mins 21 secs.
Last year's women's winner Maria McCambridge, a spectator in Raheny,  was a non-starter  after pulling a calf muscle  in a track session last week. McCambridge will also miss out on next weekend's European Clubs Cross-Country in Spain, where Linda Byrne  and Ava Hutchinson lead a strong DSD team.
Although McCambridge, after a few years in Letterkenny,  has returned to her native Dublin and the club where she started her career, she isn't eligible to compete for DSD until May 1. Under new rules, transfers between clubs can only happen twice in a year  – on September 1 for the winter and May 1 for the summer.  Next major race for McCambridge is the Rotterdam Marathon.
Star of the Woodie's DIY AAI Games in Athlone was Clonliffe's Brian Gregan  who set a new personal best time of 46.08 when winning the 400m. The time was a new Irish indoor all comers record. Thomas Barr of Ferrybank  was second in 47.46.
In the men's 3000m,  Spanish trio Juan Higuero, Casado Arteuro and Roberto Alaiz were the top three, with Donore's John Travers best of the Irish in fifth with a personal best 8:02.58.
Travers' Athlone track record of 3:42.53, set last Tuesday, was untroubled in the men's 1500m won by British athlete Mathew McLaughlin  in a new British junior record of 3:42.87. Darren McBrearty was third  in  3:45.38.
Ferrybank's  Kelly Proper showed a welcome return to form when she won both the 60m and the long jump. In the 60m, her time of 7.55 put her marginally ahead of her club mate Niamh Whelan on 7.57. Proper  then jumped  6.04m for victory in the long jump. Whelan won the 200m in  24.43.
In the men's 60m, Max Kessler of Germany won in 6.81, with David Hynes of Menapians  second in 6.91. Kessler and Hynes renewed battle in the men's 200m with Kessler first home in 21.30 ahead of Hynes in 21.84.
Race walker Rob Heffernan of Togher lapped almost the entire field to win the men's 3,000m walk in 11:13.92, not far off his own national record of 11:10.02.
Disaster struck in the women's 800m when leader Ciara Everard  of KCH  and then Riocht's Laura Crowe fell within sight o the line leaving Jana Hartman from Germany the winner in 2:04.14. Raheny's Siobhan Eviston  was second in in 2:04.35 while third was DSD's Siofra Cleirigh Buttner  in a new Irish junior record time of  2:05.26. That time  was well inside Ciara Mageean's previous record of 2:07.79.
In the field, Leevale's Dave Tierney won the men's shot with a best of 14.56m and also took the 56lb for distance with 8.27m. 
* DSD\'s elite athletes (!) ventured away from the track to made it  double at the  Hell and Back 10km in and around Kilruddery. Mark Conway was first man and Grace O'Malley first woman. Close to 2,000 registered for the run/assault course. 
Sunday January 27

Axa Raheny 5 (2,072 finishers; www.tds-live.com)
Men: 1 Joe Sweeney (DSD) 23.53 2  Tomas Fitzpatrick (Tallaght) 24.02; 3 Brian Maher (KCH) 24.02, 4 Declan Reed (City of Derry) 25.10, 5 Simon Ryan (Raheny Shamrock) 25.11, 6 Cillian O'Leary (Raheny Shamrock) 25.15, 7 Alan McCormack (DSD) 25.27, 8 Ian Conroy (Raheny Shamrock) 25.41, 9 Emmett McGinty (City of Derry) 25.46, 10  Michael Mac Diarmada (Clonliffe Hrs) 25.53.  M40: 1 Davy Byrne (Tallaght) 26.57; 2 Shane O'Neill (Rathfarnham WSAF) 27.02; 3 Des Kennedy (Raheny Shamrock) 27.05. M45: 1 Mick Traynor (Raheny Shamrock) 26.11. M50: 1 Paddy Mangan (Dunshaughlin) 28.19; 2 Philip O'Doherty (Clonliffe) 28.40; 3 Ray Thornberry (DSD) 30.39.  M55: 1 Paddy Parrott (MSB) 30.23; 2 Declan Poynton (Tallaght)  30.38; 3 Eugene Doherty (SBR) 31.18.  M60: 1 Pat Timmons (Raheny Shamrock) 31.49;  2 John Orlandi (Drogheda & Dist)  33.26; 3 Conor Cooney (D&D) 34.09. U20 Louis McCarthy 28.21.
Women: 1 Mary Cullen ( Nth Sligo) 25.55, 2 Linda Byrne (DSD) 26.37, 3 Fiona Roche (Raheny Shamrock) 27.43, 4 Elish Kelly (Raheny Shamrock) 28.10, 5 Breege Connolly (NBH) 28.25, 6 Orla Drumm (Crusaders) 28.49, 7 Annette Kealy (Raheny Shamrock, W45) 29.26, 8  Maria Dolan (Rathfarnham WSAF,  W40) 29.59, 9  Dervilla Holmes (Donore) 30.32, 10 Ilona McElroy (Crusaders) 31.03. W40: 2 Emilia Dan (Dunboyne) 31.18;  3 Brid Ni Chonaill (Raheny Shamrock) 32.14. W45: 2 Sharon Tighe (Tallaght) 31.34; 3 Orla Gormley (Raheny Shamrock) 32.33. W50: 1 Riita Kansanniva (Civil Service)  33.45. W55: Nuala Reilly (D&D) 34.14.