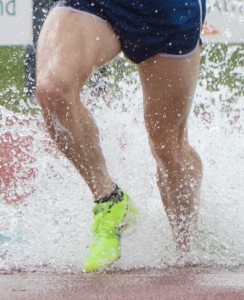 Rio Olympian Kerry O'Flaherty leads the entry for the opening British Milers Club Grand Prix meeting in Solihull tomorrow.
O'Flaherty goes in the 5000m along with QUB's Emma Mitchell. Mitchell is chasing the World Student Games standard of 16 mins 15 secs for the distance, while both have their eyes on the Commonwealth Games qualifying mark of 15 mins 39 secs. O'Flaherty, aged 35, has a best time of 15:58.67 from 2011. Mitchell, aged 23, ran a time of 16:57.14 in 2015. Also entered is 30-year-old Ciara Durkan of Skerries AC, who has run 16:10.37 for the distance.
Conor Duffy of Glaslough AC and Ben Branagh of St Malachy's go in the men's A 5000m. Branagh has a best of 14:23.78; Duffy has run 14:27.54.
Entered in the 1500m is UCD's Ellie Hartnett who ran 4:25.71 indoors earlier this year. Wicklow woman Hartnett, who graduated last year, is working as a physiotherapist at the Cotswold Leisure Centre in Cirencester and has joined the local athletics club. Her coach remains James Nolan of UCD.
Also entered is Irish international athlete Clare Tarplee, who ran a time of 4:10.65 in Ostrava last year; Tarplee is also signed up for the 800m. A strong field in the 1500m includes Hannah England, the 2016 British Indoor champion and Anna Emilie Moller of Denmark, who set a European junior record of 9 mins 32 secs in the 3000m steeplechase at the Rio Olympics.
Entered in the 1500m B race are Rachel Gibson of North Down and DSD's junior Jodie McCann, who hopes to get close to the European U20 standard of 4:30.
Raheny's Kieran Kelly goes in the men's 1500m A race; he ran a time of 3:43.59 last summer. Running in the B race are Irish schools cross-country champion Darragh McElhinney of Bantry AC, still aged only 16, but aiming to improve on his 3:54.50 best for the distance, which is not far off the European U20 mark of 3:52.
Also running is 17-year-old Charlie O'Donovan of Leevale, who came very close to the Euro qualifying mark with a time of 3:52.98 in Greystones last week.
Over 800m, Kilmore's Fiona Kehoe has a place in the women's A race, with Alex O'Neill of St Conan's U17 scheduled to run in the B race. Mark McDonald of Clonliffe and Kieron Sexton of Crusaders AC go in one of the many men's 800m races.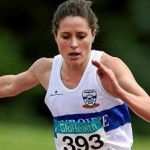 Away from the racing, Rio steeplechaser Sara Treacy is the star guest for a Q & A session focusing on the 'chase. Two 2000m steeplechase races are scheduled for tomorrow, with Jayme Rossiter of Clonliffe Ireland's only representative.
AT THE SECOND DUBLIN GRADED MEET of the season in Tallaght, multi-eventer Elizabeth Morland of Cushinstown jumped a personal best 5.88m to win the long jump.   Brian Masterson of DSD clocked 22.6 for the 200m, with Vicky Harris of Mullingar Harriers the fastest woman with 25.25 secs. DCH's Niamh Donnelly was quickest in the women's 1500m  with a time of 4:42.26; Peter Arthur of Liffey Valley ran 4:07.77 for the fastest men's time.  Winning the women's 5000m in 17:39.68 was Isabel Carron of Skerries AC.
Wednesday May 10
Pfizer BHAA 6-Mile, Cork (402 entries; www.corkbhaa.com)
Men: 1 Colin Merrit (Mary,M45) 31.26, 2 John Meade (Joyce Wolfe Physio) 32.07, 3 Michael Corbett, (Musgrave, M40) 32.27 4 Donal Coakley (Gilead Science) 33.54, 5 Brian Hegarty (Pfizer) 34.10,6 Ken Devine (UCC, M50) 34.19, 7 Jill Hodgkins (Joyce Wolfe Physio, W40) 34.41, 8 Geoffrey Casey (BNY Mellon) 34.5q.
Women: 2 Carmel Crowley (Stockhealth. W45) 37.50, 3 , Shanon Lynne (Kepak) 37.53, 4 Orla O'Rourke(Keen on Sport, W50) 39.34, 5 Katie Hickson 39.43, 6 Niamh Cronin ( RDHJ Solcs, W40) 39.45.
Women's Meet and Train Summer League Rd 3, Phoenix Park
4 miles – 1 Jean Wilson (Sportsworld A) 22.30, 2 Naoise Waldron (SW A)23.31, 3 Aisling Smith (Waterstown Warriors A) 23.36, 4 Sinead Tighe (Bros Pearse A) 23.46, 5 Fiona Groark (Esker) 24.00, 6 Amy Brogan 24.38, 7 Christina Pieri (WW A) 24.41, 8 Bronagh Snow (Fingallians A) 24.50, 9 Parricia Fitzmaurice (SW A) 25.05, 10 Lisa Nagle (Bros Pearse A) 25.12. Overall team results – Gold: 1 Sportsworld A 68, 2 Bros Pearse 122. Silver: Sportsworld B 244, 2 Donore A 295, 3 Blackrock 313. Bronze: 1 Waterstown Warriors A 368. 2 Fingallians A 390, 3 Sportsworld C521