CANOEING: Close to a thousand paddlers in boats of all shapes take to the fast-flowing waters of the Liffey  on Saturday for the annual Liffey Descent. With ten weirs, numerous rapids, a portage around Leixlip reservoir and the treacherous area known as "The Jungle", the race is rightly dubbed the "Grand National" of international canoeing.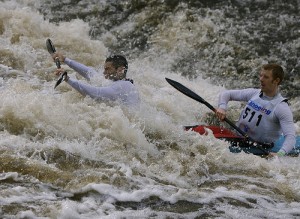 The race starts from the K Club in Straffan and ends 18 miles later in Islandbridge at the Garda Club. Among the "regulars " in action will be Deaglain O Driscoil, winner of the veteran K1 class at the Riba de Sella in Spain last month and 5th M45 at the World Marathon Championships on Lake Bagsvaerd on Lake Bagsvaerd in Denmark Denmark last week. Another veteran to watch out for is many times winner Malcolm Banks,who was  5th M50 at the World Championships, and who often paddles with son Liam in a K2 boat these days.
Salmon Leap's Jenny Egan, 15th at the World Championships last weekend and her brother Peter, 19th in the men's race, are also likely starters . Leading the junior women's entry is Katerina Broderick of Thomastown, a promising 18th in the junior race at her first World Championships.