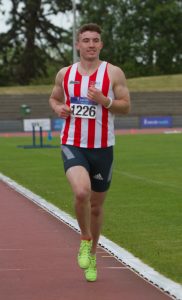 National champion Shane Aston of Trim AC set three personal best marks on his  way to victory in the senior men's decathlon at the NI and Ulster Championships in Belfast this weekend.
Aston recorded 12.42m in the shot, 2.0 meters in the high jump and 37.76 m for the discus all improving on the marks he had set at the European Team Championships in Monzon earlier this season. His total score of  6522 points wasn't too far off the 6564 he recorded in Monzon. His personal best of 6710 dates back to last year at Hexham.
Winning the NI and Ulster women's heptathlon title with a personal best score of 4837 points was Sarah Connolly of North Down, who turns 21 next month. She took big points in the high jump where she recorded a personal best 1.78m and also improved her 200m time to 6.01 secs.   Her score ranks her third on the current Irish list behind Elizabeth Morland and Kate O'Connor and is a big improvement on her 3932 from last May.  Her previous best of 4463 dates back to 2015.
Overall winner was British guest Moe Sasegbon  of Woodford Green and Essex Ladies with a score of 5367. A second guest Jessica Taylor Jammett  of Sale Harriers  produced the day's best performances in the 100m hurdles, 200m, long jump and javelin, but did not start in the final 800m.
NI & Ulster Combined Events Championships, Belfast
Heptathlon – Senior women: 1 Sarah Connolly (North Down) 4837 pts, 2 Naomi Morgan (City of Derry Spartans) 4336, 3 Claire Dougherty (City of Derry Spartans) 3572. Guest : 1 Moe Sasegbon (Woodford Green and Essex Ladies) 5367; dnf Jessica Taylor Jammett (Sale Hrs) 4860 (no 800m). W40: Mary Scanlon (Blackrock Louth) 3241. W50: Geraldine Finnegan (North East Runners) 4851. W17: Kitty McNulty (Tir Chonaill) 2408.
Pentathlon – W13 (5 entries): 1 Saidhbhe Byrne (Enniscorthy AC) 2533 pts, 2 Aideen Drury (Shercock AC) 1946, 3 Niamh Fenlon (Nth Down) 1895. W15  (17 entries) -1 Molly Curran (Carmen AC) 2801, 2 Niamh McCorry (Annalee AC)2599 ,3 Laoise McGonagle (Tir Chonaill) 2434.
Decathlon – Senior men: 1 Shane Aston (Trim AC) 6522 , 2 Alexander Livingston (City of Lisburn) 4778, 3 Brian Flynn (Lusk AC) 4528. Junior: Peter O'Connor (Enniscorthy AC) 4896. M45: 1 Kevin Byrne (DSD) 5105, 2 Ronan Gately (DSD) 4502. M50: 1 John O'Connor (Slaney Olympic) 4067, 2 John Wallace (Ratoath) 3652. M60: Peadar McGing (DSD) 5933
Octathlon – M17: 1 Thomas Mullen (Lifford Strabene) 4279, 2 Troy McConville (North Down) 4276, 3 Isaac Hart (North Down) 3702.
Pentathlon – M15 (13 entries): 1 Jordan Cunningham (City of Lisburn) 2822, 2 Caelan Campbell (Ballymena and Antrim)2787, 3 Joshua Knox (City of Lisburn) 2659.  M13  (9 entries): 1 Finn O'Neill (City of Derry Spartans) 1895, 2 Lexx McConville (North Down) 1742, 3 Diarmaid O'Donnell (Lifford Strabane)1466.
Save
Save
Save
Save
Save
Save
Save
Save
Save