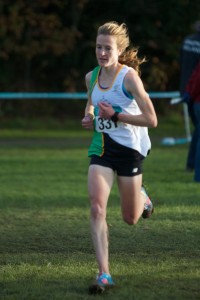 Fionnuala McCormack finished a fighting second at the Great Edinburgh Cross-Country race held in Holyrood Park. Winner of the women's race was Kate Every of Great Britain, with Gemma Steel finishing third and Ireland's Lizzie Lee ninth.
McCormack, who has won this race twice and finished second twice, pushed the pace at the start, with Avery on her heels. They completed the first of four 1500m laps virtually together in 5 mins 13 secs after which Avery began to pull away. With her long legs and slightly hunched style, she's looking every inch a second Paula Radcliffe.
By the bell she had a clear lead and held on to win in 21 mins 5 secs. McCormack was five seconds behind with Steel a distant third. After working her way through the field on the final two laps, Lee finished in 21 mins 51 secs.
In the junior men's race, Kevin Mulcaire set out his stall from the start building up a considerable over the first two laps, but he was caught on the third by Britain's Alex Lee who then pulled away. Mulcaire never gave up but it was Yee who came home first in 19 mins 23 secs with Mulcaire six seconds adrift. Finishing sixth was Jack O'Leary, who like Mulcaire was running for the European team.
An exciting 4×1 kilometre relay saw Ireland finishing an excellent third. John Travers led out the team on a rough and tumble first lap, briefly leading at the start and handing over as part of a group only two seconds behind the leaders Scotland A. Laura Crowe was up next and ran aa smart leg, pulling Ireland into a clear place in the top three behind Steph Twell for Scotland. She handed over to Eoin Everard, who battled it out for the lead with Scotland's Jake Whiteman.
By the end of the leg, Scotland was still leading with Ireland a second behind. Kerry O'Flaherty was last up for Ireland and although she drifted back into fourth place at one point, she showed considerable grit to pull Ireland back into third. Up front, Laura Muir brought home Scotland in first place with a time of 11 mins 34 secs; Great Britain's Charlene Thomas was nine seconds behind for second and Ireland just one second behind again for third.
In the Celtic International, Riocht's Shona Heaslip won the women's U23 race, while Peter Lynch of Kilkenny was first of the junior men.
RAHENY'S MICK CLOHISEY made the best possible start to 2016 when he won the Waterford Half Marathon in  time of 64 mins 25 secs. Not too
far behind was Leevale's Mark Hanrahan in 65 mins 9 secs. Winning the women's race was Leevale's Claire Gibbons McCarthy in 76 mins 45 secs.  Siobhan O'Doherty of Borrisokane was second and Pauline Curley third. The race had been postponed from early December because of flooding on the course.
IN TYMON PARK, Linda Byrne made a winning  – and very welcome – comeback at the Bank of Ireland BHAA cross-country.  Byrne won the women's two-mile race in  13 mins 50 secs. In second place, twelve seconds behind, was Laura Shaughnessy while third was Niamh Devlin.  Brian McMahon  was a clear winner of the men's four-mile race in 24 mins 10 secs.
Waterford Half Marathon (1,341 finishers; www.totaltiming.ie)
Men: 1 Mick Clohisey (Raheny Shamrock) 64.25, 2 Mark Hanrahan (Leevale) 65.09, 3 John Meade (St Finbarr's) 71.19. M50: Eddie Newman (Mullingar Hrs) 76.05. Women: 1 Claire Gibbons McCarthy (Leevale, W40) 76.45, 2 Siobhan O'Doherty (Borrisokane) 78.08, 3 Pauline Curley (Tullamore Hrs, W45) 80.32
Bank of Ireland BHAA C-C, Tymon Park. www.bhaa.ie.
Women's 2m: 1 Linda Byrne 13.50, 2 Laura Shaughnessy (Dept of Ed) 14.02, 3 Niamh Devlin 14.34, 4 Niamh Boland (Google) 14.55, 5 Bernadette Kiernan (Deloitte) 15.34, 6 Mary Hanley (Dept of Trans, W45) 15.38, 7 Mary Watters (Watters Bus Hire, W50) 16.26, 8 Roisin Long 16.33. W55: Sheelagh Jones (Techers) 17.00. W60: Mary Jennings (Teachefes) 18.02. W65: Evelyn McNelis (Teachers) 19.55.
Men's 4m: 1 Brian McMahon (Pfizer) 24.10, 2 Martin Quinn (Tesco, M35) 24.31, 3 Alban Coghlan (AIB) 24.58, 4 Noel Carroll 25.12, 5 Neil O'Rourke 26.16, 6 Mark Dooley 25.20. M40: Cyril Cuddy (Pfizer) 24.27. M45: Pearse Coyle (IT Self Employed) 28.58. M50: Phelim Glynn (Eir) 27.11. M55: Tom Ryan (Eir) 31.51. M60: Conor Coney (Fingal CC) 33.59. M65: Peter McDermott (DIT) 35.29. M70: Terry Mee (Dublin Taxis) 37.36. Women: Aoife Quigley 32.31.