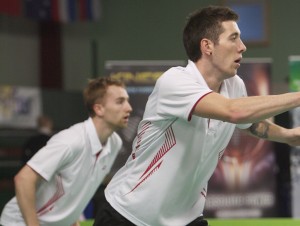 Ireland's Jonathan Dolan and Sam Magee were comfortable winners of the men's doubles at the Carlton Irish Future Series in Baldoyle – their first victory as a pair.
At no time were they in any trouble in their match against Slovenian pair of Kek Jamnik and Alen Roj. They quickly raced to a 6-1 lead in the opening set, with Dolan's jump shots and Magee all round court skills proving critical. At halfway, they were leading 11-4 and they consolidated that lead to win the set 21-12. They were even more dominant in the second set, winning 21-9 with Dolan's serve causing serious damage.
"We're happy with the tournament – we won all our matches in two sets and are now looking forward to the Bitberger Open in Germany which will be a big test for us," said Magee.
* Full story at www.badmintonireland.com.
* Pics at www.lindie.zenfolio.com