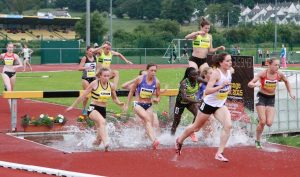 A star cast of international and home-grown athletes is expected for the fifth Letterkenny International Track and Field Meet on Friday July 7 (7.0).
Feature event on the programme is the Letterkenny AC Sub 4 Minute Mile Challenge event.
Last year's mile saw England's Lee Emanuel running 3:59.66 in an exciting finish. The 2014 race produced the first ever sub-4-minute mile on Donegal soil when Mexico's Juan Luis Barrios stopped the clock at 3:59.43.
The women's feature event this year is the 3000m steeplechase. Who could forget the historic night in 2015 when Kerry O'Flaherty, Michele Finn and Sara Treacy all qualified for the Rio Olympics? Qualification for the World Championships in London is this year's target, with 9 mins 42 secs the time to beat.
Also scheduled this year is a men's 3000m steeplechase, where the London time of 8 mins 32 secs is the target. Another addition this year is a women's 400m hurdles race, with Ireland's Christine McMahon likely to compete.
The full list of events includes the men's 100m, 200m, 400m, mile, 3000m steeplechase, 3000m, javelin and high jump, and a women's 200m, 400m hurdles, 800m, 3000m steeplechase, shot putt and high jump.
Letterkenny is the second of five top-class Irish track and field promotions in Ireland in July, starting with the Belfast International at the Mary Peters Track on Wednesday July 5. After it comes the Morton Games in Dublin on Wednesday July 12, the Le Cheile Meet in Leixlip on Saturday July 15 and the 66th Cork City Sports on Tuesday July 18.
There's also  an international track event in conjunction with the IMC on June 24  in Belfast, where  athletes from Poland and France and well as England,  Scotland, Wales and Ireland north and south of the border will chase qualification marks for events including the women's 5000m time of 15:39  for the 2018 Commonwealth Games.
For information and updates on the Letterkenny International, see: www.facebook.com/LetterkennySub4Mile or www.twitter.com/lacsub4mile