A 200m record of 21.18 secs from Marcus Lawler was just one of the highlights  at yesterday's Irish Universities Indoors Athletics Championships in Athlone. Lawler  was breaking the record of 21.26 secs he sat last year. He also won the 60m in a personal best  6.83 secs.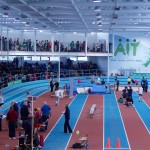 Other strong performances came from Thomas Barr of UL who won the 400m in 47.22 secs, beating Dara Kerwick, a close second in 47.28; Barr also helped the UL squad to a relay record.  Of the women, Steph Creaner  won the  200m in 23.82 seconds, while in the 60m hurdles, Sarah Lavin of UCD, who broke Derval O'Rourke's  record last year, won with a tiem of 8.41 secs. There was also a relay record for the DCU women and for Adam McMullen of UU with a mighty leap of 7.43m in the long jump.
UCD's Aislinn Crossey  was pushed hard by Deirdre Doyle of DCU in the women's 800m making it to the line 2:11.51, with Doyle a close second in 2:11.97. Trinity's Maria O'Sullivan came out on top in the  women's 3000m; winning the men's 3000m in 8 mins 43.50 secs was UCC's Ben Thistlewood; UCD's Eric Keogh was second in 8:46.42.  Aisling Drumgoole of UCD won the women's 400m in 57.77 secs, with CIT's Jessica Neville second in 58.63 secs. Guesting in the long jump was Kelly Proper who jumped 6.31  – the longest jump of the day. Second and setting a new colleges indoor record of 6.12m was  defending champion Sarah McCarthy of DCU.  Kelly Proper also ran in a competitive women's 60m, winning in 7.41 secs; second was Phil Healy  in 7.46 secs and third Amy Foster 7.47 secs  Full result at www.results.iuaa.org/
THE TALLAGHT MEN AND LEEVALE WOMEN are winners of this year's Glo Health National Indoor League titles. In the men's competition, Tallaght saw off the challenge of Clonliffe Harriers, with victories for Anthony Lieghio (1,500m), Joshua Essuman (60m H) and Joseph Ojewumi (200m) proving crucial. After the final 4x200m relay, won by Tallaght,  the teams were both on 69 points,  with Tallaght taking it on countback. Also coming down the final relay was the women's competition where defending champions Leevale  beat Craughwell by a single point. Winners for the Cork club were  Andrea Bickerdike (400m), Louise Shanahan (800m) and Carol Finn (1,500m). Clonliffe was third.