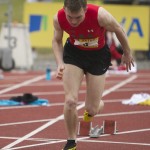 Just after he crossed the line in the senior 200m at the Aviva All Ireland Schools in Tullamore, Marcus Lawler glanced left to check the time. When he saw that the clock had stopped at a mind-blowing 20.88 – later rounded down to 20.87- secs, he leaped into the air with delight.
The time – into a -1.8 headwind –  not only broke the 30-year-old schools record which stood at 21.2, it was a first sub-21 second time for Lawler and an Irish junior record. It is also not far off the B standard of  20.60 for the World Senior Championships in Moscow.
About 75 minutes earlier, Lawler had smashed the 43-year-old 100m record when he ran 10.59  after false starting on his first attempt. Fortunately for him, the international one-strike-and-out rule for sprinters does not apply at schools level. He completed a memorable day by helping CBS Carlow to victory in the 4x100m relay.
On a brilliant day for Irish sprinting, Phil Healy of Colaiste na Toibhirte in Bandon was another double winner and record breaker. She ran 11.83 for the 100m, breaking Emily Maher's 1998 mark of 11.91, and 23.98 for 200m – a first sub-24 second run at schools level and breaking the record set by Ciara Sheehy of St Mac Dara's in 1998. In both races, she was chased hard by Cliodhna Manning of Loreto Kilkenny.
The third double sprint winner of the day was Zak Irwin of Sligo Grammar. His winning time of 21.75 in the inter boys' 200m shaved half a second off the old best. Winning both the inter boys' 400m hurdles and then the 400m flat was Brandon Arrey of Davis College in Mallow.
Over the middle distances, Sean Tobin of  High School Clonmel , started his day's work with victory in the senior 800m, setting a new record of 1:50.65. A close second was Cillian Kirwan of St Fintan's  in a personal best time of 1.51.5. Tobin returned to the track later  to win the 1500m in 3:59.09.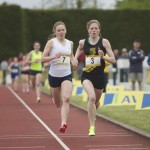 In the senior girls' 800m, Siofra Cleirigh Buttner of Colaiste Iosagain knocked a staggering seven seconds off Elizabeth McWilliam's record when she came home in 2:03.81. Buttner was forced to work a lot harder that she expected to hold off Aislinn Crossey of Sacred Heart Newry who stayed with her on the opening lap and whose finishing time of 2:07.87 was also inside the old record.
Another track record came in the W16 mile, won by Ballinrobe's Aisling Joyce in 5:16.87.Brothers Kevin and Brian McGrath of St Pat's Navan made it a family double when Kevin took junior bronze and Brian inter gold in the 800m.   Taking the senior girls' 3000m  in 10:25.24 was Sarah Ni Mhaolmhuire of Colaiste Iosagain, with Ballyclare's Yasmin Wilson second. Grainne Moynihan of St Mary's Macroom won the seniro 400m in 56.10, beating Jade Leahy of Muckross. At junior level, Molly Scot of Colaiste Chonglais won both the 100m and the 75m hurdles.
In the last individual track race of the day,  Ian Guiden of St Aidan's justified his favourite's tag taking the 5000m  by the scruff of the neck. With less than seven laps to go, Guiden  injected two fast laps opening a lead that stretched to 80m. He finished in 15 mins 15.60 secs winning his first All Ireland Schools title  in his final schools race.
In the field, both boys and girls junior long jump records went. Daniel Ryan of CBS Thurles jumped 6.67m to win the boys title, with five his jumps over the 6 metre mark. Arlene Crossan of Loreto Letterkenny was pushed hard in the junior competition, but won in 5.58m, with Marie Carey of St Mary's Newport a close second with 5.50. In the inter boys' triple jump, Darren Proud of Pres Ballingarry jumped 14.04m for another record.  Making a brave attempt at the the senior boys' high jump record was Jamie Murtagh of  Ashbourne, who jumped 2.10m, then attempted 2.111 and then 2.14, which would have been a record.
Alice Akers of Scarriff continued her recent streak of good form when she won the inter girls' hammer with a best of 47.47. She also finished second in the discus behind Kayleigh Cronin of St Brigid's Killarney who threw 41.13m.
* Pics at www.lindie.zenfolio.com
GIRLS
Senior – 100m: 1 Phil Healy (Col naT oirbhirthe) 11.83 (rec), 2 Cliodhna Manning (Lor Kilkenny) 12.30, 3 Grainne Moynihan (St Mary's Macroom) 12.32. 200m:1 Phil Healy (Col na Toirbhirthe) 23.98 (rec); 2 Cliodhna Manning (Loreto Kilkenny)24.80;3 Katie Waterman (Scoil Mhuire Cork) 25.71. 400m: 1 Grainne Moynihan (St Mary's Macroom) 56.10, 2 Jade Leahy (Muckross) 58.00, 3 Megan Kiely (Ursuline Waterford) 58.69. 800m:1 Siofra.Cleirigh Buttner (Col Iosagain) 2:03.81(rec); 2 Aislinn Crossey (SH Newry) 2:07.87; 3 Jessica Coyne (Crescent CC)2:16.04. 1500m:1 Jessica Coyne (Cresent CC) 4:49.20, 2 Sarah Ni Mhaolmhuire(Col Iosagain) 4:52.08;3 Amy Jackson (Lumen Christi)4:53.62. 3000m: 1 Sarah Ni Mhaolmhuire (Col Iosagain)10:25.24; 2 Yasmin Wilson (Ballyclare HS)10:36.11; 3 Muireann O'Shea (Col Mhuire)10:46.77. 100m H:1 L-A O'Hora(Crescent CC)15.35; 2 N Fussey(Sc Ui Mh Dunleer)15.81;3 C Robinson(Regent House)15.85. 400m H: 1 Nessa Cooper-Millett (Kilkenny College) 62.26, 2 O Furney (Gorey GS) 65.02, 3 Jenny O'Brien (NWRC) 65.31. 3000m Walk:1 A Boylan (St Louis Monaghan)15:01.6;2 S Nash (Heywood CS)15:27.7;3 S Bourke (St Wolstan's)17:12. Long Jump:1 Jessica Sheehan (Kinsale CS)5.39;2 Sarah Buggy (Castlecomer CS) 5.39;3 Ellen Woods (St Mary's Naas) 5.29. High Jump:1 Aisling Croke (Cres CC) 1.65; =2 AmyMcTeggart(OL Drogheda)/Emily Rogers (OL Drogheda)/Blathnaid Patton (St Columba's)1.60. Triple Jump:1 Sarah Buggy (Castlecomer Cs)11.59; 2 Jessica Sheehan(Kinsale CS)10.92; 3 Claire Dougherty (Lumen Christi)10.7. Pole Vault:1 Emma Kelso(Belfast RA)2.90; 2 Rachel Swan (Rathdown) 2.90;3 Lizzie McDowell (Malahide CS)2.50. Hammer:1 Maureen O'Neill (Col Treasa) 48.27;2 Laura McSweeney(Col naToirbhirthe) 44.42;3 Mieke Kiernan (Malahide CS) 40.63. Discus: 1 Sophie Parkinson-Brown (Kilkenny College) 41.45; 2 Hannah O'Sullivan (St Mary's Mallow) 41.29: 3 Kate Hickey (St Declan's Kilmac)36.45. Javelin:1 Patricia Curtin (PS na Trionoide) 35.28; 2 Cathy McKenna (SH Westport) 31.72; 3 Laura Dolan (Gallen CS)31.52. Shot:1 Laura McSweeney (Col na Toirbirthe)12.00; 2 Katherine Weir (C&P Kilcullan)11.33;3 Sophie Parkinson-Brown (Kilkenny Col) 11.09. 4x100m :1 Loreto Kilkenny 50.40;2 Grosvenor GS Belfast 50.74; 3 Crescent Limerick 51.02.
Inter – 100m:1 LA Costello (Dunmore CS)12.31; 2 M Marrs (Strathearn Holywood)12.35; 3 Sara Kate Lacey (Loreto Kilkenny)12.40. 200m:1 Roseanna McGuckian (Ballymena Academy)24.54;2 R Harrison (Villiers)24.63;3 N McNicol (Stella Maris) 24.83. 300m: 1 Roseanna McGuckian (Ballymena Ac)39.40; 2 Jenna Bromell (Castleroy Col) 39.50; 3 Alannah Lally (Pres Athenry) 40.50. 800m: 1 Alanna Lally (Pres Athenry) 2:10.84; 2 Louise Shanahan (Scoil Mhuire Cork)2:12.58; 3 Karla Sweeney (St MacDara's)2:13.03. 1500m:1 Nadia Power(St Mac Dara's)4:42.37; 2 M Maeve Brannigan(Col Iognaid) 4:48.58;3 Rhona Pierce (Skerries CC)4:53.19. 3000m:1 Isabel Carron (Skerries CC)10:28.17; 2 Niamh Cotter (CP Bantry) 10:34.03;3 Isabelle Odlum (Rathdown)10:35.19. 80m H:1 M Marrs (Strathearn Hollywood)11.68;2 E Moreland (Dunshaughlin CC)11.86;3 S Dawkins (St Mary's NewRoss)11.87. 2000m Walk:1 S Burke (Maynooth PP)9:16.55; 2 V Burke (Bower Athlone)9:25.43;3 E Glennan (St Finnian's)10:07.66. High Jump:1 N Murphy (Stella Maris)1.68; 2 S Dawkins (St Mary's NewRoss)1.65;3 S Connolly (Glenlola Col) 1.65. Triple Jump:1 H McAuley (Ballyclare HS)11.37; 2E McCabe (St Mary's Naas)10.78; 3 L Mills (Ballyclare HS)10.59. Long Jump:1 Annie Stafford (Col Bhride)5.78; 2 Elizabeth Moreland (Dunshaughlin CC)5.75; 3 Megan Coomber (Maryfield) 5.65.
Discus:1 Kayleigh Cronin (St Brigids)41.13; 2 Alice Akers (Scarriff CC) 34.13; 3 Ann-Marie Torsney (Lor Swords) 34.01. Pole Vault:1 M O'Connor(St Augustine's) 2.60;2 H Campbell (St Catherine's VS)2.50; 3 K Doyle(St Leo's Carlow) 2.50. Hammer:1 Alice Akers (Scariff CC)47.57; 2 A Vaughan-Witts (Borrisokane CC) 43.39; 3 Anne-Marie Torsney(Loreto Swords) 38.87. Javelin:1 R Casey (St Brigid's)34.41; 2 J Burns (Cookstown HS) 34.16; 3 L O'Mahoney(St Mary's Midleton) 30.86. 4x100m:1 Abbey VS Donegal 49.29;2 Glenlola College Bangor 50.57; 3 Col BhrideEnniscorthy 50.76.
W16 – Mile:1 A Joyce (Ballinrobe CS)5:16.87 (rec) ; 2 A Deering (St Mary's Nenagh)5:18.72; 3 T Moore (SH Omagh)5:30.75;
Junior – 100m:1 Molly Scott (Scoil Conglais)12.63; 2 G Moses (St Vincent's Dundalk)12.68; 3 S Mawdsley (St Mary's Newport)12.75. 200m: 1 S Mawdsley (St.Mary'sNewport)25.08; 2 L Ryan(Col Chiarain) 26.00; 3 Sarah Torrans (Lor Stephen's Green) 26.76. 1500m:1 Siobhra O'Flaherty(St Leo's Carlow) 4:41.00; 2 A Kelly (Spanish Pt)4:51.20;3 S Lee (Pres Athenry)4:56.90. 75m H:1 Molly Scott (Scoil Conglais)11.50; 2 Sarah Quinn (Ballinrobe CS)11.64;3 Chloe Tobin (Castleroy Col)11.79. Long Jump: 1 Arlene Crossan (Lor Letterkenny)5.58 (rec);2 M Carey (St Mary's Newport)5.50;3 N Kelly (SH Drogheda) 5.26. High Jump:1 Shannon Sheehy (Lor Navan)1.58; 2 Phoebe Tan (Methodist)1.58; 3 Alannah Gannon(SH Westport)1.55. Triple Jump:1 M Carey (St Mary's Newport)10.48;2 K Solpovala (Tullamore Col)10.12;3 E Henessey (St Mary's Newport) 9.80. Pole Vault: 1 C Byrne (Carrick VS) 2.30; 2 C Delaney(St Leo's Carlow)2.10;3 A Beattie (Belfast RA)2.10. Discus:1 A Doyle( IS Kilorglin)35.93;2 N Kehoe-Dowling (St Leo's Carlow)32.25; 3 S Hoey (Col Iosagain Laois) 27.52. Javelin:1 Orla O'Brien (Ursuline Waterford)35.76;2 Grace Casey (St Mary's Naas)30.49; 3 E-J Lyons (St Jos Rochfortbridge)29.81. Shot:1 M Walsh (SM&P Swinford)13.50:2 Erin Kingston (Bandon GS)10.77; 3 A Loughnane (GC Luimnigh)10.37. 4x100m:1 St Mary's Newport 51.42;2 Castleroy Limerick 52.06; 3 Friends Lisburn 52.54.
BOYS

Senior – 100m:1 Marcus Lawlor(CBS Carlow)10.59 (rec);2 Paddy Colhoun(Methodist)11.00;3 Kieran Elliott(Grange PPS) 11.06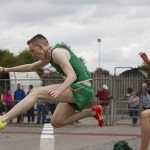 . 200m:1Marcus Lawlor (CBS Carlow) 20.87 (rec);2 D Power (Killina SS)22.28;3 P Murphy (St Augustine's) 22.55. 400m:1 Harry Purcell (Castleknock Col) 49.35;2 Kieran Elliot (Grange PPS) 49.65;3 E McGuire(St Joseph's) 49.69. 800m:1 Sean Tobin (HS Clonmel)1:50.65 (rec); 2 Cillian Kirwan (St Fintan's HS) 1:51.52;3 Harry Purcell (Castleknock Col)1:51.52. 1500m:1 Sean Tobin (HS Clonmel)3:59.09;2 Andrew Coscoran(StMary's Drogheda) 4:03.23;3 K Kelly (Scoil Dara) 4:04.18. 5000m:1 Ian Guiden (St Aidan's CBS)15:15.60;2 C Doherty (Rice College)15:29.25; 3 H Armstrong (Gortner Abbey)15:45.71. 110m H: 1 Ciaran  McKenna (Gormanston) 14.79, 2 Eoin Power (Good Counsel  New Ross) 14.80, 3 Mark McGarvey (St Jos Derry) 14.95. 400m H:1 D Colbert (Midleton CBS) 54.83;2 E Courtney(Mt Hawk) 57.09;3 A Curtis (Belfast RA)57.12. 2000m S/C: 1 Kyle Larkin (ARS Limerick) 5:56.32, 2 Michael Carey (HS Clonmel)  5:58.97, 3 Ryan Blundell (St Mary's Mullingar) 6:18.63.  3000m Walk: 1 Ryan Cleary (Belvedere)14:19.18;2 T Gray (Clongowes)14:57.92; 3 N Dunphy (St Kieran's)15:44.51.Long Jump:1 Colm Burke (Grange PP) 6.85; 2 David Cussen (CSN Cork) 6.84; 3 Shane Howard (Col an Chraoibhin) 6.73. Triple Jump:1 C Durnin (St Mary's Dundalk)13.62; 2 K White (CBC Monkstown)12.63;3 J Hill (Sullivan Upper)12.40. High Jump: 1 Jamie Murtagh (Ashbourne CS) 2.10, 2 David Cussen (CSN Cork) 2.05, 3 Andrew Heney (Mt Temple) 1.95. Pole vault:1 Peter O'Brien (St Fintan's HS) 4.40; 2 Conor Bermingham (Castleknock College) 3.80; 3 Alex Livingston (Methodist Belfast) 3.80. Hammer:1 Michael Hanlon (Belvedere)59.92; 2 Simon Galligan (Belvedere) 5.55; 3 Robert Moffett (Belfast RA) 51.47. Discus:1 Michael Hanlon (Belvedere) 42.02;2 Josh Atkinson (RBAI) 41.45; 3 Andrew McCarthy (PS Sliabh Luachra) 37.55. Shot:1 John Kelly (R&P Raphoe)16.13; 2 Oliver Jaeger (Blackrock)1562; 3 Davy Lawlor (Belvedere)13.36. Javelin: 1 Stephen Rice (Wesley) 54.78; 2 Ryan Whelan (Plunkett) 52.92; 3 Mathew Stockton (Bangor Grammar) 50.00. 4x100m:1 CBS Carlow 43.26; 2 Bangor Grammar 44.25;3 Methodist Belfast 44.29;4 Pres Carlow 44.41.
INTER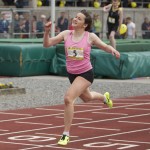 100m: 1 Zak Irwin (Sligo Grammar) 10.95, 2 Ray Walsh (Davis Col) 11.31, 3 Callan Byrne (Scoil Aireagail) 11.40. 200m:1 Zak Irwin (Sligo Grammar) 21.75; 2 Ray Walsh (Davis Col) 22.76;3 Oran Gildea (Summerhill Sligo)22.80. 400m:1 Brandon Arrey (Davis Col) 50.25; 2 Kevin Woods (CUS) 50.44; 3 Martin McGeady (St Columb's Derry) 50.96. 800m:1 Brian McGrath (St Pat's Navan)1:57.92;2 J Reid (St Jos Rochfortbridge) 1:58.39; 3 L O h Aonghusa(Col Chriost Ri)1:58.39.  1500m:1 Paddy Robb (St Malachy's) 4:14.19; 2 W Crowe (Sligo Grammar)4:15.76; 3 Eoin Strutt (St Fintan's HS) 4:15.96. 3000m:1 Kevin Mulcaire(St Flannan's Ennis) 8:51.10; 2 Darren Dunne (Nenagh CBS)8:53.40; 3 Jamie Spellman(Calasanctius)9 :01.60. 100m H:1 Jason Foley (Tarbert CS)13.57; 2 Sam Healy(CarrigalineCS)13.61;3 Joe Halwax(CBC Monkstown) 14.10. 400m H:1 Brandon Arrey (Davis Col) 56.28;2 Michael Quilligan(Nenagh CBS) 59.15;3 Samuel Samson (St Mary's Galway)60.13. 1500m S/C: 1 Paddy Lennon (St David's Greystones) 4:31.45; 2 Damien O'Boyle (Calasanctius) 4:37.75; 3 Tadgh McGinty (SM&P Swinford) 4:41.32. 2000m Walk:1 A Egan (HS Clonmel)9:00.85;2 A Tobin (HS Clonmel)9:13.89;3 J Mooney (Good Counsel)10:44.45. Long Jump:1 S Healy (Carrigaline CS)6.69;2 F Shaughnessy(Bandon GS)6.56;3 L Bellintai (Belvedere)6.37. Triple Jump:1 Darren Prout (Pres Ballingary)14.04 (rec);2 C Robinson (Carrickfergus GR)13.75;3 S Joyce(Ashbourne) 12.95. High Jump:1 Keith Marks (Ashbourne CS)1.90; 2 Ryan McTeer (Shimna Newcastle)1.85;2 Donagh Mahon (St Kieran's)1.85.Pole Vault:1 Seamie Fennell (St Augustine's) 3.60; 2 Juris Kanass(St Augustine's) 3.30; 3 J Kennedy(Methodist )3.10. Hammer:1 Adam King (Col na Sceilge) 63.60; 2 James Williams (Bailieborough CS)59.60;3 Gareth Kelly (Ashbourne CS)51.83. Discus:1 A Barkley (Belfast HS)44.17; 2 R McMahon(Blackrock)42.77;3 B Egan (Belvedere)41.44. Shot:1 E Sheridan (St.Finian's)15.10;2 Aanonusi (Kilkenny Col)14.88; 3 J McIlroy (BallymenaAcademy)14.52. Javelin:1 Jack Magee (Ballyclare HS)53.27; 2 Bobby Smith (Bandon GS) 52.75; 3 Ronan Jenkinson(Campbell Col) 52.59. 4x100m:1 Belvedere 44.62; 2 Davis College Mallow 45.11; 3 RBAI 45.16.
M16 : Mile – 1 Jack O'Leary(Clongowe)4:41;2 Lucas O h Argain(Col Chriost Ri)4:42.18; 3 Oisin O'Callaghan (Abbey Newry) 4:44.97.
Junior – 100m:1 N Prior (Col Eoin)11.82; 2 T McGann(Ballymahon V)11.83; 3 R Murray(SM Enniscorthhy)11.86. 200m:1 J Manning(St Kieran's)23.60;2 N Prior (Col Eoin) 23.62;3 C Barnes (Belfast HS)24.18. 800m: 1 M Foley(Tarbert CS) 2:04.69; 2 C O'Driscoll (Carrigaline CS)2:05.41; 3 Kevin McGrath (St Pat's Navan) 2:05.77. 1500m:1 F Curtin(Midleton CBS)4:12.78;2 A Monaghan (St Pat's Navan) 4:16.93;3 R O Cathasaigh(Col Daibheid)4:18.68. 80m H:1 D Ryan (Thurles CBS)11.50;2 Mdalton (Belfast RA)11.56; 3 R Murrayy(SM Enniscorthy)11.73. 1200m Walk: 1 D Kenny (St Brendan's Killarney) 6:04.64, 2 A Carroll (Sal Celbridge) 6:04.76, 3 A McKenna (St Augustine's) 6:06.86. Long Jump:1 Daniel Ryan (CBS Thurles) 6.67 (rec); 2 David McDonald (St Peter'sWex)5.91; 3 Matt Johnston(Campbell Col) 5.54. Triple Jump:1 J Gibson (Clounagh)11.34;2 T Carey(Belfast RA)11.18; 3 J Hoang(Tullamore Col)10.96. High Jump:1 M Dalton (Belfast RA)1.71; 2 J McGeehin (St Columba's)1.65; 3 M Cunningham (Carrick VS)1.65. Pole Vault: 1 S Martin(Belfast RA)2.55; 2 ?Rivers (CBC Monkstown) 2.45; 3 H Spellman(CBC Monkstown)2.45. Hammer:1 J Thompson(Regent House)44.61;2 J Robinson(Belvedere)43.02; 3 B O'Donnell (St Eunan's Letterkenny )40.08. Discus:1 O O'Brien(Belvedere)40.61;2 S Osbourne (Belvedere)38.98;3 J Sheehan(Col Chroi Naofa)38.96. Shot:1 J French(Bandon GS)1510; 2 P Wisener (Coleraine Al)13.12;3 J Kelly (R&PRaphoe)13.00. Javelin:1M Gaffney(Campbell Col)49.19;2 F Cox (Sc Mhuire Buncrana) 47.15;3 S Whelan (Ardgillan CC)39.53. 4x100m:1 Newbridge College 46.1; 2 Templeogue College 46.7;3 Midleton CBS 47.8.