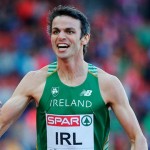 Ireland's latest world champion is Thomas Barr who won the 400m hurdles at the World Student Games in Gwangju, Korea.
With a time almost a second faster than anyone in the field, Barr was always favourite to win the title but it proved tougher than expected. Until the final hurdle, Algeria's Abdelma Lahoulou was pushing him hard but lost his form in the chase for the line.  He still held on for second place  in 48.99 ahead of Russian's Ivan Shablyuev who ran 49.04.  Cheering Barr on was a raucous crowd of Irish supporters, who undoubtedly helped him to his time of 48.89 seconds – not too far off the Irish record of 48.65 seconds he ran at the Rome Diamond League earlier this season.
"Words cannot describe this feeling, so proud, delighted and relieved to have lived up to expectations, taking the gold back to Ireland," said Barr afterwards.
"Ask me five years ago would I have ever have seen myself with the Irish flag draped over my shoulders on the finish line of a world championship event? Never… With the top spot? Even less of a chance than never!
"It still hasn't sunk in yet, but still, only a stepping stone towards the world champs in August! Thank you to the team out here in Gwangju, making this trip so enjoyable and making the most noise in the stadium – what a buzz!"
It was a first major championships gold for Barr and augurs well for the World Championships in Beijing later this summer.  Ireland last struck gold at these championships twenty-four years ago in 1991 when Sonia O'Sullivan and Niall Bruton made it a double in the women and men's 1500m. Last Irish medal came in 2007 when Eileen O'Keeffe was second in the hammer.
In the thrilling women's 800m race that followed, Ciara Everard finished sixth in a respectable 2:02.46. Jamaica's Simoya Kadina Campbell had set a blistering pace from the start running the opening 400m in 56.41 secs, but was hunted down in the final metres of the race by Angela Petty of New Zealand who won in 1:59.06; Campbell was second in 1:59.26 and Fabienne Koehlmann of Germany third in a personal best 1:59.54. Everard was passed for fifth in the chase for the line.
In the 1500m, John Travers ran his heart out in memory of his late father Stephen – a huge supporter of his career – who had died a day earlier after a long illness. Travers finished a brave ninth in 3:42.63 after a smart race that saw him in fourth place at 800m. Aleksei Kharitonov of Russia won a thrilling chase for the line in 3:39.13.
A fifth place for Kevin Batt in the second 5000m heat  with a time of 14:19.11 saw him quality for Sunday's final (10.20 Irish time).  Winner  of a tactical race was Keisuke Nakatani of Japan in 14:16.60 – less than three seconds ahead of Batt. Hayle Ibrahimov of Azerbaijan won the opening heat  in 13:51.40, with the first five in two heats plus five fastest losers going through.

* One thing that's very obvious from watching the live stream for Korea: athletes and spectators alike appear to be having great fun. Not an impression you tend to get from watching a Diamond League meet. It's very appealing; plus the racing is ten times more exciting than we're used to.  Interesting!
.