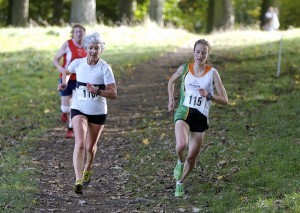 Donore's Ann Woodlock – the oldest woman in the field at 77 – has won the W75 1500m at the European Masters Indoor Championships in Ancona, Italy.  Woodlock dominated the race from early on, crossing the line in 7 mins 31.28 secs. A distant second was Britain's Eva Osborne in 7:45.59.  Earlier this week,  Woodlock was just pipped for silver in the 3000m.
Winning the M60 1500m title in a tactical race was world champion Brian Lynch of North East Runners, with Joe Gough fourth. Lynch had already taken gold in the 3000m. Less than two seconds separated the top four, with Lynch just edging out Pierre Faucheur of France in a time of 4:42.18; Faucheur was clocked at 4:42.77, Oleksandr Lysenko of Ukraine at 4:43.88 and Gough at 4:44.23.  With winning a medal the top priority, the times were well off Lynch's world and European record of 4:26.62 set two years. ago.
On a great day for the Irish, Denise Toner from Clones won the W35 1500m, pushing the pace from the start. Then there was Mary Barrett from Loughrea who was a clear winner of the W55 shot putt with a superb new Irish age group record of 11.18 . Barrett had picked up big points in the shot when finishing fourth in the pentathlon a few days earlier. Finishing 12th behind Barret with 9.12m was Lucy Moore of DSD.
Winning his second gold of the week was Mullingar race walker Sean McMullin who added  5km road title to his 3km track victory of a few days ago.  In the W50 1500m, there was silver for Anne Gilshinan who finished second behind Britain's Lucy Elliott in a time of 4:48.81. Eliott's winning time was 4:43.59. Rathfarnham's Paul Fleming finished 4th in the M40 1500m in 4:09.49. In the M45 race, Cathal McLaughlin was 5th in 4:19.77, followed by Stuart Kennedy 10th in 4:34.29 and Martin Keenan 13th in 4:42.65. Jackie Carthy of Kilmore was 5th in the W45 race with a time of 4:51.56.
Latest medal winner is Jackie Carthy  2nd W45 cross-country this morning (Sunday). With Aoife Cowhie 18th in the same race, and Anne Gormley 23rd W50 helping the Irish  to team bronze.
Ireland currently lies 11th on the medal table with ten gold, four silver and five bronze medals; that's 19 in all. Germany tops the table of 33 nations by some way with (at the last count) 235 medals, 89 of them gold. Great Britain is second and host nation Italy third. Keep up to date at  http://www.fidalservizi.it/risultati/2016/Ancona_2016
Winners of a well-supported Dublin City Council BHAA Road Races  in St Anne's Park were Eoin Callaghan and Mary Leech.
*One of my favourite pics of Ann Woodlock. From the Autumn Open C-C of 2012,  where  Fionnuala McCormack was also running.
Saturday April 2
Dublin City Council Road Races, St Anne's Park Raheny. Incorp Lord Mayor 5-Alive Challenge. Women's 2-mile; open 4-mile. www.bhaa.ie
Open 4-Mile (213 finishers): Men – 1 Eoin Callaghan (Teacher) 20.20, 2 Decland Power (IBM, M45) 20.57, 3 Emmet O Briain (M40) 21.24, 4 Thomas Sherlock ( B of I) 21.26, 5 Fergal Whitty (AIB) 21.54, 6 Sean Doran (C and E Prodord) 21.43. M35: Rory O'Sullivan (CRC) 22.04. M50: Aidan Berennan (Norton Gp) 22.04. M55: Chris Keeling (Sanbra Fyffe) 24.11. M60: Bernard Quinn (IPS) 27.16. M65: John Todd (Cadbury) 25.43. Teams – A: B of I 30, 2 AIB 54 3 Axa 85. B: Fingall CC 163, 2 Gardai 216, 3 ESB 228. C: 1 Eir 257, 2 RTE 261, 3 Revenue 262. D: AiB.
Women's 2mile (220 finishers): 1 Mary Leech ( W40) 11.27, 2 Annette Kealy (Teachr, W45) 11.38, 3 Aisling Swaine 11.59, 4 Amy Wright (Onside) 12.23, 5 Vanessa Sallere (Mercer, W45) 12.32, 6 Niamh Corboy (Revenue, W40) 12.41. W35: Emma Cooper (HSE) 12.55. W50: Carol Dempsey (RTE) 13.26. W55: Enda Finegan 13.19. W60: Mary Jennings (Teacher) 14.04. W65: June Comiskey (Irish Life) 16.53. W70: Evelyn McNelis (Teacher) 15.53. Teams – 1 Revenue 82, 2 Irish Life 94, 3 Health A.