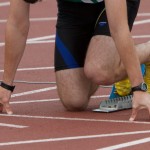 Long jumper Sam Healy from Leevale produced the best Irish result of the day at the European Junior Track and Field Championships in Eskilstuna, Sweden.
Healy jumped a personal best 7.38m to finished second in his group and fourth best overall. He goes in the final tomorrow.
Ciara Neville of Emerald in Limerick progressed from the heats of the women's 100m with a time of 11. 821 secs and in the semi-finals finished sixth in 12.06 secs. Also progressing were Bandon's Scott Gibson third in his 400m heat and Andrew Coscoran of Star of the Sea in Co Meath whose time of 3:47.81 for seventh in the faster of two 1500m heats was enough to see him through to Saturday's final.
At the World Youth Championships in Cali, Colombia, Michael Walsh from Swinford recorded a personal best of 16.63m to finish fourth in her shot putt qualifying group.
World Youth T-F, Cali, Colombia (6 hrs behind us).
Thu July 16
Michaela Walsh (Swinford) shot 15.35 ; Gp B; 4th, with PB 16.63m; Nicolette Dunbar (USA) 17.36 PB was 1st. Best overall was Julia Ritter (Ger) 17.71 1st Gp A.
Nadia Power (Templeogue) 1500m ht 1; dnf.
European Junior T-F, Eskilstuna, Sweden.
Thursday July 16
Women: 100m – Ht 4 (+1.7): 4 Ciara Neville (Emerald) 11.81 (Q). Ht 5 (+0/6): 5 Gina Akpe-Moses (Birchfield) 12.00. SF 1: 6 Neville 12.06 =17th). 400mM – Ht3: 5 Jenna Bromell 54.56 (PB); 10th fastest; missed out on qualifying by.14 of a sec.
Men: 400m – Ht 4: 3 Scott Gibson 48.41 (Q).  1500m – Ht 1: 7 Andrew Coscoran (Star of the Sea) 3:47.81 (q as fastest loser, with seventh fastest time). Long jump – Gp B: 2 Sam Healy 7.38 (PB); fourth longest jump. Shot Gp B: 11 John Kelly (Finn Valley) 16.98.