For a second year, regular Irish visitor Peter Brandon Somba had a narrow victory at the annual Terenure 5-mile in Dublin beating  Raheny marathon man Mick Clohisey – only just back in training after the London Marathon last month –  by two seconds.
Somba was timed at 24 mins 8 secs – over half a minute slower than last year – and Clohisey at 24 mins 10 secs on a good day for running, although a slight breeze meant times generally were slower. Third was Brandon Hargreaves of DSD in 24 mins 25 secs – a faster time than last year when he finished fourth.
It was another case of déjà vu in the women's race with Siobhan O'Doherty of Borrisokane holding off the challenge of Orla Drumm of Crusaders and finishing in 28 mins 47 secs – last year she ran 27:58, but without  the Paris marathon in her legs. Team winners – also for a second year – were the Raheny men and the Sportsworld women. Crusaders and Raheny were the masters team winners.
The race, based in Our Lady's College Terenure, gets top marks for organisation,  while thanks to sponsorship from  Bretzel Bakery and Erdinger beer, allied with the home baking talents of Sportsworld club members, the refreshments were exceptional. For gardening fans – and who isn't around this time of year? – there was even a plant fair!
TT RACERS  – a group of runners coached by Terry McConnon who train at Trinity College – successfully retained their title at the annual Wicklow Way Relay on Saturday.
From the start of the eight-leg relay, TT Racers were the team to catch. On the opening leg from Kilmashogue Woods to Curtlestown, Niall Lynch built up a lead of two minutes, with Michael Kiely for Crusaders, and Peter O'Farrell of many times winners Rathfarnham WSAF second and third. Des Kennedy added three minutes to that lead on the tough 14km leg from Curtlestown to Lough Tay.  Crusaders remained in second place, but thanks to a strong run from Sean Fox, the Hurt Squad had moved into third place, with Rathfarnham slipping back to tenth after a nine-minute navigational error.
TT Racers would continue to lead throughout with Rathfarnham gradually clawing their way back, first to ninth place, then to seventh. After leg six, they were back in third place thanks to an exceptional run by Louis McCarthy, which was the fastest of the day by three minutes.
By the end of the 22km leg from Iron Bridge to Tinahealy, TT Racers had built up a 19 minute lead, with Brendan Murphy clocking 83 mins 35 secs for this leg. With just the final 10km leg to Shillelagh left,  Crusaders were second, with Rathfarnham and Hurt Locker battling it out for third.
So it was left to Laura Shaughnessy  to bring TT Racers home and she did it in style, running an exceptional time of 36 mins 57 secs for the leg, by some way the fastest of the day. It gave TT Racers a total time of 7 hours 17 mins 32 secs.
Second fastest time of 39 mins 45 secs  for the final leg came from Linda Byrne for Hurt Locker. It was not enough to improve their placing. Crusaders with Eddie Nugent on the final leg finished second in 7:40.06 – over 22 minutes behind the winners. Rathfarnham hung on to third place in 7:49.02; Hurt Locker were forty seconds behind for fourth  in 7:49.42. Also breaking eight hours were the Lucky Eight in 7:54.31. All 36 teams finished, with the final team arriving in Shillelagh after 12 hours 20 mins 44 secs. Great day, great race!
WINNER OF THE Strabane Lifford Half Marathon in 66 mins 16 secs was  Project Africa Athletics' Daniel Tanui. First woman was City of Derry's  Catherine Whoriskey in 78 mins 32 secs.
Terenure 5-Mile (1,356 finishers; www.myrunresults.com)
Men: 1 Peter Somba (Dunboyne AC) 24.08, 2 Mick Clohisey (Raheny Shamrock) 24.10, 3 Brandon Hargreaves (DSD) 24.58, 4 John Coghlan (MSB) 25.29, 5 Cillian O'Leary (Raheny Shamrock) 25.51, 6 Lindsay Gordon ( Nth Belfast Hrs) 25.57, 7 Rob Cross (Crusaders, M40) 25.58, 8 David Scanlon (Rathfarnham WSAF) 26.13. M40: 2 Brian Geraghty (Sli Cualann) 27.15, 3 Ciaran McCarthy (Raheny Shamrock) 27.55. M45: 1 Alan Farrell (Donore) 28.55, 2 Eamon Traynor (Raheny Shamrock) 29.23, 3 Ray Cunningham (Bros Pearse) 29.26. M50: 1 Damien Martin (Raheny Shamrock) 28.12, 3 Edwin Keville (Rathfarnham WSAF) 28.54, 3 John Kehoe (Bros Pearse) 30.35 M55: 1 Niall Coppinger (Tallaght) 29.34, 2 Chris Keeling (Balbriggan and Dist) 31.26, 3 Gerry Woods (Tallaght AC) 31.46. M60: 1 Vincent O'Neill ( Civil Service) 32.56, 2 Philip Wright 36.11, 3 David Byrne 37.39. M65: 1 Peter McDermott (Rathfarnham WSAF) 37.40, 2 Terry Mee (Donore) 37.49, 3 Declan Fitzpatrick 42.33. M75: John Fitzsimons (Crusaders) 50.42. Teams – Senior (14); 1 Raheny Shamrock 63, 2 Sportsworld 74, 3 Donore Harriers 128. Masters: 1 Crusaders 66, 2 Rathfarnham WSAF 73, 3 Bros Pearse 87.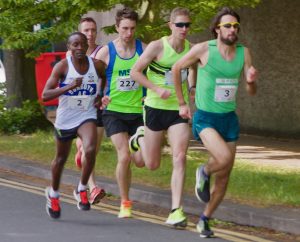 Women: 1 Siobhan O'Doherty (Borrisokane) 28.47, 2 Orla Drumm (Crusaders) 28.50, 3 Annette Kelly (Raheny Shamrock, W45) 29.27, 4 Sinead Tangney (Sportsworld) 30.07, 5 Adrienne Jordan (Crusaders, W40) 30.50, 6 Catherine Bambrick (Sportsworld, W40) 31.52, 7 Caoimhe Daniels (Sportsworld) 31.52, 8 Lorraine Fitzsimons (Crusaders, W55) 32.18. W40: 3 Christine Kinsella (Templeogue AC) 32.56. W45: 2 Elaine Byrne (Balbriggan and Dist) 35.28 3 Ciara Darker (DSD) 36.32. W50: 1 Adrienne Atkins (Raheny Shamrock) 34.25, 2 Pauline Robertson (DSD) 35.02, 3 Carol Dempsey 37.10. W55: 2 Dolores Kelly (Balbriggan and Dist) 36.14, 3 Muireann O'Dea 42.06. W60: 1 Frances Kehoe 34.20, 2 Maxine Jones (DSD) 34.47, 3 Frances Gordon 39.53. W65: 1 Moira Breslin 55.30, 2 Margaret O'Sullivan 57.10, 3 Ann Fortune 73.32. Jun: Laura Hudson (Bros Pearse) 44.32. Teams – Senior (13): 1 Sportsworld 28, 2 Balbriggan and District 107, 3 Portmarnock AC 131. Masters: Raheny Shamrock 44, 2 DSD 55, 3 Donore Harriers 87.
Maynooth 10km/5km (www.popupraces.ie)
10km (369 finishers) – Men: 1 Sean Hehir (Rathfarnham WSAF) 31.35, 2 Stephen Conroy (Celbridge AC) 33.14, 3 William Mooney 33.23. U18: Ross Noone 34.07. Women: 1 Jane Bandila (Dunboyne) 37.40, 2 Karen O'Halnon (St Coca's, W40) 40,53, 3 Cecile Ollagnier (Sloggers to Joggers, W40) 41.08.
5km (190 finishers) – Men: 1 Ian Guiden (Clonliffe Hrs) 15.20, 2 Conor Healy (Clonliffe Hrs) 15:23, 3 Cormac Kavanagh 17.56. Women: 1 Sheila O'Byrne (Sli Cualann) 20.16, 2 Josephine Killeen (W50) 21.44, 3 Sandra Fitzpatrick 22.08.
Saturday May 13
Jengana Charity 10km, Shane's Castle, Antrim (www.jengana10k.co.uk)
Men: 1 Stephen Scullion 32.08, Eoin Hughes (Acorns AC) 35.07, 3 Dennis Scott (Nth Down) 35.16. Women: Nicola Swinson (Pace Running Club) 44.43.