Fionnuala Britton  ran a determined race to finish second at the Bupa Great Edinburgh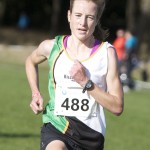 Cross-Country in Holyrood Park. Running even better was Gemma Steel who was runner-up behind Sophie Duarte of France at the European Cross-Country and was beating Britton for only the second time.
Britton, along with British junior Emilia Gorecka, pushed the pace from the start of the 6km race. Also in the leading pack on the first of three 2km legs were Steel, Charlotte Purdue of Team GB, Duarte and the Ethiopian Almensh Belete who runs in Belgian colours. Ireland's Sarah Treacy was 13th.  Midway through the first lap, Duarte moved to the front but was quickly swallowed up and failed to feature for the rest of the race.
On the second lap, Gorecka and Steel were dictating matters up front, with Britton and Purdue battling it out for third place. At the bell, reached in 13 mins 41 secs, Steel  began to pull away from a fading Gorecka, with Britton in third place chasing hard. She caught and passed Gorecka in the final kilometre.
Steel was a comfortable winner in 20 mins 35 seconds with Britton nine seconds adrift in second and Gorecka seven seconds behind again. Duarte made up some ground to pass Purdue and finish  fourth. Six of the top 10 came from Britain.
In the men's 8km, Michael Mulhare finished an excellent fourth in a race dominated by the American Chris Derrick, who trains with Mo Farah at Team Nike in Oregon. Britain's  much-improved  Andy Vernon ran a determined race to finish second ahead of Bashir Abdi, the Ethiopian who runs in Belgian colours. David McCarthy  finished 11th, just 17 seconds behind his  training partner Mulhare and was part of the winning "Team Europe".
Results –  Women's 6km (29 finishers): 1 Gemma Steel (GBR) 20 mins 35 secs, 2 Fionnuala Britton (Europe/Irl) 20.44, 3 Emilia Gorecka (GBR) 20.51, 4 Sophie Duarte (Europe/Fra) 20.57, 5 Charlotte Purdue (GBR) 20.59, 6 Kellyn Johnson (USA) 21.02…22 Sarah Treacy (Europe/Irl) 21.39.
Men's 8km: 1 Chris Derrick (USA) 24 mins 11 secs, 2 Andy Vernon (GBR) 24.21, 3 Bashir Abdi (Europe/Bel) 24.27, 4 Bobby Mack (USA) 24.28, 5 Michael Mulhare (Europe/Irl) 24.32, 6 Callum Hawkins (GBR) 24.33…11 David McCarthy (Europe/Irl) 24.49.
Men's 4km: 1 Garrett Heath (USA) 11.51, 2 Meresa Kahsay 11.52, 3 Asbel Kiprop 11.58, 4 James Magut 12.00, 5 Kenenisa Bekele (Eth) 12.02…10 Stephen Scullion (Irl) 12.20.
* Kilkenny's Michael Bowler  successfully defended his senior men's title  at the Woodie's DIY National Combined Events Championships in Athlone.
Bowler recorded impressive performances in the high jump (1.97m), 60m hurdles (8.98) and long jump (6.26m) to take victory with a total of 3, 528 points. Koroush Foroughi of Star of the Sea accumulated 3,390 points; highlights a 8.68 sec victory in the 60m hurdles and 6.50m clearance in the long jump. Eoin Kelly  of St Abban's  was third with 3,263 points.
Women's performance of the day came from youth women's winner Elizabeth Morland  of Cushinstown  who notched up a personal best 3,845 points from her five events. She started with a 8.75 sec run  in the 60m hurdles, set a new personal best  of 1.72m in the high jump, sent the shot out to 11.22m, long jumped 5.48m and ran 2.29.54 in the final 800m. Also over 3,000 points was second placed Annabelle Morris of Blackrock-Louth AC with 3,093 points.
After four events, just 29 points separated Lagan Valley's Laura Frey and Karen Dunne of Bohermeen  in the senior women's  competition.  It all came down to the 800m, with Frey's gutsy run giving her victory with  an overall score of 2,869 points. Dunne finished second on 2, 821 points and Sarah Mesloh third on 2, 548 points.
Equally close was the junior women's category, with Sarah McCarthy  of Mid- Sutton's time of 9.13 secs in the hurdles and  5.73m long jump enough to seal overall victory with a score of 3,572.  A close second on 3,372 points was Belgooly's Grace McKenzie who cleared 1.70m in the high jump.  Amy McTeggart  of Boyne   finished third with a score of 2,749 points.
Mark Rogers of St Peter's  was a comfortable winner of the men's junior title with 3,175 points. Highlights were his 1.85m high jump and runaway win in the 1,000m.  Donal Kearns  of Cushinstown  was second with  2,601 points.
On a good day for Cushinstown, Keith Marks made it a youths double for the Meath club  when he won the men's title with  3,277 points.
Masters winners were Patrick Curran  of Tallaght ACin the M35 class, Joe Gough  0f West Waterford AC in the M55 category and  DSD's Lucy Moore Fox best overall women.
Woodie's DIY National Combined Events C'ships, Athlone
Women –
W14: 1 Sophie Meredith (St Mary's Limerick) 3201, 2 Rachel Kelly (KCH) 2387, 3 Ailsing Cassidy (Bandon) 2373. W15: 1 Vickie Cusack (Liscarroll) 3051, 2 Kate O'Connor (St Gerard's) 2886, 3 Ciara Deely (KCH) 2761. W16: 1 Arlene Crossan (Fin Valley) 3414, 2 Lisa Aspel (Crookstown Millview) 2821, 3 Niamh Malone (Monaghan Phoenix) 2688.
Youth: 1 Elizabeth Morland (Cushinstown) 3845, 2 Annabelle Morris (Blackrock-Louth) 3093, 3 Niamh Kelly (Boyne) 2723. Junior: 1 Sarah McCarthy (Mid-Sutton) 3572, 2 Grace Mckenzie (Belgooly) 3372, 3 Amy McTeggart (Boyne) 2749. Senior: 1 Laura Frey (Lagan Valley) 2869, 2 Karen Dunne (Bohermeen) 2821, 3 Sarah Mesloh (Ballon Rathoe) 2548. Masters – W50 (4 events): Lucy Moore-Fox (DSD) 1330.
Men –
M14: 1 Tariq Adegoke (St LOT) 2220, 2 Sean Carolan (Nenagh Oly) 2033, 3 Gabriel Bell (St Peter's) 1969. M15: 1 David Ryan (Moycarkey Coolcroo) 2906, 2 Cian Kelly (2520,3 Agomide Oke (StLOT) 2503. M16: 1 Daniel Ryan (Moycarkey Coolcroo) 3687, 2 Alex Clarkin (Donore) 2655, 3 Alan McGinely (Lifford) 24756.
Youth: 1 Keith Marks (Cushinstown) 3277, 2 Shane Joyce (Cushinstown) 3009, 3 Joseph Lyons (Tallaght) 2604. Junior: 1 Mark Rogers (St Peter's) 3175, 2 Donal Kearns (Cushinstown) 2601, 3 Killian O'Donnell 1833. Senior: 1 Michael Bowler (KCH) 3528, 2 Kourosh Foroughi (Star of the Sea) 3390, 3 Eoin Kelly (St Abban's) 3263. Masters – M35: 1 Patrick Curran (Tallaght) 2391, 2 PJ O'Rourke (Limerick) 1736, 3 Tony Lyons (Clondalkin) 936. M55 (4 events); 1 Joe Gough (W Waterford) 1660, 2 David Courtney (Ennis TC) 1474, 3 John Fitzsimons (Kildare) 1263.