Shane Aston of Trim AC comfortable retained his national decathlon title at the Irish Life Health Combined Events Championships which concluded to day at Santry.
No records were broken thanks alertly to the unrelenting rain yesterday, which meant the high jump was called for the juvenile competition. Aston still accumulated a healthy total of 6540 points putting him well clear of the chasers led by Brian Flynn of Lusk on 4358 points.
Making it a Meath double by winning the women's heptathlon was Boyne's Amy McTeggart with 4302 points. Lagan Valley's Laura Frey was second on 4034. Defending champion Elizabeth Morland from Dunshaughlin who broke national senior U23 and junior records last year, was absent through injury as was the up-and-coming Kate O'Connor from Dundalk. Both are aiming to be fit for the European Combined Events Team Championships in Spain next July.
Three Irish multi-eventers were in action at the British Senior and U23 Combined Events Championships in Bedford. Michael Bowler of Enniscorthy AC, a student at Birmingham University, finished fifth in the men's decathlon with a score of  6,768 points. In the women's heptathlon, Naomi Morgan of City of Derry Spartans finished tenth with 4,317 points and Sarah Connolly eleventh  with 3,923 points.
UCD's SARAH LAVIN returned to competition at the AI Games, held in conjunction with Day 2 of the Combined Events Championships.
In her specialist 100m hurdles, she beat DCH's Catherine McManus to win in  13.72 secs. Winning both the 200m and her specialist long jump was Sarah McCarthy of Mid-Sutton.
Over 800m, Jenna Bromell of Emerald AC was a clear winner in in 2:07.73. DSD's Aengus Meldon won the men's 800m clocking 1:53.57. Winning a closely-fought women's 100m was Sarah Murray of Fingallians in 11.85. Catherine McManus and Niamh Whelan of Ferrybank were second and third.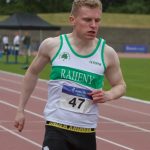 Galway's Sean Breathnach came close to his best in the shot putt, winning with 18.20m in the second round. In the women's hammer, Cara Kennedy of Ferrybank threw 57.51m to win by over four metres. Winning the men's javelin with a best of  62.81m was Gareth Crawford  of Lifford Strabane AC.  In the women's triple jump Sarah Buggy of St Abban's continued her long winning streak with a wind-assisted 12.71m.
AT THE GREAT MANCHESTER 10km, Emma Mitchell of QUB  finished fifth woman in 34 mins 31 secs. In the men's race, England-based Stephen Scullion finished seventh in 29 mins 25 secs, with Raheny's Mick Clohisey 19 seconds behind for 11th.
NATALYA COYLE AND ARTHUR LANIGAN O'KEEFFE won the mixed relay at the fourth World Cup event of the modern pentathlon season in Drzonkow, Polandatalya on Monday.
After winning the fencing competition, the Irish pair finished second in the swim. After a less good performance  in the riding, a top-three finish in the combined run/shoot was enough to secure victory ahead of Germany and Kazakhstan. Earlier, Coyle had  finished 13th in the women's individual event. Also making the women's final was Kate Coleman Lenehan who finished 21st. Hopes are high that the crowd-pleasing mixed relay will be included in the 2020 Olympic schedule.
Great Manchester 10km
Men: 1 Dathan Ritzenheim (USA) 28 mins 6 secs, 2 Bernard Lagat (USA< M40) 28.13, 3 Stephen Mokka (South Africa 28.22. Irish: 7 StephenScullion (Aldershot Farnham and Dist) 29.25, 11 Mick Clohisey (Raheny Shamrock) 29.44.
Women: Tirunesh Dibaba (Ethiopia) 31.03, 2 Christine Daunay (France, W40) 33.08, 3 Sophie Duarte (W35) 33.24, 4  Gemma Steel (Charnwood) 33.39, 5  Emma Mitchell (QUB, U23)34.31.
Strawberry Half Marathon and 5-Mile, Enniscorthy, Co Wexford (www.rdtagtiming.com)
Half Marathon (206 finishers) – Men:  1 Tom Hogan (SBR) 72.32, 2 Myles Gibbons  (SBR, M40) 74.53, 3 Noel Kennedy (SBR) 77.41. Women: 1 Catherine O'Connor (Parnell AC, W40) 88.49, 2 Lorraine Smyth (Clapham Chasers) 91.15, 3 Emma Furey (St LOT) 92.32.
5-Mile (275 finishers) – Men: 1 Niall Sheil (St Killian's M40) 28.24, 2 John McGrath (United Striders, M40) 28.40, 3 Joe Lillis (SBR) 28.51. Women: 1 Jackie Carthy (Kilmore, W40) 32.06, 2 Annleigh Here (Kilmore) 32.42, 3 Mary Claire Byrne (St LOT) 33.50.
Irish Life Health National Combined Events Championships
Women –
Senior heptathlon: 1 Amy McTeggart (Boyne AC) 4,302 pts, 2 Laura Frey (Lagan Valley AC) 4,034 pts, 3 Claire Dougherty (City of Derry Spartans) 3,680 pts.
W40: Verena Fenlon (St. Joseph's AC) 2,152 pts. W50: Dannea Herron (City of Derry AC) 1,465 pts
Youth Girls:1 Lara O'Byrne (Donore Harriers) 4,200 pts, 2 Caoimhe Rowe (Trim AC) 2,641 pts
W16 (Juvenile results based on 4 events, HJ cancelled due to bad weather): 1  Rhian Kidd (St LOT) 2,183 pts,     Orla Coffey (Carraig-Na-Bhfear AC) 2,064 pts, 3 Anna Ryan (Moycarkey Coolcroo AC) 2,062 points
W15:1 Molly Curran (Carmen Runners AC) 2,300 pts, 2 Niamh McCorry (Annalee AC) 2,296 pts, 3 Susan Nestor (Nenagh Olympic) 2,265 pts.
W14: 1 Saidhbh Byrne (Enniscorthy Juvenile AC) 2,172 pts, 2 Claudia Moran (DSD) 1,864 pts, 3 Amy O' Callaghan (Cushinstown AC) 1,820 pts
Men-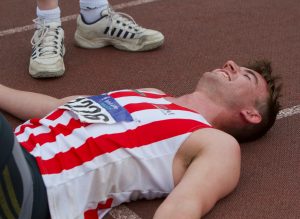 Senior decathlon: 1 Shane Aston (Trim AC) 6,540 pts, 2 Brian Flynn (Lusk AC) 4,358 pts, 3 Martin Mooney (Inishowen AC) 3,388 pts. Junior: Jonathan McKenna (StLOT) 4,866 pts
M35:1 Ger Cremin (Riocht AC) 2,445 pts, 2 Francois Kulik (Sli Cualann ) 2,032 pts.
M40: 1 Kevin Byrne (DSD) 2,431 pts, 2 Patrick Curran (Tallaght AC) 2,350 pts, 3 Paschal Halley (Waterford AC) 2,299 pts
M50:1 Tom O'Brien (Waterford AC) 645 pts, 2 Peadar McGing (DSD) 570 pts, 3 John O'Connor (Slaney Olympic ) 684 pts.
Youth Boys:1 Brian Lynch (Old Abbey AC) 5,832 pts, 2 Tadhg Murtagh ( Kildare AC) 5,055 pts, 3 Max Carey (Donore Harriers) 4,215 pts
M16 (Juvenile results based on 4 events, HJ cancelled due to bad weather):1 Diarmuid O' Connor (Bandon AC) 2,945 pts, 2 Cillian Griffin (Tralee Harriers) 2,692 pts, 3 Eoghan Jennings (GCH) 2,656 pts
M15:1 Jack Forde (St Killian's AC) 2,774 pts, 2 Jordan Knight (Thomastown AC) ,2656 pts, 3 Jordan Kissane (Tralee Harriers ) 2,493 pts
M14:1 Harry Nevin (Leevale AC) 2,807 pts, 2 Darragh Jennings (GCH) 2,452 pts, 3 Leo Carey-McDermot (Tír Chonaill AC) 2,156 pts.
British Senior and U20 Combined Events Championships, Bedford – Irish interest.
Men's decathlon: 5 Michael Bowler (Enniscorthy/Birmingham Uni) 6,768 pts (11.58 (7360, 7.02 (818), 12.27 (623), 1.87 (687), 51.03 (768); 15.36 (807), 33.68 (537), 4.03(626), 46.99 (544), 4:49.48 (622).
Women's heptathlon: 10 Naomi Morgan (City of Derry Spartans, U23) 4,317 pts, =11 Sarah Connollly (North Down, U23) 3,923 pts.